Art Brings Us Together
Sheehan Gallery and Maxey Museum Collaborate on Faculty and Staff Show
By Meredith Boyd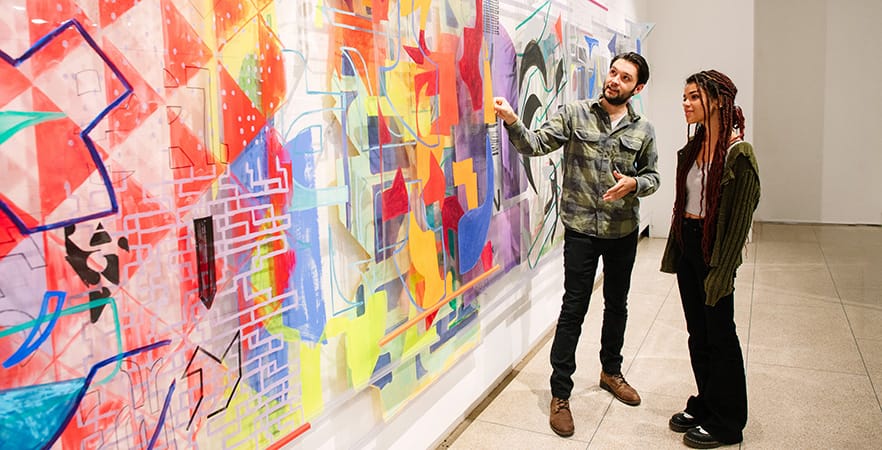 Sheehan Gallery and Maxey Museum Collaborate on Faculty and Staff Show
Art creates a beautiful opportunity for us to express and share our ideas and better connect with the world around us. In the fall of 2022, the curators of the Sheehan Gallery and Maxey Museum brought together Whitman College artists in a collaborative exhibition—"time | creature | portal | self"—that celebrates our interconnectedness.
For 13 weeks, the two campus galleries have housed the multi-medium show celebrating its own community of educators and artists—highlighting the artwork of 15 Whitman College faculty and staff members.
Sheehan Gallery Director Kynde Kiefel, along with Libby Miller, who is the curator for Maxey Museum envisioned and designed the exhibition. With all the artists being a part of the same creative and social community, it was only natural to explore the concept of interconnectedness, says Kiefel. And fittingly for the theme, this is the first time the galleries have done the same large exhibition spanning both spaces, she says.
Kiefel describes the show as "a vibrant bridge between people." And the galleries' separate locations are now connected through shared ideas and themes.
How are the themes—time, creature, portal and self—explored in the show?
Time is represented in how things change from past to present, or over time. Some artists channeled creatures through taxidermy and sculpture. Others created pieces that invite you to step into something that takes you beyond that first simple step.
As Miller explains "any kind of aesthetic experience is a portal into a different kind of experience."
Many of the gallery pieces spark thoughts about self in relation to others. We are never isolated selves, but are in juxtaposition with the creatures, collaborators, viewers and time. Though the theme of self can stand alone, it also ties everything together.
Published on Nov 30, 2022