Nina Finley '17 First Whitman Graduate to Win Marshall Scholarship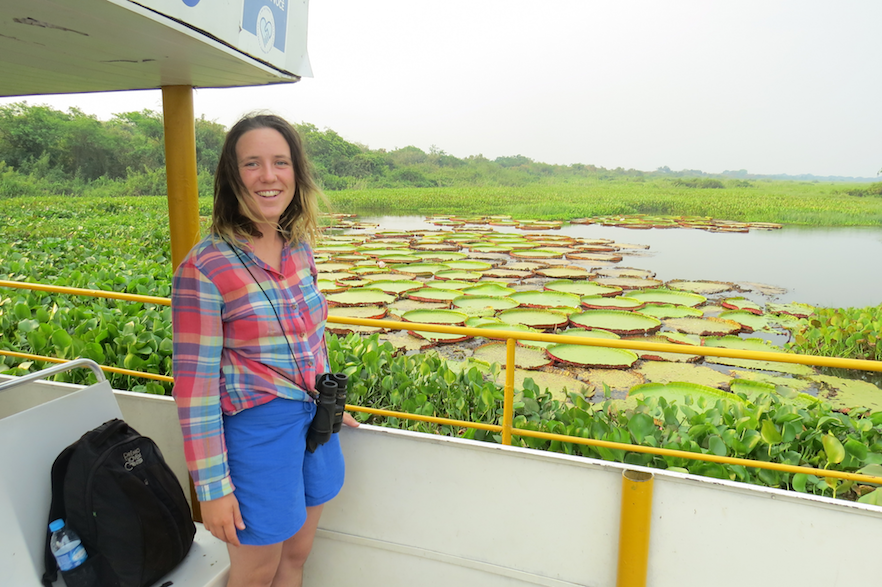 Nina Finley '17 made school history this week by becoming the first Whitman College graduate to claim a highly competitive Marshall Scholarship. Only 48 candidates were selected as 2019 Marshall Scholars from a field of more than 1,000 applicants. They will begin their post-graduate studies at institutions across the United Kingdom starting in September next year, with all university fees and living expenses paid.
Finley, a biology and environmental studies major from Seattle, is no stranger to prestigious awards. She previously earned a Watson Fellowship, which provides $30,000 in funding for a year of travel to an elite few who exemplify the foundation's commitment to gaining enrichment through self-guided study on a global scale. Finley used the opportunity to conduct environmental research in Brazil, Madagascar, Malaysia, Indonesia and Siberia, investigating issues ranging from coastal ecosystems to coral bleaching to the renewed threat of anthrax from melting permafrost.
"During the Watson, I found a great term for the kind of work I want to be doing: planetary health, which is defined as 'the well-being of human civilizations and the natural systems on which they depend,'" Finley said. "My hosts in both Madagascar and Indonesia independently told me about the Planetary Health Alliance Annual Meeting which was going to be held in Edinburgh, Scotland in the spring ... I submitted an abstract of my sand-flea disease research from Madagascar and got accepted to present a poster at the Planetary Health Alliance meeting. Once I was in the United Kingdom, I found my dream grad program: Master of Science in One Health offered by a joint program of the London School of Hygiene & Tropical Medicine and the Royal Veterinary College."
Finley is also a past recipient of two Udall Scholarships, the Goldwater Scholarship and the Hollings Scholarship; she declined a spot in the Fulbright Program in favor of the Watson. After the Marshall, she plans to complete a Ph.D. in disease ecology and eventually become a professor.
"We know that ecological damage can cause us harm: deforestation increases malaria, dammed streams increase schistosomiasis outbreaks, toxic algal blooms lead to respiratory distress," she explained. "But what about the flip side: does that mean we can use ecosystem restoration as a tool for human health? I want my lab to be the glue for teams of veterinarians, medical doctors and ecologists working together to identify ecologically-based solutions to human health problems."
Senior Lecturer of Environmental Humanities and General Studies Donald Snow praised Finley as among the most singular students he has taught in his 30 years in the classroom. "She is a superb scientist and is at the same time one of the best humanities students I have had among hundreds in my writing and literature classes," he said. "Her versatility and breadth of mind are astonishing."
Director of Fellowships and Grants Keith Raether added, "Nina knows better than most what it means to be living in the Anthropocene, the first time in our history that the human species is a measurable geological force. The Marshall puts a premium on ambassadorship, and now they have a science ambassador in Nina. In all of her work- classroom, lab, field-she has never lost sight of the human element in science, and she never will."
Named in honor of U.S. Secretary of State George Marshall, the Marshall Scholarship Program began in 1953 as a gesture of gratitude to the people of the United States for their assistance to the United Kingdom after World War II. Since then, it has continued to strengthen ties between the two countries by supporting more than 2,400 talented young Americans in pursuing subjects of their choice at British universities. Notable Marshall alumni include Pulitzer Prize winners, Academy Award nominees, Supreme Court Justices, a NASA astronaut and a Nobel Laureate.
"We are incredibly proud of Nina for her passion and perseverance in pursuit of her goals," said President Kathleen Murray. "Her commitment to planetary health and education in an era of unprecedented environmental challenges is particularly inspiring, and we foresee great things in her future."