Giving Voice to Songs and Stories about Freedom
By Peter Szymczak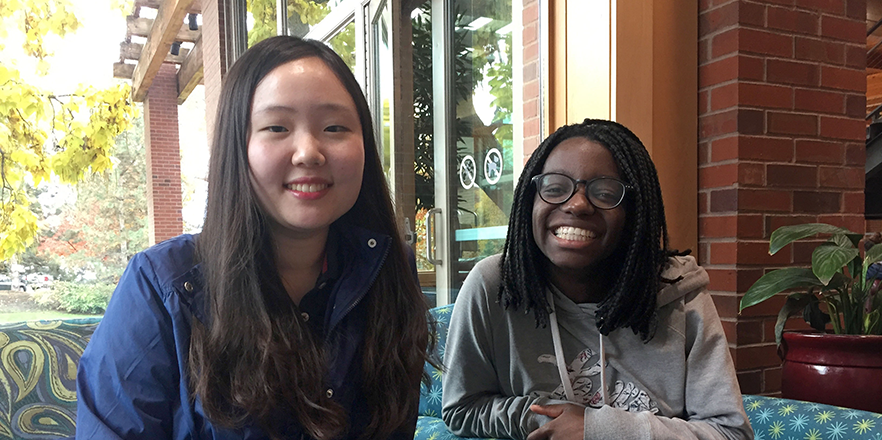 Dorothy Mukasa '19 and Esther Ra '19 are not only roommates and friends, they're also the creative minds behind this year's Freedom Songs concert and zine. Both venues - onstage and in print - provide safe spaces for Whitties to voice their thoughts on issues of race, privilege and different forms of oppression.
The concert is at 7:30 p.m. Thursday, Nov. 8, 2018, at the Harper Joy Theatre. Tickets are free for students and can be picked up at the Intercultural Center in Reid. Copies of Freedom Zine will be distributed at the event.
"This year, we really wanted to expand on the idea of freedom and also activism," Mukasa said. "It's not just going out on a march and being in the front and yelling. Your protest and your activism could be having a conversation with somebody. It could be singing a song or writing a poem."
Mukasa, a rhetoric studies major, has participated in Freedom Songs every year since its creation in 2016 by Joel Ponce '16 (with organizational support from Jess Faunt '17). The first year she sang with the Freedom Singers, a choir organized specifically for the event. In 2017 she served as the choir's musical director, and this year she is serving as event organizer and creative director.
Ra, an English major who recently had her first collection of poetry published, is editor of the zine.
"In past years the zine was more of a program for the concert," Ra explained. "I really wanted to make it a project of its own and a space to continue the conversation, so that it wasn't just one day for the concert but all these different stories."
Mukasa and Ra conceived the dual themes of "home" and "belonging," extending last year's theme of "What does freedom mean to you?"
"I think this year's themes are especially timely and relevant because of all the debates about immigration and what it means to be an American," Ra said. "The zine has been a way for people to engage in a very complex conversation and have a space where they can feel safe, even if they don't feel particularly at home here at Whitman."