Cleveland Commons Offers New Gourmet Dining Options
By Peter Szymczak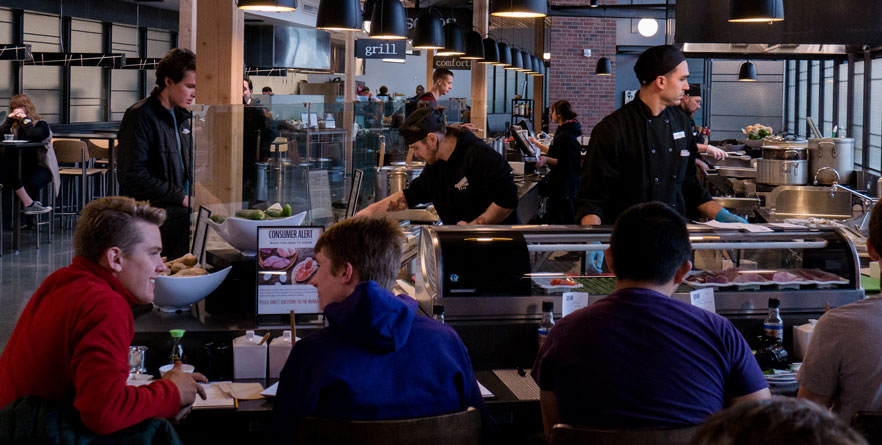 Cleveland Commons, the new 500-seat dining hall on the campus of Whitman College, opened its doors Monday, Oct. 29, 2018. Featuring a marketplace layout and globally inspired menu, Cleveland Commons provides an ultra-modern food court environment for Whitman students, faculty, staff and the surrounding Walla Walla community.
Food and beverage offerings span the gastronomic gamut, from rotisserie chicken and sustainably-raised salmon to vegan and gluten-free entrées featuring locally grown produce. Baked goods and grab-and-go deli sandwiches are made fresh daily. A smorgasbord of international flavors includes Indian curries, ramen bowls, hand-tossed pizzas baked in an open-hearth oven, made-to-order sushi and more - all served from individual mini-café stations.
"The islands are much more efficient and the food served at them is fresher - there are no steam tables with tired, old product," said Roger Edens, general manager with Bon Appétit, the catering and foodservice company that feeds Whitman's campus population. "At the sushi counter, for instance, you're being served by a sushi-master, so there's an interactive dynamic as well."
There's a seating option for everyone, too. Dining nooks throughout the light-filled atrium seat smaller groups, ideal for individual study, while long communal tables invite larger parties to gather and dine together. The commons also has two private meeting spaces.
"The hope is that you're going to get a whole lot more mixing between first- and second-year students, juniors and seniors, faculty and staff, and even community members, creating a much more interesting dynamic," Edens said.
Construction of the new dining hall was part of the Living at Whitman Initiative, which also includes the newly constructed Stanton Hall for second-year students. Cleveland Commons was named for Chuck Cleveland, Whitman's longtime vice president of student affairs and dean of students, who helped spearhead the initiative before his retirement in 2017.
"It's extremely impressive. I worked on the first year of the design of the building. At that point it was just a dream, and we wanted to be creative. We visited colleges and restaurants around the Northwest, in Portland and Seattle," Cleveland said. "So, to walk into this building and see this dream, this concept, come true was overwhelming to me. It was more beautiful than I had ever imagined. As humbled as I am by the name, I am very proud that the concept we dreamed about has come to fruition."
Students now use the new Flex Dollar meal plans at Cleveland Commons and other eateries on campus. The pay-for-what-you-eat model is different from the all-you-can-eat model in years past. It helps significantly reduce waste and allows students who prefer snacks or small meals to use their dining dollars more creatively. The new meal plan setup also allows friends to socialize in campus dining spaces without having to purchase food.
"It was clear from early on that a primary goal was to expand on the strong sense of community that many first-year students talk about and extend that through sophomore year and beyond. Every phase of the design and building process for Stanton Hall and Cleveland Commons, as well as the redesign of the Jewett Café and Café 66, was guided by that underlying goal," said Chief Financial Officer Peter Harvey '84. "The open seating at Cleveland, large tables for groups, and smaller booths for more intimate conversations were intentional parts of dining plan designed to foster community."
To reduce the waste of disposable containers, the dining hall - which is on track to earn the LEED Gold sustainable building certification - provides Eco-Takeouts for to-go diners. With each take-out order, diners trade in a reusable clamshell container and receive their meal in a freshly sanitized one. Other sustainability measures include solar panels on the roof and tables fashioned from timber milled from fallen trees on campus.
About 40 students currently work in the dining hall, from Stumptown Coffee-trained baristas to dishwashers, bakers and table bussers.
Cleveland Commons is open from 7 a.m. to 10 p.m. Breakfast is served until 10 a.m., lunch from 11 a.m. to 2 p.m., and dinner from 5 to 9 p.m. The grill stays open until closing, for those who missed dinner or want a late-night burger.
Published on Oct 29, 2018