Literary connections: lunch with Alexander Maksik '95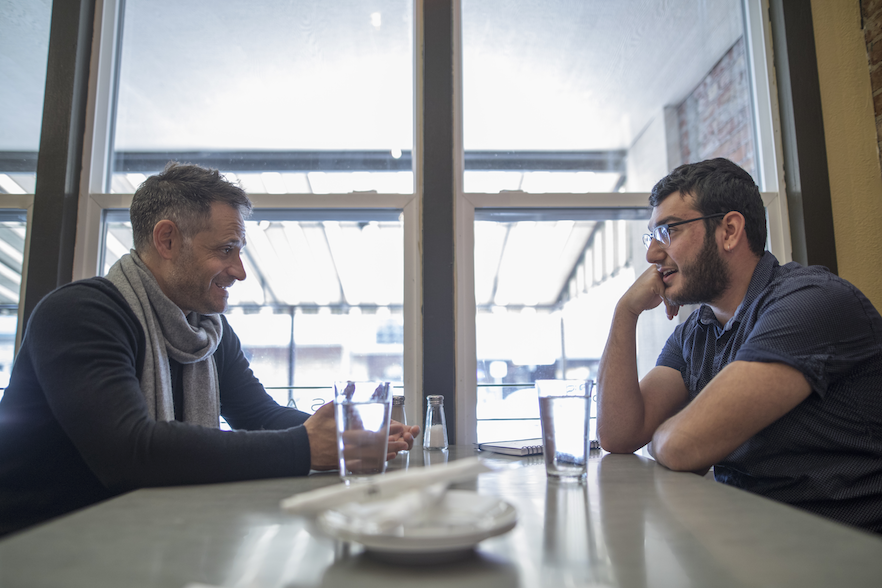 Twenty-five years may separate their time at Whitman, but acclaimed author Alexander Maksik '95 and Bashar Haidar '20 found plenty to talk about when they met to discuss Maksik's novel You Deserve Nothing (Europa Editions, 2011). Set in an international high school in Paris, the book resonated with Haidar, a Lebanese international student and pre-engineering major who attended the residential United World Colleges program in Dilijan, Armenia, before coming to Whitman.
Haidar, who read and enjoyed You Deserve Nothing without knowing that its author was a Whitman alumnus, said he was excited to sit down with Maksik and discuss some of the novel's finer points. According to Haidar, Maksik also described "how the theatre department at Whitman changed his life and motivated him to pursue his passion for writing."
Maksik recently published his third novel, Shelter in Place (Europa Editions, 2016), which is based in the Pacific Northwest. He returned to Walla Walla last semester as part of the Visiting Writers Reading Series.
Whitman has a proud tradition of producing graduates who go on to literary careers; Maksik weighed in on the college's announcement of an official creative writing minor in June, calling those courses "among the most influential and exciting" of his time as a student. Haidar, whose current emphasis is physics, hopes to continue honing his own writing skills thanks to Whitman's liberal arts curriculum.