College Signs Memorandum of Understanding With CTUIR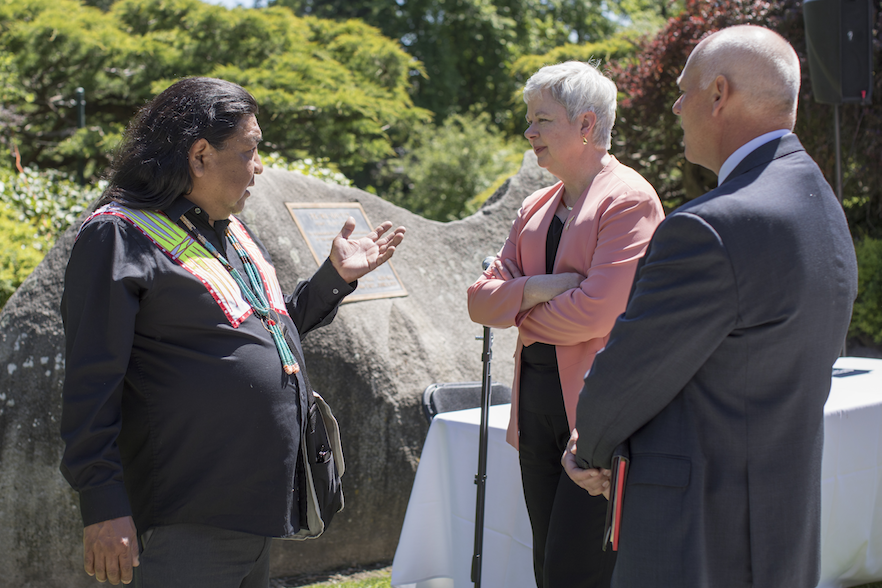 Whitman College and the Confederated Tribes of the Umatilla Indian Reservation (CTUIR) signed a memorandum of understanding (MOU) on May 19.
The document constitutes a formal commitment to collaborate on the development of curricula focused on Native American studies while strengthening Native American recruitment and retention at Whitman. It also provides a framework to identify areas of shared research interests and facilitate the transition of CTUIR students into institutions of higher learning.
"This place of education has its history, and us, as Indian people, we have our history," said Armand Minthorn, a member of the CTUIR Board of Trustees. The MOU "is going to allow a free exchange both ways so that we can continue to know each other's history."
Whitman President Kathleen Murray called the MOU a natural extension of the college's central mission to promote student learning and embrace diversity.
"We believe that learning should take place in settings that reflect the broader society in which our students will live and work, and a piece of that for us is to engage across difference and to understand each other and each other's ways and histories better than we have in the past," she said. "And I think this memorandum of understanding is a giant step forward in that relationship."
Historical perspective
The signing took place on campus at Treaty Rock (Pe-wa-oo-yit), site of a controversial 1855 treaty between leaders of the Yakama, Nez Perce, Cayuse, Umatilla and Walla Walla tribes and the U.S. government. That arrangement saw much of their ancestral lands redistributed to white settlers. The MOU recognizes that and seeks "to develop a robust, multifaceted, mutually rewarding, and beneficial working relationship."
The partnership has been years in the making and builds on previous recent efforts. For the past two years, a group of Whitman students has spent spring break on the reservation, learning and volunteering. Whitman's women's lacrosse team also regularly unites with the CTUIR's Xa'lish lacrosse team to form mixed teams to play the Creator's Game—the version of lacrosse originally played by indigenous people.
Mutual respect
The Whitman and CTUIR representatives who signed the MOU included, respectively, President Murray, Provost and Dean of the Faculty Alzada Tipton and Chair of the Board of Trustees Brad McMurchie '84, along with Chair of the CTUIR Board of Trustees Gary Burke, CTUIR Board of Trustees Secretary Kathryn Brigham and Director of the CTUIR Department of Education Modesta Minthorn.
Thomas Morning Owl, an instructor for the CTUIR Language Program, initiated the proceedings by leading his delegation in song as dozens of Whitman staff, faculty, students and community members observed.
Brigham commended the milestone because "through collaboration and partnership we can do a lot," as she put it.
Burke credited his niece, Feather Huesties '00, for playing an instrumental role in the early stages of the agreement. An anthropology major at Whitman who went on to earn a master's degree in the field from Washington State University, Huesties grew up outside Pendleton, Oregon, along the border of the Umatilla Reservation. She is a descendent of interpreters involved in the 1855 treaty.
"There is much to gain and learn from this partnership that will allow us to be a better neighbor and a more successful institute of higher education in this region," said Tipton, who took the lead on the final stages of the MOU upon her arrival at Whitman last summer, and who presented gifts to CTUIR participants.
"Today is just a beginning," added McMurchie. "I hope that when people gather on this site 50 or 60 years from now, we can all celebrate the accomplishments that have come since then."