Marshall Memorial Fellow alumna meets with European leaders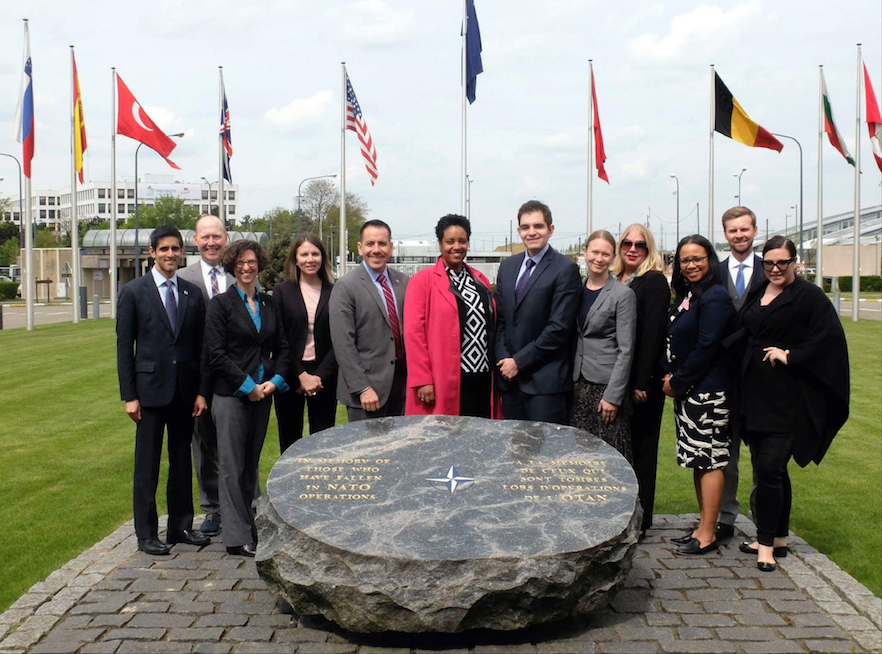 Business administrator Amanda Hoey '04 recently returned from a prestigious month-long exchange program to Europe, courtesy of a Marshall Memorial Fellowship.
Executive Director of the Mid-Columbia Economic Development District (MCEDD), which supports the Columbia Gorge region of Oregon and Washington, she joined 11 other U.S. movers and shakers in business, nonprofits, government and civics on a high-profile itinerary that spanned Belgium, France, Poland, Spain and the U.K. Their objective: discuss key political and economic issues affecting a transatlantic agenda.
"The fellowship provided access to thoughtful and dedicated leaders across Europe, whose insight and perspectives I would not have otherwise had the ability to hear directly," said Hoey, who majored in economics at Whitman. Particularly memorable experiences included meeting with leaders in the Basque National Party in Bilbao, Spain, and discussing the effectiveness of anti-terrorism legislation and touring Parliament in London.
"This opportunity was at a pivotal time in history, with the strength of many democratic institutions being tested," she continued. Her trip coincided with the French election, controversy in Poland over judicial independence and turmoil in the U.K after the Brexit vote, among other newsworthy happenings. "The fellowship reinforced the critical importance of those institutions, the need for continued cooperation between the United States and Europe and expanding beyond traditional political and diplomatic channels to non-government organization and business leaders."
About 75 elite candidates across all types of workplaces receive Marshall Memorial Fellowships each year—notable alumni include the current president of France, Emmanuel Macron. Participants engage in six months of distance learning and a capstone journey abroad.
Hoey's class is made up of 32 representatives from the U.S. and 44 from Europe, and "connections continue post-fellowship, with a deeper understanding of the issues," as she put it. The pool of American applicants started with close to 600 nominees, and the application process involved a series of essays as well as multiple letters of recommendation.
A resident of The Dalles, Oregon, Hoey is credited with helping the Columbia Gorge develop critical infrastructure and strengthening the local economy through fiber optic and renewable energy projects. She also serves on the boards of the Rural Development Initiatives, The Dalles Riverfront Trail and Old St. Peter's Landmark Church. And Hoey is an American Leadership Forum of Oregon Senior Fellow.
"Amanda was a top student, a fine writer and a savvy and generous participant in classroom discussions," said Associate Professor of Economics Jan Crouter, Hoey's former advisor. "I also recall that she had a strong interest in agricultural issues, perhaps fostered by her wheat ranch family background."
David Griffith '63, a fellow economics major, owner of Griffith Motors and member of The Dalles Area Chamber of Commerce board of directors who has worked with Hoey on local committees, further praised her willingness to get involved and advocate for people.
"Amanda has been an exceptional contributor in her management of the MCEDD," he said. "She is also a major contributor in a wide range of activities from local to state and always ready to help where needed."
As part of her fellowship wrap-up, Hoey authored a blog post titled "The Private Sector Can Drive Innovation—but Requires Public Governance." It shares takeaways from meetings with European leaders and how the topics covered in these conversations apply to her field of rural regional economic development. Based on what she learned, she identifies ways to improve the infrastructure workforce, regulatory environment, financial capital, social amenities, entrepreneurial environment and innovation capacity.
Created in 1982, the Marshall Memorial Fellowship is the flagship leadership development program of the German Marshall Fund (GMF) of the United States. Initially intended to introduce a new generation of European leaders to the U.S., the fellowship now prepares leaders from both sides of the Atlantic to forge stronger global ties. The GMF was established in honor of the Marshall Plan, a major U.S. effort to rebuild Western Europe in the wake of World War II, which marks its 70th anniversary this year.