Nina Finley '17 and Samuel Perkins '17 win Watson Fellowships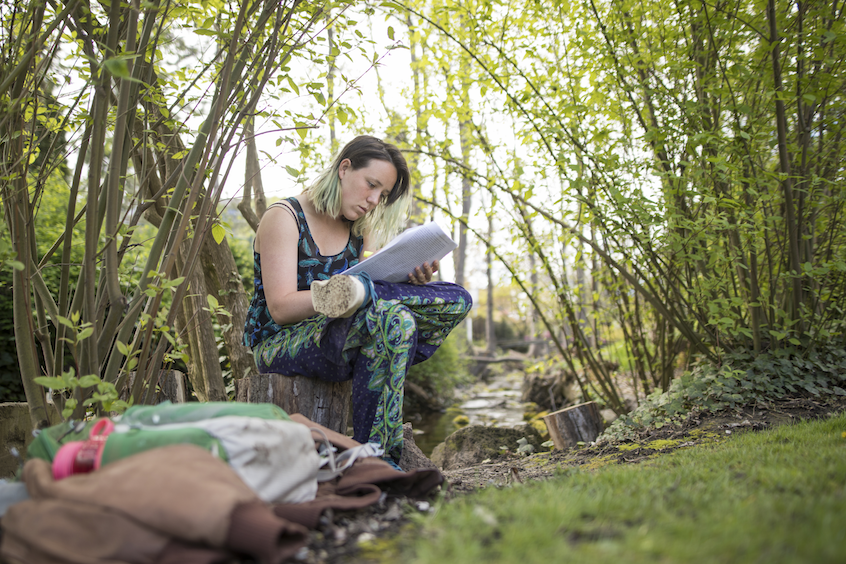 Two soon-to-be Whitman graduates are among only 40 college seniors nationwide to be named 2017 Thomas J. Watson Fellows. The prestigious program provides $30,000 in funding for a year of travel plus college loan assistance to an elite few who exemplify the foundation's commitment to cultural, professional and personal enrichment through self-guided study on a global scale.

Biology-environmental studies major Nina Finley '17 and sociology-environmental studies major Samuel Perkins '17, both Seattle natives, received Watson Fellowships for their interest in emerging wildlife diseases and megacity wildfire management, respectively.
"Watson rewards students of unusual promise," said Director of Fellowships and Grants Keith Raether. "The investment is in the person, not in any research. The returns on that investment are Watson fellows who go on to become leading creators and innovators in their fields."
Finley is a previous recipient of two Udall Scholarships, the Goldwater Scholarship and the Hollings Scholarship. She was also offered a spot this year in the Fulbright U.S. Student Program, which she declined in favor of the Watson.
Finley plans to travel to Brazil, Madagascar, Malaysia, Indonesia and Siberia to study coastal ecosystems, coral bleaching and the renewed threat of anthrax from reindeer carcasses exposed by melting permafrost, among other environmental research ventures.
"I'm excited because I've been dreaming about a Watson for years, but also nervous because the year involves a lot of independence and uncertainty," she said. "I didn't quite believe it was real until my mom got me a Madagascar bird book for my birthday, and that really brought it to reality somehow."
She added, "Right now, I'm emailing with scientists and community activists from each country to arrange transportation. I can't wait to step on the ground, smell the plants, listen to the birds and meet people."
"I would say that in nearly 20 years of teaching, Nina is the singularly most impressive student I've ever had," said Delbert Hutchison, associate professor of biology and one of Finley's faculty advisers. "Highly intelligent, percipient and accomplished yet humble, down-to-earth, sociable and accepting—the entire package. From where I sit, there is nothing this young person cannot accomplish and I look forward to seeing where her adventures take her."
Senior Lecturer of Environmental Humanities and General Studies Don Snow, Finley's other adviser, said she has all the hallmarks of a Watson fellow: boldness, imagination and creativity.
"She is in ways the archetype of the liberal arts student—interested in everything, willing to try new intellectual adventures, exceedingly versatile."
He recalled how as a student in his upper-level creative writing workshop, she drew from her knowledge of biology to craft "some of the most lyrical and beautiful prose of the semester." Her essay "The Sea Star's Warning" went on to be published in the Montana magazine Camas.
"Nina is a proton, pure and simple," Raether said. "Curiosity isn't merely cognitive for her. It's a sensory experience. She also sees opportunity in ominous challenges, which captures the essence of a Watson."
Perkins was inspired to apply for the Watson by his passion for firefighting and personal history as a volunteer for the Walla Walla Fire Department. His Watson journey will take him to Australia, Chile, Japan and Nepal to research cross-cultural approaches to the increasing frequency and severity of wildfire.
"I will be exploring the megacities of wildfire management in an era of climate uncertainty," he said. "I hope this project provides insight into the intersections of nature and culture around the world."
While at Whitman, Perkins pursued a simultaneous degree in EMT and fire science at Walla Walla Community College. As part of his Whitman thesis, he interviewed residents in the Wildland-Urban Interface outside of town about their perspectives on living in a fire-adapted ecosystem and drew connections with community-level efforts around environmental risk. His other outreach efforts have centered on fire training, education and outdoor guiding.
In 2013, Perkins was awarded the M. Kenneth Hoefner Scholarship from Seattle's Bravest Charity through the Seattle Firefighters Union on the basis of community service and leadership.
"Sam is affable, even-tempered, respectful and guided by patient observation," said Raether. "His commitment to community safety—specifically, fire science and management—is the manifestation of a deep ethical imperative that traces through generations of his family."
Perkins' adviser is Alissa Cordner, assistant professor of sociology and author of Toxic Safety: Flame Retardants, Chemical Controversies, and Environmental Health (Columbia University Press, 2016). She said he "demonstrates a level of passion for his work and dedication to doing what matters to him that I rarely see among my students." His involvement beyond Whitman's halls has "meant that he consistently made connections between the classroom and these other pursuits, giving him a way of approaching environmental and social issues that was more grounded than the typical student."
Since 1970, 44 Whitman students have received Watsons, including 12 recipients in the last 10 years.
Founded in 1968, the fellowship honors Thomas J. Watson, Sr., an American businessman best known as an early chairman and CEO of IBM. Participation is by invitation; 40 liberal arts schools are on the list and each is allowed to nominate four students. This year, the Watson Fellowship drew upward of 600 applicants. Awardees hail from six countries and 21 states and will trek to 67 countries to explore topics ranging from pediatric cancer treatment to citizen journalism to animation to autonomous vehicles, according to press materials.