Whitties Helping Whitties program paves the way for professional development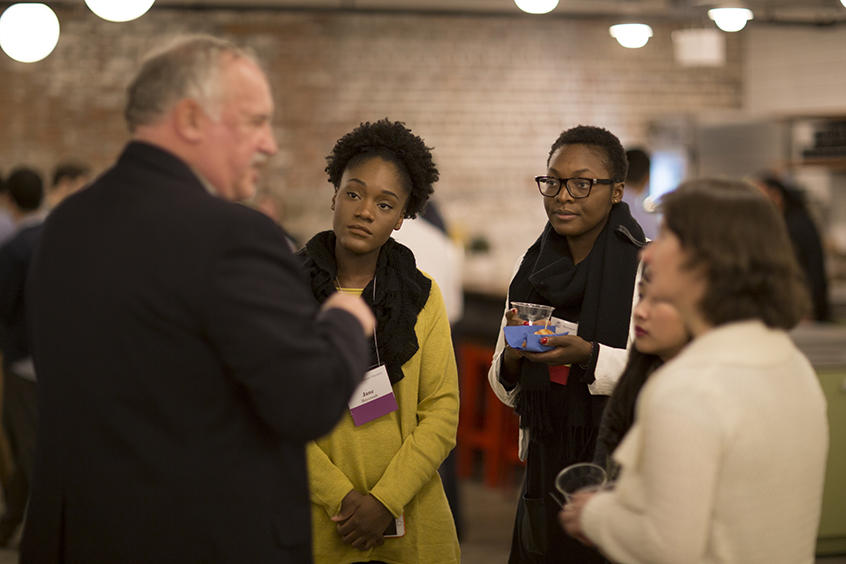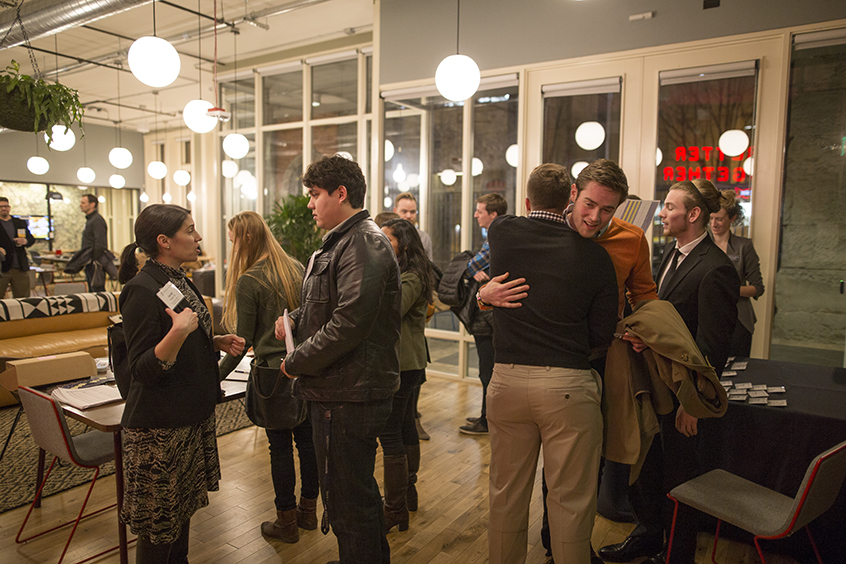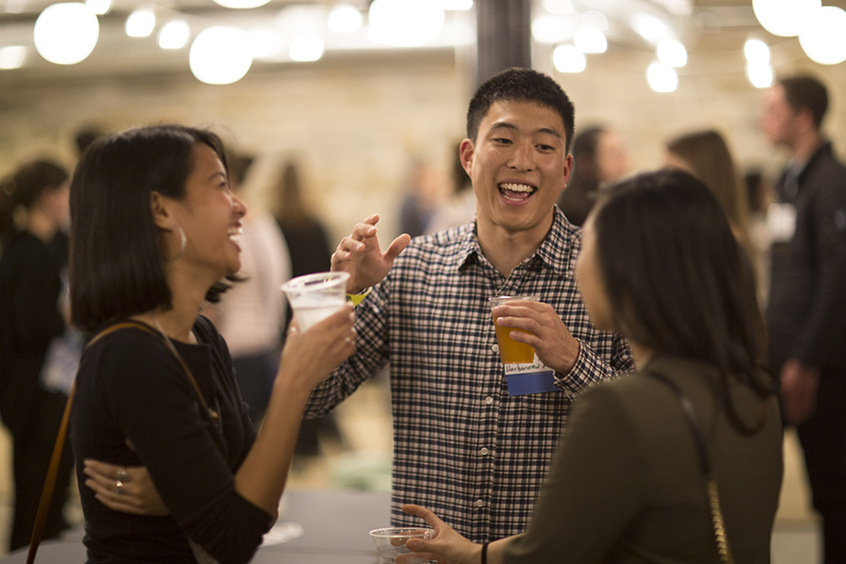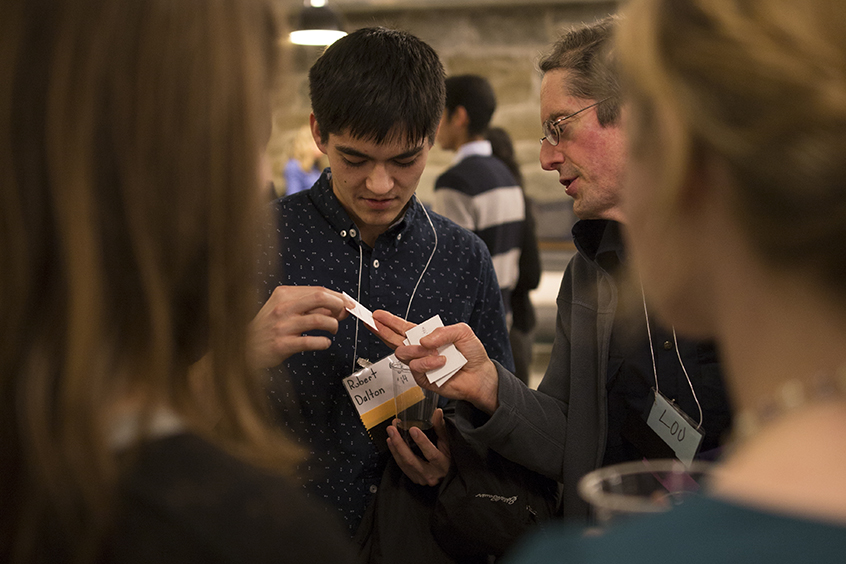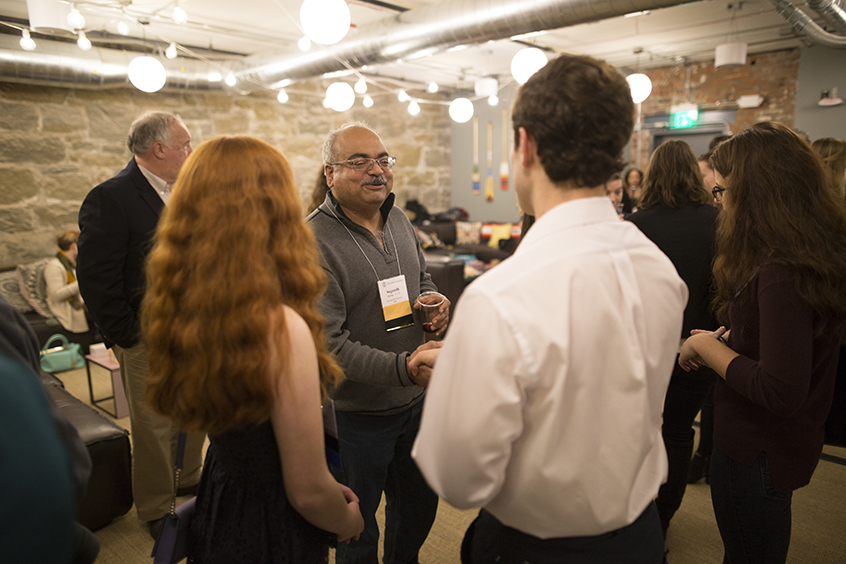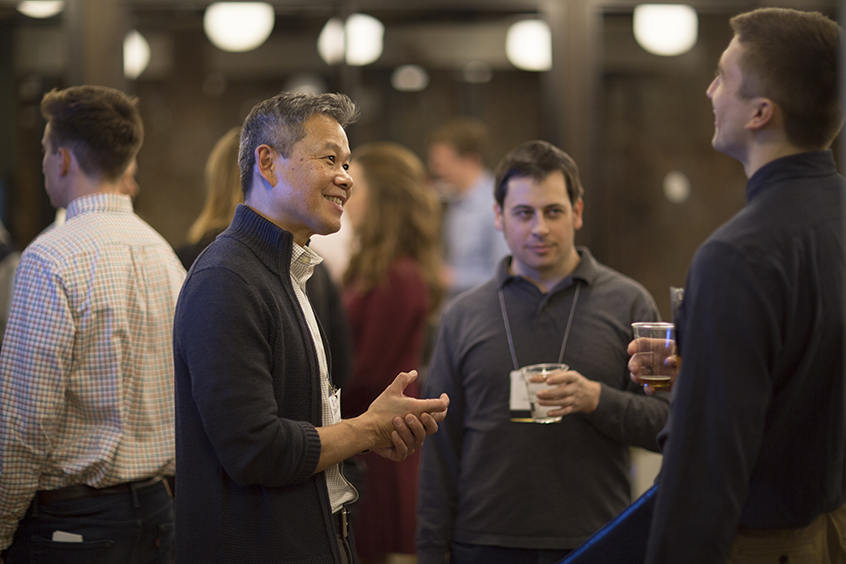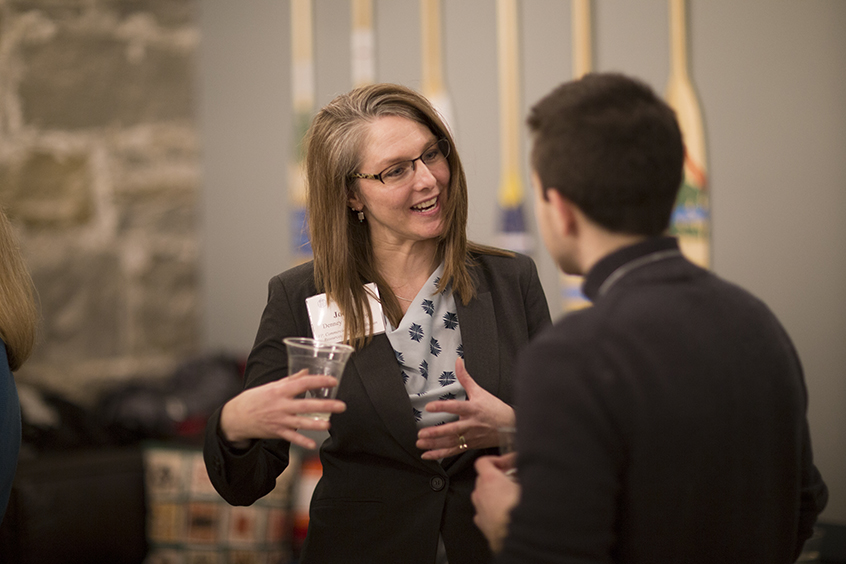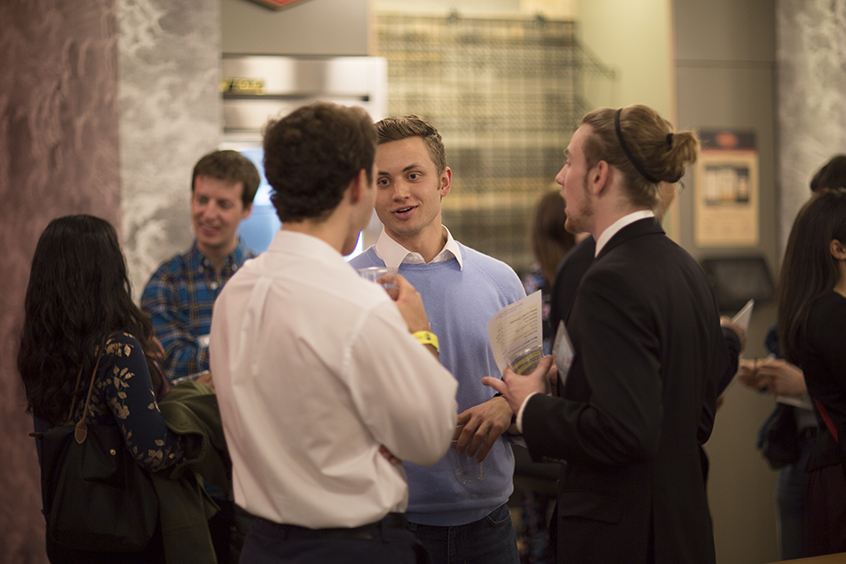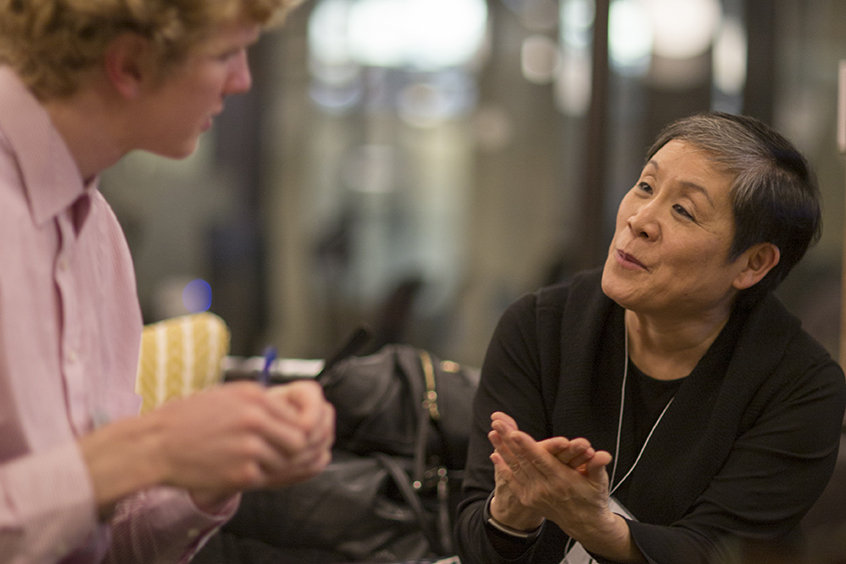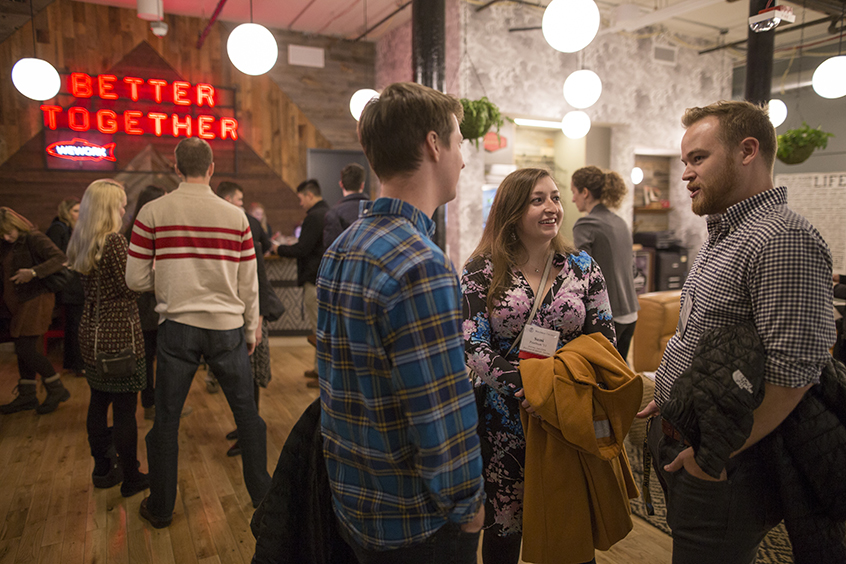 When Hayden MacArthur '18 decided to attend a Whitties Helping Whitties networking event in San Francisco last year, he did not expect to come away with an internship in his field of interest—earth sciences. But that's exactly what happened.
"I'm pretty quiet, so I found it kind of difficult to approach people at first," said MacArthur, a geophysics major from Portola Valley, California. "However, after talking with a couple of people, I realized that the alumni, staff and students were all there for a common purpose: to make connections and give back. Knowing this made it much easier."
Whitties Helping Whitties is a collaboration between the Student Engagement Center (SEC) and Office of Alumni Relations. Since its inception in 2013, it has continued to grow in popularity, drawing record numbers to recent events in Seattle, Portland and San Francisco (cities with the largest concentrations of Whitman students, families and alumni). The program, piloted in Seattle as a way to connect students and recent graduates with area industries, now attracts a number of Whitman parents, too.
That's how MacArthur met Judith Fierstein, a scientist with the U.S. Geological Survey. Fierstein is the mother of Sophie Schouboe '15, a psychology major who participated in Whitties Helping Whitties when she was a student. Now, thanks to that same program, MacArthur will spend this summer interning with Fierstein at the USGS in Menlo Park, California, working as a field assistant responsible for tasks including the collection of rock samples and identifying types of lava.
"Having the opportunity to intern and make connections at a place like the USGS is all I could have hoped for in developing a future career in research," he said. "Not only am I performing pertinent research in a field of my interest, but I am also establishing connections with senior geologists that will help develop my future career and educational opportunities."
After graduating from Whitman, MacArthur hopes to pursue a master's or doctoral degree in geology.
"My work at the USGS will help develop some of the skills and direct lab and field experience that many of these programs are looking for in strong applicants," he added.
Alumni Relations Officer Liesl Olson '11, who assisted with Whitties Helping Whitties in Seattle, said that the breakout sessions, which were organized so attendees could match with well-established alumni, parents and other potential mentors or role models, were a big factor in the event's success:
"We were able to take what we had seen work really well with reunion weekends and replicate it for Whitties Helping Whitties."
Whitties Helping Whitties is part of a targeted strategy to increase the visibility of Whitman students and young alumni on the job market, particularly in hubs like Seattle, Portland and the Bay Area, said Kim Rolfe, director of business engagement for the SEC.
As part of this effort, the SEC has launched several other promising initiatives, such as Spring Break Job Shadow and virtual information sessions with prospective employers, as well as promoting resources like the Whitman LinkedIn page and alumni database. The SEC also encourages students to be proactive in applying for Whitman Summer Internship Grants to help fund their fledgling professional endeavors.
"Coming out of this round of events compared to previous years, I've had more follow-up and outreach in regard to internships and different ways to connect," said Rolfe, who is constantly working to build better relationships between Whitman and the private sector. "More people have said, 'yes, our company is recruiting, let's figure out how we get them recruiting at Whitman.' And that is a major goal for us, to make sure we're growing those numbers."
About 300 people attended the Whitties Helping Whitties events at the start of the semester, an increase from the previous year. Nishaant Limaye '19, who is considering an economics major, attended the Seattle session with his mother.
"It was well-organized, and it allowed me to talk to a wide range of alumni," he said. "I mostly talked with alumni that work in the business and marketing industries... I thought it was an invaluable experience that exposed me to the Whitman alumni community, and networking in general."
The Seattle event was itself a coup for the Whitman alumni network, hosted and sponsored by WeWork, a company that provides shared workspaces for startups and small businesses and also happens to employ several Whitman alumni. Davey Friedman '11 joined WeWork three years ago, and now serves as sales lead for the Pacific Northwest.
"WeWork jobs are all about soft skills," he said. "The community management teams that run our buildings are gifted multi-taskers. Teams are responsible for keeping their buildings fully occupied, running like first-class hotels, while at the same time knowing their members on close personal and professional levels."
So when it came time to bring more team members on board, Friedman thought immediately of Whitman alumni.
"Whitties are bred to be top-notch generalists. They are trained to think on their feet, problem solve and unpack complicated questions that [aren't always] in their areas of expertise," he said.
Friedman ended up hiring two Whitman alumnae, Kate Coll '15 and Brooke McKallor '15, to fill open positions at WeWork Seattle.
"In carving out a Whitman community inside the company, Kate, Brooke and I decided to actively brainstorm ways we could make WeWork more of a hub of young Whitman alumni activity in Seattle," he said.
"With support from Brooke, Kate captained the entire process of hosting Whitties Helping Whitties, from initial outreach to the college to organizing to programming to execution. Our hope in hosting the event was to help graduating Whitties understand the landscape of opportunities in the startup scene in Seattle, and begin to understand their skills' transferability and bridge the gap between life at the college and life after."
A lively mix of small talk, intergenerational mingling and business card swapping, this well-attended gathering was "certainly a positive step in that direction."
McKallor, a psychology major, spent her first few months after graduation traveling, with stints as an au pair in Turkey and certified yoga teacher in Nicaragua. As her first "big person" job, WeWork has been a good fit, she said.
"I really connect with the company's values and mission. I also have found that a lot of the skills I learned at Whitman, such as time management and handling stressful situations with grace, have really helped me succeed here."
More than 160 alumni and guests signed in at the Seattle event, and many stayed to carry on their conversations or catch up with old friends even as the building was closing for the night.
"I was prompted to go because I'm currently in the final months of my graduate program, and my thoughts are turning toward finding a job," said Chelsea Momany '11, a student at the University of Washington School of Dentistry. "I ended up talking to some people who were also in or interested in health professions in general, and gave a little bit of advice to a Whitman student and her mother, so it was an enjoyable evening."
Mary Deming Barber '78, owner of the Barber Group communication and public relations agency and vice president of Whitman's alumni board, believes "this year the event came into its own."
"I was most impressed to see how many parents were willing to share their skills and knowledge with the students, in addition to alumni," she said. "One of the things that makes Whitman unique is that sense of family and community. This event truly shows that."
Barber noted that when she graduated from Whitman more than 30 years ago, "there was one career counselor who kept our resumes on file in case someone called. So we've come a long way since then in terms of how the college assists students and how alumni help each other."
As for MacArthur, who at first approached Whitties Helping Whitties as simply an occasion to "ask around for potential leads," he is now eagerly anticipating accompanying a senior geologist into the field.
"This kind of connection with alumni and parents opens up yet another plane of learning for Whitman students," said Rolfe. "Access to unfamiliar roles and organizations allows them to consider using their education in new and intriguing ways. The internship and job shadowing opportunities that students build from these connections test their knowledge in diverse, real-time situations and provide the opportunity to see the immediate impact they can make."
MacArthur added, "It was a great feeling when I actually secured an internship that was so directly related to my interests."
Rolfe said this kind of outcome is precisely the point of networking within the Whitman community.
"This was our goal in creating the Whitties Helping Whitties events, and I'm thrilled to hear about more and more of these connections."