Dare to be free: Justice Mary Yu addresses the class of 2016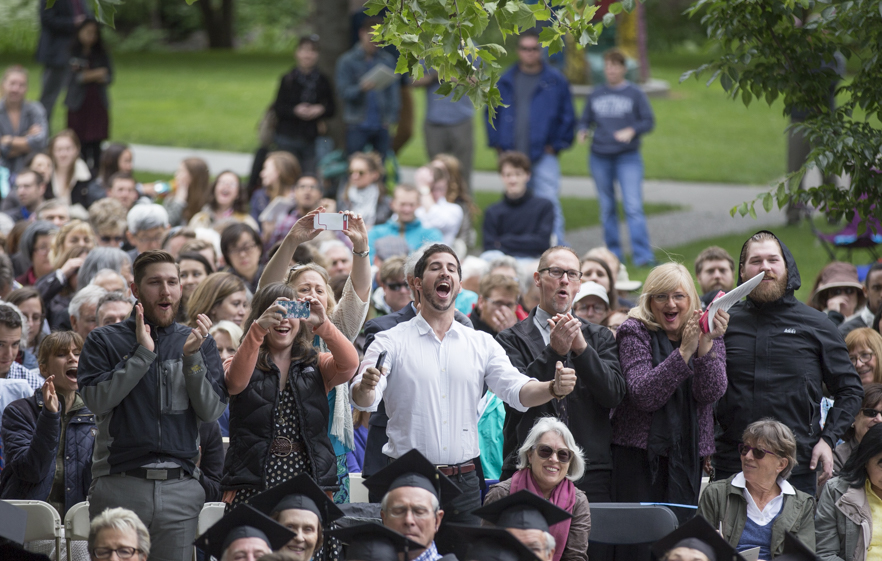 The official Latin motto of Whitman College is per ardua surgo — through adversity, I rise. As the first woman of color and the first member of the LBGT community to serve as a Washington state Supreme Court Justice, Mary Yu knows a thing or two about adversity. The daughter of Chinese and Mexican immigrants, Yu grew up in the south side of Chicago and was the first in her family to graduate from college.
Speaking at Whitman's 130th Commencement ceremony on May 22, Yu (pictured below with President Kathleen M. Murray) told the 360 graduates gathered on the south lawn of Memorial Building to "dare to take risks for the sake of the common good— dare to be free, to be summoned by life without fear."
She added, "Your task upon leaving Whitman today is to build confidence in what you know your talents are and to find that sweet spot—the sweet spot being that nexus where your talents meet the world's needs."
Appointed by Washington state Governor Jay Inslee, Yu joined the Supreme Court in 2014 after serving as a King County trial court judge for 15 years. During that time, she presided over hundreds of criminal and civil cases, as well as adoptions and other family law matters. She also performed the state's first same-sex marriage. Yu received an honorary Doctor of Humane Letters degree from Whitman as part of the Commencement proceedings.
In her opening remarks, President Murray congratulated the Class of 2016, the first graduating class of her presidency, and thanked family members and the college's faculty, "your most important guides during your time at Whitman. They have challenged you, propped you up, nourished you both physically and mentally, and put their hearts, minds and souls into teaching you."
In keeping with tradition, members of the Class of 1966 returned to campus for their 50th reunion and took part in the ceremony. After recounting some of the historical milestones that marked their final year at Whitman (escalation of the Vietnam War, implantation of the first artificial heart), Murray speculated about which global events this year's graduates will remember in another 50 years' time. Looking ahead to the year 2066, she referenced the latest U.N. Climate Change Summit, SpaceX, the 2016 U.S. presidential election and LIGO's momentous discovery of gravitational waves.
"Today's commencement is both an ending and a beginning for you," she said. "I urge you to continue to develop your capacity for empathy, for the ability to understand, even to share the feelings of others, to experience life as if you were standing in someone else's shoes. I hope that many of your experiences at Whitman have helped you to build this capacity, as you have lived and learned with people from different parts of the country and world, different racial and ethnic groups, different socioeconomic backgrounds, and different political and religious views."
This year's graduating class hails from 36 states and U.S. territories and nine countries; at home, they speak 19 languages beside English. One of the new Whitman alumni, Samantha Grainger Shuba '16, said that leaving Walla Walla will be bittersweet.
"I've made some of the best friends I will ever have here, worked with some of the greatest, most trusting people, and felt a sense of place that I never thought I would feel," she said. Grainger Shuba — who also designed this year's class banner—said that, at first, she wasn't sure about Whitman. But that changed quickly.
"I can say with certainty that it has won me, heart and soul. The culture here is tight-knit, family-oriented and takes care of each other. I have been astonished by the level of involvement and community. It's inspiring."
After graduation, she will move to Denver with her fiancé, and plans to work in marketing or communications before embarking on a doctoral program.
In her address, Yu also exhorted graduates to organize their lives not according to what they want from life, but rather what life wants from them, telling students to ask themselves: "What are the circumstances of our world, our nation, our state calling me to do?" said Yu. "What does this society need from me today?"
Another time-honored commencement tradition is the comedic sendoff by a student speaker or speakers, selected by their peers to represent the graduating class. This year, psychology majors Austin Biehl '16 and Rose Gottlieb '16 (pictured above) rose to the occasion with a speech titled "You Can't Guest Swipe Into Reality," a riff on the Whitman dining hall experience.
"Whitman has taught me to have courage no matter the circumstances," Gottlieb said. "Like when you keep running the naked mile... even though you've long since lost all feeling in your left butt cheek. Also coming with many of us is the ability to fake it till you make it. Like, if I wear enough Patagonia and take beginning rock climbing, maybe people will believe that I'm actually going to do something about global warming."
Comparing their graduation from Whitman to a caterpillar slowly emerging from its cocoon, Biehl quipped, "I look out into the audience and all I see is a milieu of shapeless blobs. And maybe that's because we're all wearing these unflattering robes, or maybe it's because our lives actually are just a goopy mass."
They returned glibly to the theme of adversity in Whitman's motto, continuing, "Right now, in our gelatinous state, it may seem impossible that we'll ever get it together and become beautiful butterflies. But like the butterfly, when we emerge from our chrysalis and confront the world, we won't be starting from scratch. There will always be pieces from Whitman for us to hold onto."
During the ceremony, six faculty members were recognized as recipients of Distinguished Faculty Awards for mentoring, advising, teaching and scholarship. These awards reflect the highest recognition of the excellence of Whitman College faculty members. The faculty members were:
Dennis Crockett, associate professor of art history: Thomas D. Howells Award for Distinguished Teaching in Humanities
Melisa Casumbal-Salazar: Suzanne L. Martin Award for Excellence in Mentoring
Thomas Knight, associate professor of biology-A.E. Lange Award for Distinguished Science Teaching
Gaurav Majumdar, associate professor of English: George Ball Award for Excellence in Advising
Elyse Semerdjian, associate professor of history: G. Thomas Edwards Award for Excellence in Teaching and Scholarship
Gilbert Mireles, associate professor of sociology: Robert Y. Fluno Award for Distinguished Teaching in Social Sciences
You can watch full videos of this weekend's ceremonies by clicking the links below:
Published on May 22, 2016