Kathleen M. Murray installed as Whitman's 14th president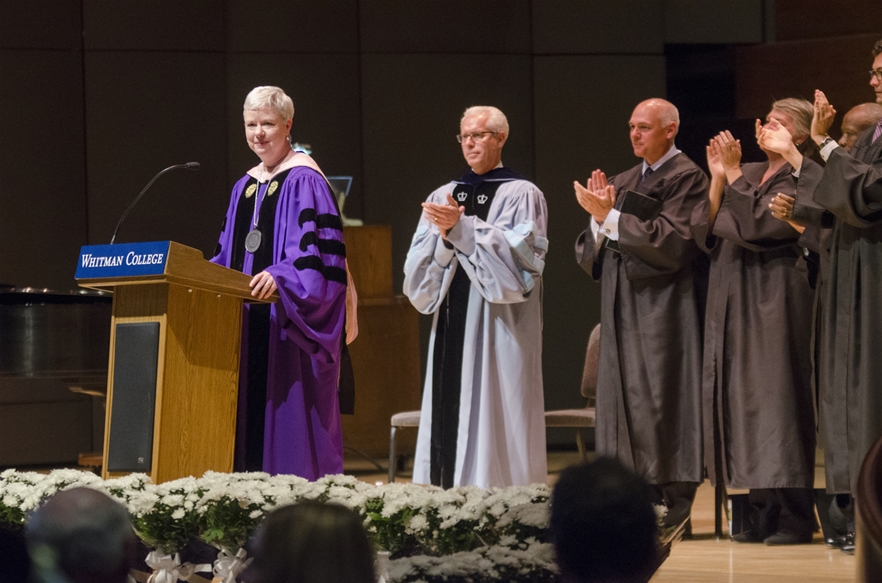 On September 18, Whitman College installed its 14th president, Dr. Kathleen M. Murray, in a ceremony held in Cordiner Hall and attended by faculty and staff members, students, alumni and community members.
After remarks from Chair of the Board of Trustees Brad McMurchie '84, as well as Whitman's overseers, alumni board, students, staff and faculty members, Murray was introduced by Brian C. Rosenberg, president of Macalester College, where Murray was previously provost and dean of the faculty.
In her speech, titled "The Frontier of Liberal Education," President Murray praised her mentors and her family for their support and guidance throughout her career and her transition to Whitman. Discussing the founding of Whitman College in 1882, Murray talked about the frontier of learning and education, saying:
"There are risks on the frontier… but we can minimize those risks by remaining true to our core, our fundamental culture and ethos. Many of you have heard me say that our business is student learning. You'll hear me say it often because I firmly believe that if our discussions and our decisions always center on what is best for student learning, we are going to do some amazing things together."
She also talked said that she was "not interested in exploring a fundamentally different model of higher education," stressing the importance of a broad, deep education in the liberal arts and sciences and the value of a campus-centric community for Whitman students.
Murray's speech ended by focusing on the question of narrative in students' lives. The college has a responsibility, she added, "to help students generate the narrative that guides them through their undergraduate years and into life beyond the college, the move from the settled area that is Whitman College into the frontier of the rest of life."
The installation ceremony featured musical interludes from student musicians and was followed by a reception on the lawn next to Cordiner Hall.
Published on Sep 21, 2015