Students reduce waste with Whitman's worm wigwam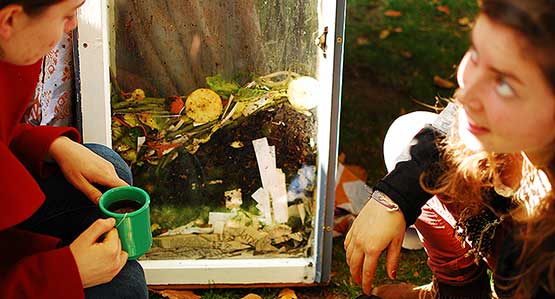 Layers of natural waste to be composted.
The earthworm-to-student ratio on Whitman's campus has reached 32 to 1.
While Whitman is home to about 1,500 students, more than 45,000 specimens of Eisenia fetida – the species name for various types of red worms – occupy a new worm wigwam, recently constructed behind Lyman Hall. The 45 pounds of squirming Red Wrigglers were dumped into the five-by-eight foot structure for one reason: To clean up student waste.
According to biology-environmental studies major Katie Radosevic '12, the worms will help process consumer food waste generated at Jewett Dining Hall, which can then be used as fertilizer. Within four to six months, Radosevic said, the first harvest of vermicompost – the nutrient-rich combination of worm castings and food waste – will be ready to fertilize Whitman's flowerbeds.
"We discovered that about two tons of food waste are generated every week, and we decided that we wanted to do something about it," said Radosevic, a member of the student-led Industrial Composting Working Group.
Although the Walla Walla landfill is conducting a pilot program for green waste, there's no citywide composting system for food waste. So Whitties created their own self-contained compost facility, which the working group unveiled on Oct. 29.
"Change doesn't have to come from some higher authority. It's going to come from backyards. Lyman's backyard," said Matt Dittrich '12, Associated Students of Whitman College president. "We're going to make change happen."
Now with the installation of this large-scale composting system on campus, Whitman no longer will need to purchase compost from the Walla Walla landfill.
Instead, students in Jewett Dining Hall will sort food waste into three bins: napkins, non-compostable food waste and food waste for the worms.
The worms eat up to half their body weight every day. Because the worm population doubles every 90 to 120 days, the wigwam soon will process 100-120 pounds of food daily, churning it into compost that will be used to fertilize on-campus plants.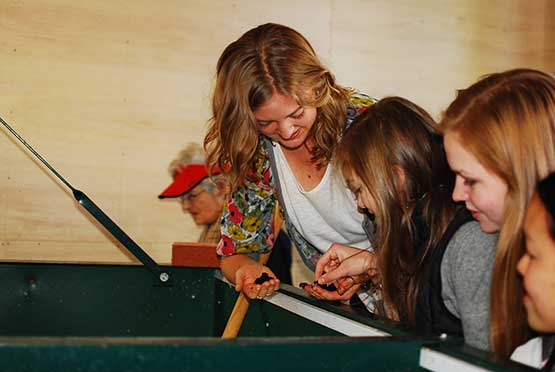 "You just dig your hand in and it's pure worms…"
"We will get to use this great product to improve the vitality of our flower beds," said Bob Biles, Whitman landscape supervisor. His physical plant recycling crew will distribute the compost. "The worm castings will make our plants flourish."
Collaborating on the composting project with staff and community members, Whitman students received funding from four local and regional sources: The Green Fund, a student government savings fund of $20,000 earmarked for sustainable grants and projects, the Baker Boyer Bank's Yancey P. Winan's trust, Sustainable Agriculture Technologies (the wigwam manufacturer), and the Whitman physical plant.
While the wigwam was purchased for less than $7,000 from a small business in Cottage Grove, Ore., a local contractor, with help from physical plant staff, built the shed. Barbara Newby, owner of Walla Walla Worm Works, raised the wigwam's worms. Student volunteer Danielle Broida '13 said Whitman's request for 45,000 worms was the largest order Newby had ever received.
"We'd get 5,000 worms at a time, and then one day we got an order for 30,000, and they were evenly divided into three bins. You just dig your hand in and it's pure worms," Broida said.
Worms now outnumber Whitman students, but Whitties remain undaunted by the challenge to change the status quo.
"It all starts will individual action," said Dittrich. "This composter may seem like a small step, but it shows that our endeavors here matter."
Read more about Whitman's sustainability efforts on the Campus Sustainability website.
—Eleanor Ellis '13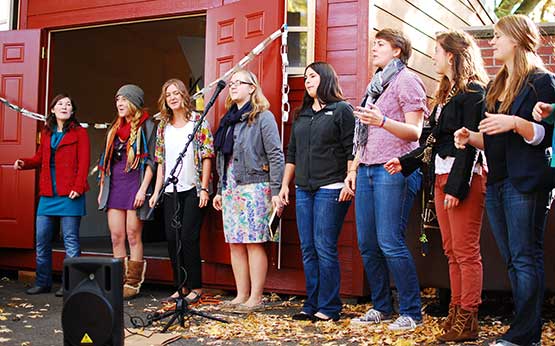 The composting team performs a compost rap to celebrate the worm wigwam behind Jewett dining hall.
Published on Nov 16, 2011