Patrick Henry, Tana Park honored with Pete and Hedda Reid Service Award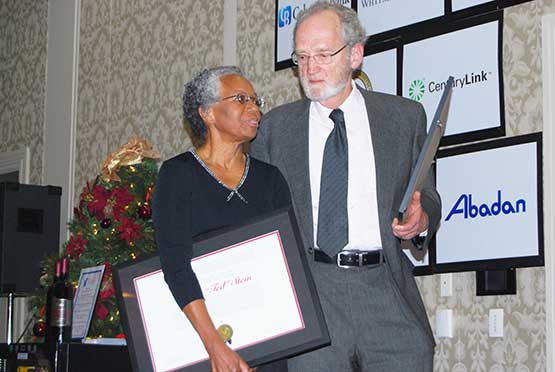 Patrick Henry stands with Judy Stein, wife of Edwin "Ted" Stein at the award ceremony. Henry's award was presented in memory of Ted Stein.
Two members of the Whitman College community were honored Wednesday, Nov. 30 with the Pete and Hedda Reid Service to Walla Walla Award, formerly called the Town-Gown Award.
Patrick Henry, retired Cushing Eells professor of philosophy and literature and professor emeritus of foreign languages and literatures, and Tana Park, sponsored program coordinator in the Hall of Science, each received the award and a $1,000 stipend at the Chamber of Commerce annual awards banquet. Recipients are not told in advance that they have been selected, so both were surprised at the event.
Mara Sorkin, events coordinator in the president's office, said the selection committee could not reach a decision on a single candidate because "both of these nominees were so amazingly qualified and deserving of the award."
Patrick Henry taught at Whitman for nearly 30 years while making significant contributions to the community. Among his many volunteer efforts, he says he is most proud of his involvement in two nonprofits: Friends of Children of Walla Walla Walla, an organization pairing adult mentors with local youth, and the Blue Mountain Action Council's tutoring project, helping disadvantaged community members obtain their GEDs.
One of the first Whitman volunteers at Helpline in the 1980s, Henry continued his volunteer work after retiring from teaching in 2006, helping to organize the local Heroes' Breakfast to raise money for the American Red Cross and serving on the board of Friends.
A Whitman tradition is to present the award in memory of a college staff or faculty member who has passed away. Henry's award honors Edwin "Ted" Stein, professor emeritus of English and one of Henry's closest friends. Stein's wife Judy travelled to Walla Walla from New York City to accept the honor on his behalf.
"To receive this award under any circumstances when there are so many more deserving people is an honor," Henry said. "To get it in memory of one of the best friends I've ever had, with his widow there, was really something very, very special."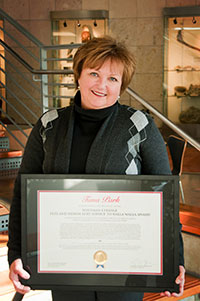 Tana Park with her award in the Hall of Science.
Tana Park, whose job involves administering faculty grants, received the award for extending that same spirit of helping people into the community. For more than a decade, she has chaired the Walla Walla Catholic Schools' Hope Benefit Dinner committee, and her work for the schools has ranged from helping with the annual sausage festival to coaching girls' volleyball. Park, whose son and daughter both attended DeSales High School, won "Desalian of the Year" in 2002 and continued to volunteer even after her children had graduated.
Senior Academic Assistant Susan Bennett, who nominated Park for the award, describes her as a selfless volunteer.
"I can't think of a more deserving person for this honor, who has given so much to both Whitman and the community," she said.
Park arrived at the ceremony expecting to decorate Whitman centerpieces, something she has done for the past few years, and attend the dinner. So she was in for a big surprise when she found herself one of the evening's big winners.
"I was very surprised since there are many people in our Whitman community who volunteer unselfishly," she said. "To be one of the awardees is very humbling and I am honored."
Park says her most cherished causes are the Walla Walla Catholic Schools and the YWCA, while she is also a big supporter of public education. She has served on the board of directors of the YWCA and as president of the Green Park Elementary School PTA, and participated in the Carnival committee.
"Volunteering is very important to my family and I appreciate all the support I get from my husband," she added.
Her award was presented in memory of Jack Riehl '70, former Whitman alumni director and a beloved member of the local community. Born and raised in Walla Walla, he was Whitman's first-ever student commencement speaker.
The Pete and Hedda Reid Service to Walla Walla Award honors the 60-plus years of service to the college and community by its namesakes, Pete '49 and Hedda '49 Reid. Pete retired from Whitman in 2009 after working at his alma mater for 61 years.