Life Skills Series offers Hands-On Learning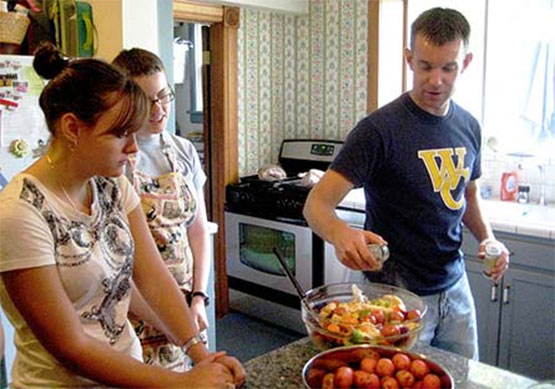 Jamie Kennedy '96 instructs students on the finer points of meal preparation
Whitman facilities staff member Gary "Dag" D'Agostino wants students to get their hands dirty.
Though liberal arts students are not typically exposed to vocational training as part of their academic experience, Dag is empowering students to solve typical household problems on their own.
"Knowledge is power," Dag said. "Life skills are every bit as important as academic skills. In fact, one amplifies the other."
Dag spends one afternoon every other week teaching a group of Whitman students how to change tires, lubricate a car's locks and plunge toilets.
He conducts his hands-on workshops as part of the new Life Skills series, a weekly opportunity for Whitman staff to share their skills and personal passions with students, who can sign up for free classes on mending, meditation, cooking, plumbing and other everyday skills.
"The focus of the program is to give students the basic skills they need to confront everyday tasks that arise outside of the classroom," said Katharine Curles '07, student activities and orientation program adviser. "The series is aimed at teaching students skills they may not necessarily gain in the classroom."
The Life Skills series emerged from the work of Leann Adams, assistant director for student activities, and Colleen McKinney, former student activities and orientation program adviser. They organized a baking workshop at a local bakery – the Colville Street Patisserie – and a student-led mending workshop in spring 2011.
"The response has been incredibly positive," Curles said. "I am thrilled to see how this young program matures and grows."
The program also offers staff and students a unique opportunity to interact outside their usual campus roles.
Jamie Kennedy '96 is director of planned giving, but it was his culinary passion that he shared with students who came to his home last October.
"Working in a staff position focused primarily on alumni relations does not allow me to spend much time with students," Kennedy said. "Teaching a lesson about roasting a chicken and vegetables was a fun and productive exchange."
Rachel Hoar '12, a classics major from Eugene, Ore., participated in Kennedy's cooking class. She not only learned how to use thyme, sage and fennel, but later used her new skills to prepare a dinner for her housemates.
"Skills like cooking help me feel more confident about getting by on my own," Hoar said.
Life Skills Series: 2011-2012
Fall 2011
Jamie Kennedy '96, director planned giving and swim coach: Chicken roasting
Dona LaFran, administrative assistant for Penrose Library: "More Than Mending"
Chanel Finnie, administrative assistant in the Development Office: Cross-stitching Sonja Aikens, administrative assistant for the intercultural center: Meditation
Dag D'Agostino, boiler technician/plumber, joined by other physical plant staff: Diagnosing and treating common household problems.
Spring 2012
Michele Hanford, fitness facilities director: Lifelong fitness
Susan Brick, director of off-campus studies: Chinese cooking
Rebecca Thorpe, merchandise and marketing specialist: Stress relief
Jamie Kennedy '96, director planned giving and swim coach: BBQ
Mara Sorkin, events coordinator in the president's office: Chocolate appreciation.
For more information about the Life Skills series, visit http://www.whitman.edu/student-life/student-activities/life-skills-series.
Published on Nov 30, 2011