First Person: Trevor Cushman '11, theatre major
First Person is a series of student profiles designed to share a glimpse of the wide and varied interests of Whitman students. While all Whitman students share the experience of the college's focus on academic rigor and excellence, their diverse interests and activities vary greatly outside of the classroom. The series provides a snapshot of the lives of students across campus, from the athletics venues to the theater stage, the chemistry labs, Ankeny Field and beyond.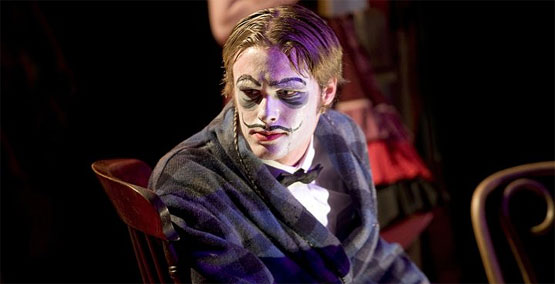 This profile features Trevor Cushman, a senior theatre major.
Hometown: Point Reyes Station, Calif.
Expected graduation date: 2011
Favorite activities at Whitman: Acting and technical work at Harper Joy Theatre, attending Varsity Nordic shows, attending chorale concerts and sampling Walla Walla's culinary world.
How is the season going? What productions have you been involved in, and what were your roles?
The season is going well, especially given the extra hurdle presented to the students and faculty by the Harper Joy renovation. The fact that half of the theatre is under construction means that rehearsal space has been a little more limited than usual, but this constraint has not proved especially onerous, and it is clearly worth it when we consider the resources that are being prepared for our future use.
I have been involved with three of the four productions this fall and have worked as an electrician in the scene shop all semester. I wrote one play and directed another for the Instant Play Festival. I played three roles in the bizarre, energetic romp that was Kid Simple, including a Rockwell-esque father, a scheming cultist, and a noir radio show character. I finished this semester with a stint as the light board operator for The Sea.
How does your experience in theater play a role in other areas of your life on campus?
It helps me manage stress; that's one thing. My education as an actor has done a lot to help me focus on the task at hand, and to train my mind not to run away with itself. It's so easy to get halfway through a paper and start freaking out because it's one of 50 different things you have to get done that night. Practicing acting helps to diminish these unproductive habits, because when you're on stage you have absolutely no room for them.
It also really makes me value friends that I have outside of the department. Harper Joy is very open to the rest of the campus, but even so, you do tend to see the same people day in day out, whether they're theatre majors or not. This creates a community that is very insular, and is always talking shop, and it's really refreshing to spend time with people who are talking sociology or philosophy or English.

What was your first introduction to theater?
My elementary school required that every eighth grader take part in a play. I complained incessantly, made myself a pain in the neck for the director and did everything that I could to get out of it when my time came. It turned out to not be as horrid an experience as I imagined it would be, and a year later when I was feeling bored and lonely in my first year of high school, I latched on to theatre as an interesting extracurricular activity.
How does Whitman's theater department set itself apart from other schools?
It has much more extensive resources, I think, than most other liberal arts schools of a comparable size. Whitman's theatre department encourages students to study multiple disciplines within the theatre, providing a well-rounded experience. Also, the high degree to which faculty become invested in individual student's successes; they really care about student progress.
What has been your favorite role to play at Harper Joy Theatre, and why?
I very much enjoy my work as an electrician; it's engaging, and it allows me to challenge my fear of heights. My favorite acting role has been to play one of the men in Frenzy for Two or More, which was staged Fall 2009. We performed the play in such a way that each of us played a different role for each performance, and this lent the production a thrillingly uncertain and improvisational aspect that I haven't experienced anywhere else.
Anything else you would like to share?
Some people don't take theatre majors seriously. They look at our comparatively small number of required papers and lack of extensive exams, and they scoff. What they don't realize is that a typical theatre major might spend three hours a night or more in rehearsal, and then go home to do their homework. It's an intense commitment that sometimes shocks people who poke their head in the door for "some easy art credits." Make no mistake, majoring in theatre is for people who are passionate enough about this peculiar art to spend hours in the rehearsal room before and after hitting the library.