Scholarships Help Scholar-Athlete's Dreams Take Flight
By Savannah Tranchell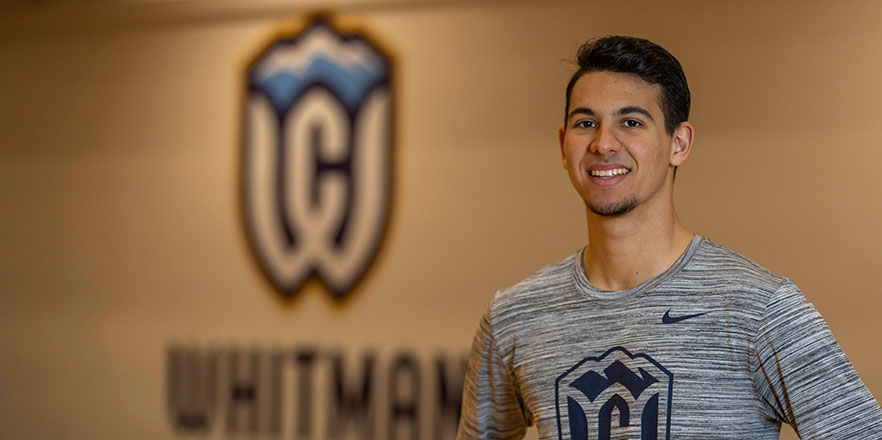 When Anthony Nevoso '20 graduates from Whitman College this May, he will be the first person in his family to earn a degree.
But that's just one piece of a trajectory that will take Nevoso literally into the skies.
This summer, the economics major and captain of the Whitman Blues baseball team will begin flight school, fulfilling a lifetime dream of being an airline pilot.
"I've always been interested in being a pilot," said Nevoso. He received scholarships to attend Whitman, enabling him to graduate with little debt and to be able to afford flight school. "With the help of the scholarships I received at Whitman, I'll be able to go out and get that training in order to do something I've always been passionate about."
Opportunities to Soar
Originally from Moorpark, California, Nevoso first learned about Whitman while attending an information session for the Northwest 5 Colleges Consortium in Los Angeles. He then was able to learn more about the college and baseball team at scouting events, and eventually arranged a visit with head coach Brian Kitamura.
"My whole family was amazed at how genuinely nice everybody was," Nevoso said. "They were thoughtful and caring and wanted to make sure you were set up for success once you got here."
After being admitted, Nevoso participated in the Summer Fly-In, a program that introduces first-generation and working-class students to academic life and all the Whitman resources available to them.
"They say on Fly-In how there's so many resources on campus, and tell you to access your resources — but that seriously is true," Nevoso said. "People around here are more than happy to help you out. You're not just a number — you're a name."
Along with the supportive community and opportunity to play baseball, Nevoso was attracted to the strength of Whitman's academic programs. He liked that the liberal arts model creates room for scholar-athletes to have interests beyond sports.
"I wanted to make sure I was focused on my academics, and not just baseball. I wanted to get a good education." he said. "Baseball's been a huge passion of mine, but not something I want to define me. That's the cool thing about Whitman — I'm able to make those connections and find people I'll have lifelong bonds with. It's not just 'you're a baseball player.'"
This year, Nevoso, who is a catcher, was elected captain of the baseball team. In that role, he supports his fellow athletes and helps the team with fundraising. Division III athletes do not receive athletic scholarships, so funds raised are used to support the cost of team travel, equipment and facilities. He also organized an annual fundraiser for the Jan Erickson Life Saver Fund at Providence St. Mary's, which supports mammograms and breast cancer patient support. For 2019, the team was able to raise $1,000 for the fund — its biggest donation ever.
"We've been supporting that since I got here freshman year," he said. "It's a cool running tradition. It's good to help out in the community."
"Our players call Anthony 'Papi' in our program. This nickname, in baseball circles, is one that's reserved for players who are team leaders, mentors and highly respected," Kitamura said. "As a team captain and senior catcher, 'Papi' is the heartbeat of our team —an extremely hard worker, a leader on and off the field, and is always putting others first."
In addition to helping with the fundraiser and baseball team, Nevoso also has worked as a mentor for local elementary school children through the Friends of Children of Walla Walla program, working with two different fifth graders his sophomore and junior years.
"I am so proud of Anthony and all that he's accomplished in his time here on campus. He hasn't just 'received' his college education here at Whitman — he's gotten involved," Kitamura said. "From working with local players at our camps and clinics, to serving as a mentor in the Friends of Children of Walla Walla program, it's been great to see all that he's been a part of on campus and the positive impact that he's had in our community."
Grateful for the Support
Nevoso is grateful for the support he's received at Whitman, not just from athletics, but academically and financially. It's helped him realize the value of giving back.
"It gives me more incentive after I leave Whitman to give back to others," he said. "I want to enable people to go pursue their passions."
He's looking forward to the next step in his career — and to returning to Whitman each year for the alumni baseball games, of course.
"It's such an honor and privilege to be at a great institution like Whitman, and to have the support of people around you on campus," he said. "Being a scholarship recipient enables me to pursue my dreams after I graduate. I'm so thankful for alumni and their contributions to a Whitman education that my classmates and I have benefited from."
Published on Feb 18, 2020