Alumni Association Announces 2021 Award Recipients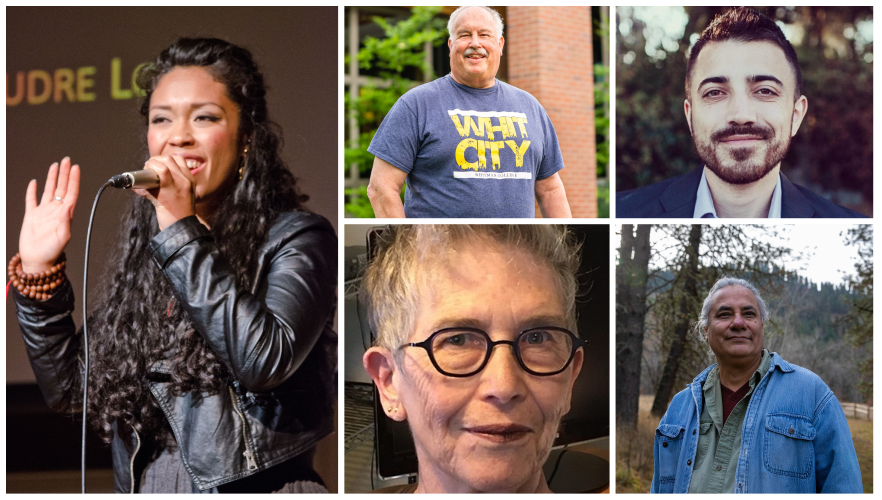 Each year, the Whitman College Alumni Association recognizes alumni who demonstrate outstanding achievement in their careers, communities, or through service to Whitman College.
New for 2021 is the Trailblazer Diversity and Inclusion Award. Established and selected in cooperation with the Office of Diversity & Inclusion, this award recognizes alumni whose work exemplifies inclusion, promotes equity and values and reflects the diversity of our world.
Here are this year's recipients of the 2021 awards, which will be presented during Reunion Weekend, September 24-26, 2021.
Aisha Fukushima '09
Trailblazer Diversity and Inclusion Award
The daughter of music industry booking agents, Aisha Fukushima spent her childhood between Japan and Seattle, and by middle school was writing rap lyrics, poetry and stories to express herself and her political convictions. She earned the Claire Sherwood Memorial Scholarship and became a rhetoric and film studies major at Whitman, where she was also involved in the college's first ever Power & Privilege Symposium and WISE program (Whitman Institute for Scholastic Enrichment) to introduce low-income and first-generation middle school kids to college life.
Upon graduation, Fukushima received the coveted Watson Fellowship to further her study of global hip-hop traditions in India, Morocco, Senegal, South Africa, Denmark and the United Kingdom. The resulting album, RAPtivism, is the product of collaborations with 20 political hip-hop artists rapping in solidarity against injustice. Since then, she has continued to expand what she describes as the three main branches of RAPtivism: education, music and online community building.
Fukushima returned to Whitman in 2019 to serve as that year's commencement speaker.
Davey Friedman '11
Pete Reid Award for Young Alumni
Since graduating from Whitman, Friedman has used his success as a leader in fast-growing startup companies to help current and recent grads build community, find job opportunities and put their liberal arts education to good use in the real estate and technology industries.
After completing a master's in Middle East studies at Tel Aviv University in Israel, Friedman joined WeWork as the company's 90th employee. He started in a frontline sales role and rose in the organization to become head of sales for the West. As soon as he was able, Friedman turned his passion for Whitman into opportunities for recent graduates. In addition to hiring a handful of talented Whitties himself, in January 2016 Friedman facilitated the Whitties Helping Whitties networking event, where he served as the keynote speaker and encouraged students to use the skills they learned at Whitman to seek opportunities in top companies with confidence.
In 2019, Friedman started a grassroots Slack channel called "Whitties in Tech" that within two weeks grew to more than 500 members. The group is now more than 600 members strong and has become an active platform for Whitties to network, discover job opportunities and access mentors in the technology sector.
Friedman's entrepreneurial spirit, enthusiasm for creating opportunities for Whitman students and commitment to mentoring others throughout his career makes him an ideal recipient of the Pete Reid Award for Young Alumni.
Jim Dow '71
Gordon Scribner Award for Distinguished Service
Described as the ultimate Whitman ambassador, Jim Dow has been a Whitman leader for five decades, from encouraging his Bainbridge Island students to look at Whitman to serving on a multitude of Whitman boards and committees. Since retiring from full-time teaching, he has made Whitman his priority. His passion is evident in all his interaction with alumni, staff, students and prospective students. He maintains a list of contacts so he can pass Whitman students along to professionals in their fields of study and job interests. Dow knows the hard work, dedication and passion of Whitman students and the value they bring to the workplace, and works to make connections wherever he can.
A passion for giving back drives Dow's ongoing contributions to the Whitman community. In addition to his countless friendships, mentorships and connections with students, faculty and alumni, Dow is an alumni representative for the admissions office and has served on both the alumni and W Club boards. He is currently a member of the President's Advisory Board. But it is the relationships that he builds with prospective and current students and alumni of all ages that are truly inspirational.
Pam Walton '66
Sally Rodgers Award for Lifelong Achievement
An award-winning documentarian, Pam Walton is dedicated to telling the truth about American life. Her films have chronicled LGBTQIA+ lives, politics, and culture, working to change our culture's homophobic views of gay and lesbian people and, more recently, focusing on ageism. Her work has screened at the Museum of Modern Art in New York City and the Margaret Mead Film Festival, and has been included in the prestigious International Public Television Screening Conference (INPUT). Walton's next film, "The Lodge," documents the first retirement community to offer independent and assisted living to LGBTQIA+ seniors and their allies.
Walton has two master's degrees from Stanford University, one in education and the other in communication (film and video production). She was a lecturer in communication at Stanford from 1989 to 1999. Although she only attended Whitman from 1962-1964, when she returned to campus for her 50th reunion she noted, "That time has stood as two of the most important years of my life." The reason for Walton's selection for this award can be found in the motto of her eponymous production company: for her work in "Illuminating gay and lesbian lives and the journeys of extraordinary older women."
Marcus Amerman '81
Alumnus of Merit
An enrolled member of the Choctaw Nation of Oklahoma, Marcus Amerman was born in Phoenix and grew up in the Pacific Northwest before settling in Santa Fe, New Mexico. After Whitman, he took additional art courses at the Institute of American Indian Arts in Santa Fe. He credits the Plateau region and its wealth of talented bead artists with introducing him to the "traditional" art form of beadwork. Amerman has made this art form his own by creating a new genre of bead artistry in which beads are stitched down, one by one, to create realistic, pictorial images, not just large color fields or patterns.
Amerman draws upon a wide range of influences to create works that reflect experience living in three different regions with strong artistic traditions, his academic introduction to pop art and social commentary, and his inventive exploration of the potential artistic forms and expressions using beads. Although he is best known for his bead art, he is also a multimedia artist, painter, performance artist, fashion designer and glass artist. His work is in the permanent collections of the Smithsonian National Museum of the American Indian, the Portland Art Museum and the American Museum of Natural History, among many others. His cultural background and Whitman education continue to influence his artwork, which is a combination of blood, upbringing and craft, while challenging assumptions about what it means to be a Native artist.
Published on Jun 21, 2021