Whitman College Announces Dr. Sarah Bolton as 15th President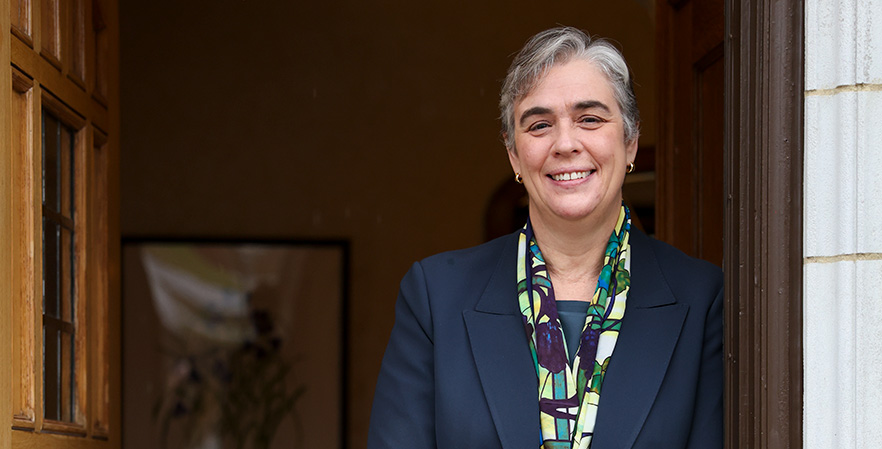 WALLA WALLA, Wash. — The Whitman College Board of Trustees today announced the unanimous selection of Dr. Sarah Bolton as the institution's 15th president. Bolton, the sitting president of The College of Wooster, will succeed President Kathleen Murray, who is retiring after seven years of service to Whitman.
A respected physicist, scholar and administrator, Bolton brings more than 25 years of experience in higher education and a long-standing commitment to the liberal arts. Prior to her term as president of The College of Wooster, Bolton spent more than 20 years at Williams College in Massachusetts, first as a professor and then as Dean of the College.
"Sarah is a dynamic leader and a thoughtful listener whose values and vision mirror those of Whitman," said Chair of the Board of Trustees Joe Davis. "She believes that student learning and growth should be at the center of every decision, that excellence requires equity and a commitment to fulfill the college's promise for every student. She believes a great liberal arts education like Whitman's is more important than ever—preparing students to impact the world in ways that are so greatly needed at this moment. With these guiding values, Sarah Bolton is the right president for Whitman at this time in the college's history."
Bolton said she was drawn to Whitman precisely because of this shared mission to equip the next generation of learners to lead meaningful lives of purpose.
"The most exciting thing for me is the impact that Whitman makes in the lives of its students. I had a great opportunity in the course of the interviews to hear from everyone from current students to recent graduates to people who had graduated decades ago, and they all spoke about the transformative power of their Whitman education. They described the ways their Whitman education had influenced their path, had opened doors for them, had changed their sense of themselves and what they could do, and the ways that they are thinking about how that can evolve for the future."
She was further compelled by Whitman's "superb faculty, and equitable and inclusive campus life that weaves students together in a fabric of genuine understanding, and connections from classroom learning to engagement with the local community and the larger world."
The Board of Trustees confirmed Bolton's appointment after an almost yearlong search led by a distinguished roster of trustees, faculty, staff, students, alumni and parents. Bolton rose to the top of a highly accomplished group of candidates with diverse backgrounds and experiences. The firm Storbeck Search, a member of the Diversified Search Group, provided executive search services.
"Even in a deep and diverse and talented pool, Sarah Bolton stood out for the ways that she's created a career and a leadership path that puts students at the center and champions their success," said Trustee Danielle Garbe Reser '97, Chair of the Presidential Search Committee.
"We are excited and inspired by her shared commitment to academic excellence in the liberal arts and her appreciation for the power of our location in Walla Walla to provide a transformative educational experience. This is the first time that Whitman has recruited a sitting president to the job, which is a testimony to the current strength of the college and the result of decades of exceptional stewardship of the institution and its resources."
Bolton took the helm at Wooster in 2016, and in her first year as president collaborated with faculty, staff and students to create the college's first-ever diversity, equity and inclusion strategic plan. Bolton then raised funds and organized the Wooster community to implement those initiatives, including by partnering with faculty on core curriculum revisions to build in more discussions of social justice and spearheading work to add new majors and minors in emerging fields.
"I really liked the way she talked about diversity, equity and inclusion issues," said Associate Professor of Philosophy Rebecca Hanrahan, chair of the Whitman faculty and a member of the search committee. "She kept repeating that an opportunity that's not available to everybody is just not an opportunity. She had great success at living that vision at Wooster. I was also very impressed by the work she had done to create a diverse student body at Wooster."
In 2018, under Bolton's stewardship, Wooster completed a historic and record-setting campaign that resulted in 71 new scholarships, three new endowed professorships, 34 new endowed funds to support faculty, student research and academic departments, and the creation of 10 endowed funds to support APEX, Wooster's integrated center for student academic and career advising, planning and experiential learning.
"I was really impressed with how student-focused she was, and she showed a lot of empathy for what students are going through today," said Reunion Giving Officer Claire Evans '96, parent of a current Whitman student and another search committee member. "She definitely has her finger on the pulse of what's happening on college campuses today, not only on the administrative side of things, but with our faculty, with the students."
Reflecting on her tenure at Wooster, Bolton appreciates the many parallels between the two institutions, particularly strength of community. "I'm very proud of Wooster's students and the staff and faculty and the ways that they've innovated and continued to move forward to create wonderful things over the last six years, including the last two which have been so challenging."
Bolton earned her Bachelor of Science in physics and biophysics from Brown University, followed by a Master of Arts as well as a Ph.D. in physics from the University of California, Berkeley. Her research explores the properties of novel, nanostructured materials and uses lasers to measure the ways that energy moves in quantum mechanical systems.
The recipient of multiple teaching awards and fellowships, Bolton has authored more than a dozen articles in science journals and been invited to present at conferences across the country. She joined the faculty at Williams in 1995 and was promoted to full professor in 2007, the first woman to reach this milestone in physics at Williams.
She plans to move to Walla Walla with her husband this summer and will officially assume the presidency in July.
• • •
Gillian Frew
Interim Associate Director of Media and Public Relations
509-527-5156
frewga@whitman.edu
Media Resources
Published on Jan 11, 2022