Undergraduate Conference Showcases Student Research Online
By Whitney Rich '20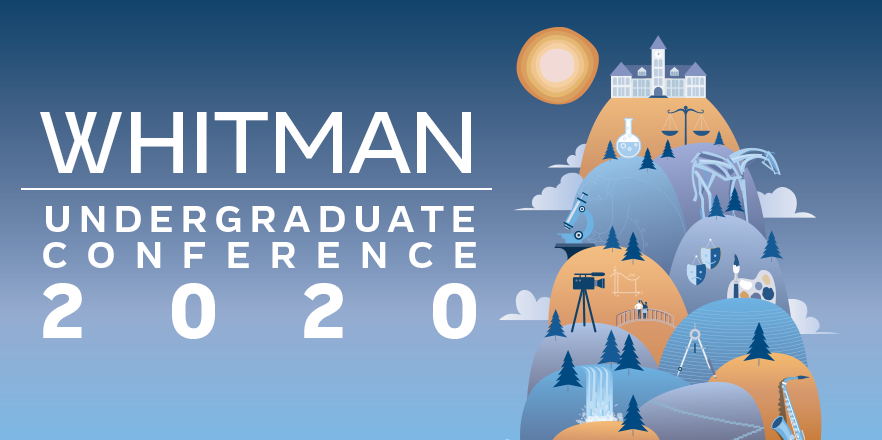 Politics major Georgia Seltzer '20 was looking forward to presenting her thesis research during the 2020 Whitman Undergraduate Conference.
Preparing to present during the 22nd annual event was a way for her to practice for her oral exams, as well as put her research — which focused on how assisted autonomy can influence sexual rights and increase access to sexual rights for individuals with Down syndrome — in front of a bigger audience.
Now, the entire world has access to Seltzer's presentation, titled "Relational Autonomy and Sexual Rights for Individuals with Down Syndrome," as well as a dozen other video presentations and several posters as the Undergraduate Conference pivoted to an online format this spring.
"I've talked to my parents about my thesis a lot, but they've never seen me in an academic setting like that, so it was really cool for them to be able to see and understand what I've been doing all year, which was really rewarding for me," Seltzer said.
Typically the Undergraduate Conference is a day of in-person presentations and poster sessions, where classes are canceled and the Whitman community interacts with student research. But when the college moved to online learning this spring in response to COVID-19, Keith Raether knew the conference format needed to change, too.
Raether, director of the Office of Fellowships and Grants, and his colleagues met to discuss options for preserving the spirit of the conference and continuing to celebrate student research.
"We wanted to offer the virtual conference as some small consolation for students for the loss of the live event. It is a special day for everyone, including faculty and staff," Raether said. "The presenters get to be the teachers, and the rest of us get to learn from them. We wanted to try in every way possible to preserve in some form the conference."
Students who had signed up for the in-person conference were given the option of providing a video presentation or submitting their poster. The presentations are posted on the Undergraduate Conference webpage. The office also printed commemorative conference programs for all students who had signed up to participate.
In addition to Seltzer's research, the virtual conference includes presentations from the Computer Science Capstone Conference, as well as presentations about climate change beliefs, Shakespeare's "The Tempest" and research on chemical reactions.
Seltzer was grateful for the opportunity to still present her research, especially with the added bonus of being able to share it with friends and family. The new format forced her to have to take her extensive thesis research and condense it into a 12- to 15-minute concise, explanatory presentation.
"The first time I went through it, it was over 30 minutes. It was about pairing it down to what was the most important for my specific argument," she said. "That meant that I had to take out a lot of the context and extra material that is very important for my thesis but was less important when trying to explain my thesis in 12 minutes or less."
The research looked at ways in which sex education and facilitated sex can be broadened so that people with Down syndrome can have access to sex more safely. Seltzer's project was born out of her personal passion for disability rights. Seltzer worked closely with Associate Professor of Politics Susanne Beechey on the research, which began last summer as part of Beechey's research for a book she is writing on sex education. Seltzer also had an internship with the National Abortion Rights Action League's Pro-Choice Washington in Seattle over the summer and was working on sex education and passing a comprehensive sex ed bill for Washington.
Published on Jun 12, 2020