John Lewis Fellowship Gives Dorothy Mukasa '19 Chance to 'Stir Up Good Trouble' in Community
By Savannah Tranchell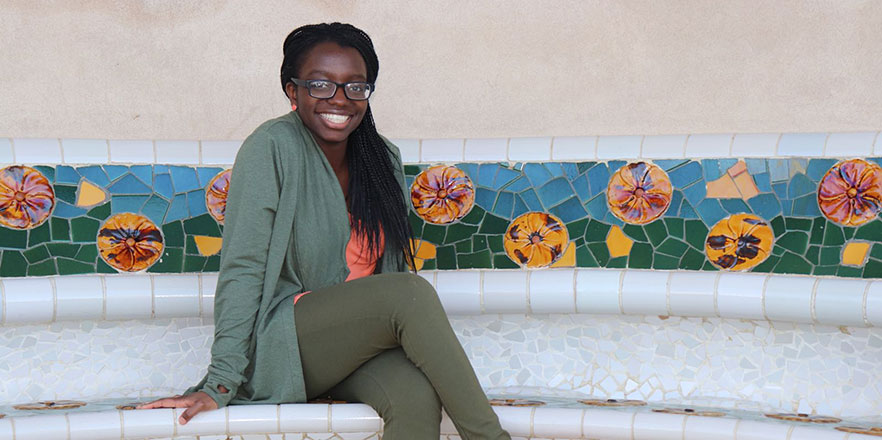 Dorothy Mukasa '19 has always been passionate about making a difference in her community. The rhetoric studies graduate was an active part of the Walla Walla and Whitman communities as a student. She organized and performed in the annual Freedom Songs event and the Martin Luther King Jr. Week Celebration each January. And she could often be found writing and performing original songs, whether with friends or the Whitman Jazz Ensemble.
This year, Mukasa gets to focus that passion for creativity and social justice thanks to the Humanity in Action (HIA) Fellowship, an international nonprofit that promotes social justice around the globe.
This spring, Mukasa received the John Lewis Fellowship (JLF) based in Atlanta, Georgia. Mukasa is one of 39 Whitman graduates to receive a prestigious fellowship or scholarship for the 2019-2020 award year.
The HIA Fellowship experience is two-fold: Mukasa spent June participating in a virtual training with other fellows from the Atlanta program, as well as the five international programs. Now she spends a year focusing on her personal action project. She plans to work with the Walla Walla Immigrant Rights Coalition and its Socially Engaged Arts Committee to create a project that highlights the different perspectives of immigrant communities in Walla Walla, while incorporating art and music.
After graduation, Mukasa took a job at Whitman, working in the Intercultural Center. Now she is the assistant director of Student Activities. This year was the second time she had applied for the HIA Fellowship — she applied her sophomore year and didn't receive it.
"I was still growing into who I wanted to be. I really loved what Humanity in Action stood for, but I didn't fully know who I was as an organizer and an activist," Mukasa said. She focused on the JLF program — not only because she wants to be a part of change domestically, but also because of her interest in Rep. John Lewis, a longtime politician and civil rights leader who died in July.
Mukasa wrote her rhetoric thesis on Lewis' comic book series, "March."
"I got to learn so much more about the heart of who John Lewis was and what drove him — his compassion for people, his humility, and the way he used his knowledge creatively to engage with young people. This was so powerful to me," Mukasa said. "I've always seen art and music as powerful tools to engage in community and allow others to see humanity."
Mukasa hopes she'll be able to use the fellowship and her action project as a platform for what Lewis called "good trouble," as well as an opportunity to honor the legacy of his work.
"He's physically gone, but he's left so much material for us to go through and reflect on. But also to take action on — his work isn't done yet," Mukasa said. "This fellowship has reminded me that I have a mandate to continue the legacy of John Lewis. This is not only my mandate, but for other young people as well. We need to be stirring up good trouble, and always standing up for what we know is right.
"There's something so powerful about that."
Other recipients of prestigious fellowships and scholarships this year are:
Watson Fellowship
Evangelos Sarantinos '20 ("Rare Disease and the World's Caregivers," one year of independent travel and study in Spain, United Kingdom, Australia and Malaysia)
Cameron Conner '20 ("Intersection of Common Wealth and Well-being," one year of independent travel and study in Peru, Spain, England and Mongolia)
Fulbright U.S. Student Program
Bella Rivera '20 (English Teaching Assistantship, Thailand)
Sophie Grossman '20 (English Teaching Assistantship, Republic of Georgia)
Aisha Kimbrough '19 (English Teaching Assistantship, Brazil)
Bryn Carlson '20 (English Teaching Assistantship, South Korea, alternate)
National Science Foundation Graduate Research Fellowship
Alex Shaw '19 (theoretical physics, QulCS Center, University of Maryland)
Marc Foster '18 (chemical measurement and imaging, University of Oregon)
Carly Busch '15 (science education, University of Washington)
Lauren Benedict '17 (ecology, University of Nevada Reno)
Logan Emlet '14 (geography, honorable mention)
French Teaching Assistants Program (TAPIF)
Daphne Gallegos '20 (English teaching assistantship, Toulouse)
Yann Dardonville '20 (English teaching assistantship, Nantes)
Augusta Drumheller '20 (English teaching assistantship, Tours)
Jonathan Falk '20 (English teaching assistantship, Lille)
Andreas Guerrero '20 (English teaching assistantship, Limoges)
Kimberly Taylor '20 (English teaching assistantship, Poitiers, declined offer)
Humanity in Action Fellowship
Dorothy Mukasa '19 (human rights and social justice, Atlanta program)
Critical Language Scholarship (U.S. Department of State)
Rhone Grajcar '21 (Urdu, American Institute of Indian Studies, Lucknow, India)
Charlie Lange '21 (Indonesian, Universitas Negeri Malang, Malang, Indonesia, alternate)
Davis Projects for Peace
Sylvia Adome '22 (independent social justice project, "The Future of Children Is Now: Solutions to Child Trafficking in Uganda")
Davis Fellows for Peace
Samuel Curtis '16 (Russian language study, Middlebury Language Schools)
El Pomar Fellowship
Alex Izbiky '20 (two-year leadership development program, Colorado)
Sam Hinkle '15 (two-year leadership development program, Colorado; awarded 2019)
Killam Fellowship (through Fulbright Canada)
Claire Maurer '21 (McGill University, declined award)
Gilman International Scholarship
Kiara Paninos '21 (Germany)
Kimberly Moreno '21 (Bolivia)
Ephraimia Reese '21 (Bolivia)
Melanie Kirtland '21 (Bolivia)
Matthew Dahlstrom '21 (Argentina)
Leonardo Corrales '21 (Morocco)
Jason Hansen '22 (South Korea)
Indira Dahlstrom '21 (alternate, Spain)
Lennae Starr '21 (alternate, Costa Rica)
Japan Exchange and Teaching Program
Adam Jancsek '20 (assistant language teacher)
Shanti Borling '20 (assistant language teacher)
Mitchell Fujimoto '14 (assistant language teacher)
Bryn Carlson '20 (assistant language teacher, alternate)
Spanish Teaching Assistants Program (NALCA)
Grant Gallaher '20 (English teaching, Balearic Islands)
Leila Hauser '20 (English teaching, Andalucia, declined offer)
Yann Dardonville '20 (English teaching, declined offer)
Susanna Williams '20 (English teaching, Andalucia, declined offer)
CIEE Teach Abroad
Mayra Castañeda '19 (English teaching assistantship, South Korea)
Carr Fellowship (New York Times)
Gillian Friedman '16 (business desk, New York Times)
Autism Speaks Fellowship
Lindsay Olson '10 (graduate research, San Diego State University)
Princeton in Asia Fellowship
Jadon Bachtold (finalist, awaiting word)
Leila Hauser (finalist, awaiting word)
Alaska Fellows Program
Leila Hauser (finalist, awaiting word)