$1 Million Gift Invests in Science Technology of Tomorrow
A gift from Jeff and Liesl Wilke, parents of Taylor Wilke '18 and Julia Wilke '21, has funded the creation of the Wilke Family Computational Laboratory to bridge theoretical and experimental methods of study.
By Gillian Frew '11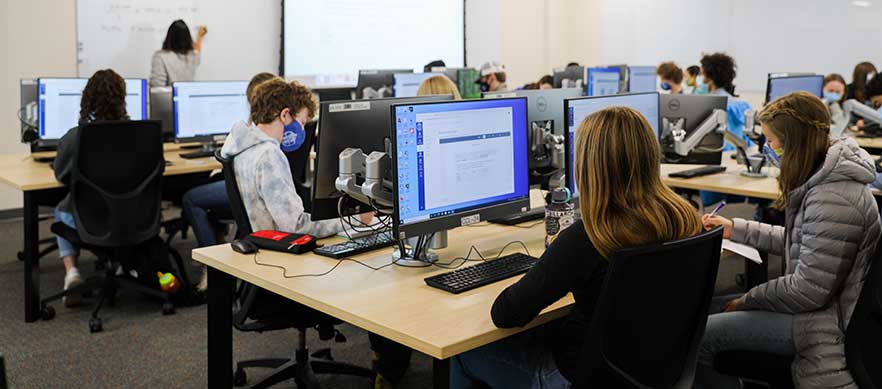 Whitman students enrolled in STEM courses for the Fall 2021 semester have access to a brand new, state-of-the-art facility designed for computational chemistry, a branch of chemistry that uses computer simulation to help solve complex problems.
"The technology that powers computational chemistry is an integral part of a 21st century STEM education, and I couldn't be more pleased to have the Wilke Family Computational Laboratory up and running on our campus," says President Kathleen Murray.
This high-tech, multipurpose space supercharges curricular innovation with the ability to visualize and manipulate molecules in 3D.
"It's exciting for students to observe what they have drawn on paper in a 3D space and rationalize their chemistry, gaining a whole new perspective about the stability or the reactivity of certain types of molecules," says Associate Professor of Chemistry Dalia Biswas, who spearheaded the project with support from the chemistry and computer science departments, Whitman College Technology Services and the Physical Plant.
"Until now, we had limited computational resources and no place to bring students to implement computational work."
Flexible Tech
The Wilke Family Computational Laboratory, located on the second floor of the Hall of Science, is available for students and faculty across departments to use for classes, running simulations and conducting research.
"The setup is flexible enough to be valuable for other departments in the sciences," says Biswas.
The new technology represents a major step forward in equipping students with both "wet" and "dry" (computational) lab experience, essential for today's scientists.
"Scientific discovery increasingly demands a hybrid of traditional wet labs and online environments," says Jeff Wilke, who recently retired as CEO of Amazon Worldwide Consumer. He and wife Liesl, an author, screenwriter and playwright, are strong advocates for the role of technology in liberal arts. "We're proud to support increased use of computer-aided design and simulation in Whitman's terrific science curricula."
A Real "Game Changer"
According to Associate Professor of Chemistry Nate Boland, the lab is making a big difference for student learning: "Having a dedicated computational space designed and equipped for chemical computation is a game-changer. The space is already facilitating students' deeper engagement with computational tools in our chemistry courses."
The lab contains high-performance computers for 24 students and an instructor, with preinstalled chemistry software perfect for incorporating small-scale computational chemistry methods into introductory chemistry classes and more sophisticated theoretical approaches in upper-level classes.
"The programs we have used have given me multiple 'aha!' moments as something has clicked from lecture that I didn't quite understand or that was hard to visualize," says sophomore Andrew Harter, who uses the lab for his organic chemistry class. "We have learned new ways to see and understand complex organic molecules that otherwise would be much harder to understand."
The space allows students to easily share their screen to one of three large projectors situated around the room, and to ensure excellent visual access from every station, a camera captures the writing on the front board and displays it for students sitting in the back.
"I can walk into the classroom, and everything is up and running with a few clicks," says Biswas.
Expanding the Conversation
Associate Professor of Chemistry and department chair Marion Götz teaches a course on drug design in the lab. She appreciates how the new technology drives home key lessons for students.
"Students learn how to develop a drug by using computational software that helps identify interactions between a drug and a target biomolecule," she says. "This semester, for example, students are designing a Sars-CoV-2 main protease inhibitor in order to find a theoretical treatment for COVID-19."
For Senior Lindsay Farr, the opening of the lab was especially fortuitous timing, as she is completing her thesis work on computational chemistry.
"Having it be integrated into my classes more this semester helps me feel like I both have a broader understanding of various computational tools, and I have a way of contextualizing the work I have done for my thesis into a larger scientific conversation," she says.
Murray expressed her appreciation for the gift that made a long-term aspiration a reality.
"Jeff and Liesl's generous and forward-looking philanthropy is a boon not only to current students, but to future generations of Whitties as well."
Published on Nov 22, 2021