Senior Class Speakers Call on Graduates to Keep Learning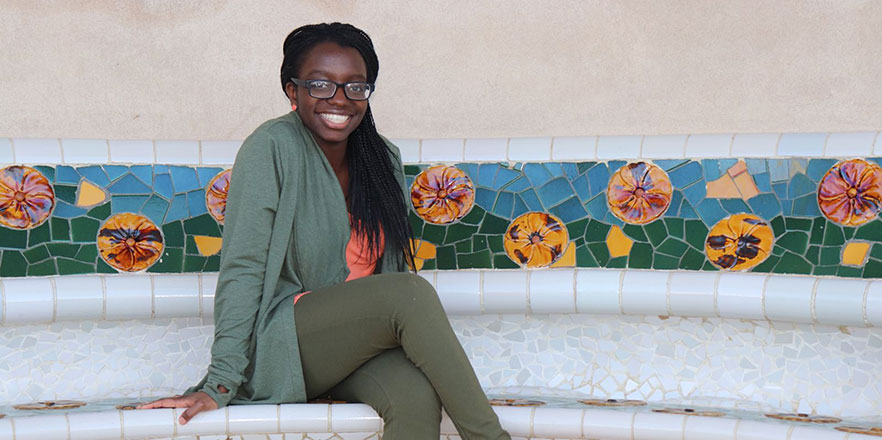 On Sunday, May 19, 2019, the Class of 2019 will move on from life as students at Whitman College.
But senior class speakers Dorothy Mukasa '19 and Esther Ra '19 hope their classmates won't move on from a life devoted to learning. That's the focus of the speech the two seniors will give during the ceremony, which begins at 11 a.m. in front of the Memorial Building.
This year, the graduating class selected its speakers based on video submissions for seniors interested in giving the address.
"I feel honored to be speaking for and to my classmates, excited to celebrate the gift of Whitman, and pensive as I look back on four years I will be saying goodbye to," Ra said.
Mukasa, who is majoring in rhetoric studies, and Ra, who is majoring in English with a minor in creative writing, will give a performance-based speech that incorporates spoken word and song. It's not the first time the artists and friends have worked together: They were both involved in the college's Freedom Songs event in November 2018 and also performed together at the Martin Luther King Jr. event this spring.
Q: Why were you interested in giving this year's commencement speech?
Ra: I loved that Whitman allowed two students to make a speech together at the ceremony, and I wanted this to be an opportunity to reflect on both the lessons I had learned at Whitman and the friendships I've made.
Mukasa: Esther and I have been close friends and worked together in many capacities for a while! We wanted to find an opportunity to collaborate with spoken word and music, similar to what we did with other events like Freedom Songs. When we heard about the opportunity to speak at commencement, we both were excited to submit a speech that spoke to both our experiences at Whitman.
Q: How did you develop your idea for the speech?
Ra: While brainstorming different ideas for our speech, Dorothy mentioned that when she was a first-year, she heard President Murray telling students to "learn something new" during their time at Whitman. I realized that learning doesn't have to be limited to academia, and as we discussed different settings, people and lessons we had learned, our speech naturally took shape. As we wrote the speech, I questioned: Who brought us here to learn? What were the limits of our learning? What do we want to keep learning in the future?
Mukasa: I had a snippet of a song I wrote two years ago, and I thought we could incorporate it in our speech. The song was partly inspired by President Murray's convocation speech where she concludes with "your business here is to learn." I shared the song with Esther and we began brainstorming what things we've learned in the past four years and what Whitman has taught us. As the title of our speech suggests, we both have "learned something new" inside and outside the classroom - and that has made a tremendous difference during our time here.
Q. What is the significance of the song?
Mukasa: The song's lyrics are quite simple. They say, "I hope today I learn something new ... that the things I've learned long ago, reflect what I've come to know." Generally, the lyrics signify a personal goal I have. That as I step into each day, I open my eyes to the possibilities of learning - learning in the classroom, in conversation, at work or wherever I am. And when I look back at what I've accomplished, I hope to walk away knowing I am stronger, wiser and more of who I'd like to be because I challenged myself to learn something new.
Ra: We had collaborated together in a song-spoken word piece for MLK Day before, so it was exciting to bring our talents together again for commencement.
Q: What message do you want to share with your fellow graduates?
Ra: Learning happens everywhere. We just need to keep our eyes - and hearts - wide open!
Mukasa: I would echo Esther on this: Learning doesn't stop at college; it is everywhere and our challenge is to continue learning for ourselves!
Published on May 15, 2019