Whitman Sciences Give Precious Supplies to First Responders
By Savannah Tranchell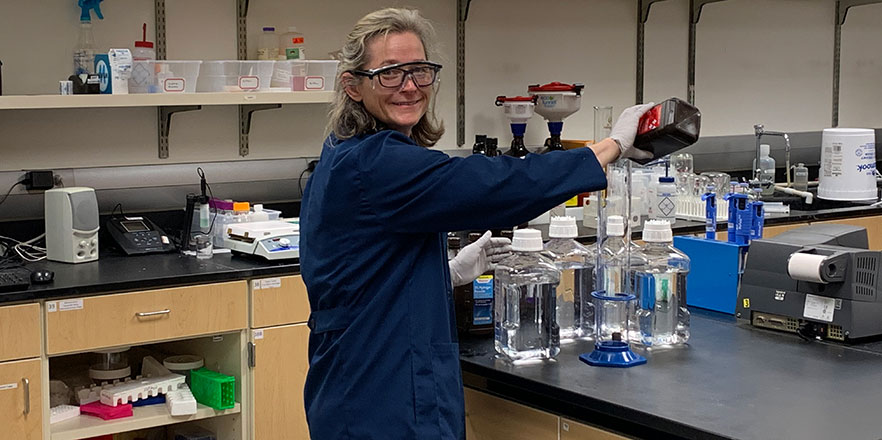 In March, as Whitman College began following strict social distancing protocols and preparing to move to online learning, Assistant Professor Brit Moss was doing research about best practices for students and faculty working in research labs on campus.
"I was increasingly seeing social media posts that people were making PPE (personal protective equipment) donations from research or teaching labs to local community health departments, hospitals and first responders," said Moss, who teaches in the biology and biochemistry, biophysics and molecular biology (BBMB) departments. "I started thinking about, 'Boy, we have a lot of that kind of PPE materials that we use in our labs.'"
Once it became obvious that labs would mostly be shuttered for the semester, Moss began the effort of working with her colleagues in biology and BBMB, while Visiting Associate Professor Ruth Russo worked with chemistry, to inventory their supplies of gloves, lab coats, masks, alcohol and goggles to see what could be donated to the Walla Walla community.
"There was pretty broad support across the departments that this is definitely something that we can do," Moss said.
Lab coordinators Emily Hamada, Michelle Shafer, Travis Morgan and Lisa Holmes took the task of cataloging the division's gear and deciding what could be donated. Supplies had to be unopened, and some material needed to be saved for future use. Even though labs area closed this semester, the lab coordinators are still gearing up in full PPE to perform cleaning and maintenance in the spaces. They also need to make sure enough material is on hand for faculty and students to conduct summer research, should the college be able to reopen labs.
"We wanted to keep about half of our stock because I didn't know how soon I'd be able to replace what we'd donated," said Hamada, who is the stockroom manager for biology. "We wanted to make sure if we had summer research going on or other potential needs, that we held some back just in case."
In the end, the college was able to donate a van load of PPE to the Walla Walla Fire Department, which collected it to support first responders who don't typically have to wear that level of gear.
It was the largest donation WWFD had seen, the department said in a Facebook post.
"It made total sense for me that we would give our equipment to those people who are working to keep us safe," Provost and Dean of the Faculty Alzada Tipton said. "That is a no-brainer for me at any time, but particularly in a semester when our move to online greatly reduced our need for PPE."
It's not the only place the college has been able to help out the community. When Wheatland Family Dental needed to perform a necessary dental surgery, Shafer coordinated loaning the dental staff face shields.
"That's not something that they normally wear," Shafer said. "And they are on back order, so we let them borrow ours."
Alumni Rise to the Challenge
Across the border in Oregon, a Whitman alumna is also working to protect emergency workers.
Willamette University chemistry Professor Sarah Kirk '95 is helping Divine Distillers in Salem, Oregon, make hand sanitizer. The project started when the head of campus safety at the university called the chemistry department to ask if it could make hand sanitizer for campus.
"In doing research on this question, we found out that only specific companies are approved to make hand sanitizer that is commercially available" Kirk said. The department didn't have the proper certifications to make it for the university's commercial use. But her husband, John Kirk '95, mentioned that Divine Distillers was making sanitizer. Kirk called owner Jason Greenwood to ask about getting some. "He said, 'Actually, we need help.'"
Kirk studied chemistry at Whitman and has her doctorate from the University of California San Diego. She specializes in medicinal chemistry and drug design.
Kirk was able to use her expertise to create a spreadsheet that allowed Greenwood to know exactly how much of each ingredient to use based on the desired concentration of alcohol in the hand sanitizer he wanted to make and the size of the batch.
"I put together a spreadsheet that allows him to enter whatever stock concentration he's starting with and dilute it to the concentration he wants to end with. It tells him how much peroxide, glycerin, and water to use for each 10-gallon batch of alcohol," she said.
She's also been able to put some students to work. Using proper social distancing, they're able to prepare the glycerin and peroxide stocks that Greenwood needs for each batch of hand sanitizer.
"It's been really great, and I've been able to teach the students at the same time," she said. "We've done lessons on dilutions and concentration chemistry, as well as lessons on distillation."
The hand sanitizer made at Divine Distillers is being donated to first responders in their area.
The team work needed to make the effort succeed is a great example of how valuable a liberal arts education is, Kirk said.
"When we think about the big issues of the world, it's bringing together multiple ideas and multiple people from different backgrounds to be able to solve them," she said. "This really strengthens my own commitment and sense of how important having a liberal arts background is."
Published on Apr 16, 2020