The Princeton Review has ranked Whitman No. 9 among the 2021 Top 50 Green Colleges. Whitman ranked highest among schools from the Pacific Northwest. This ranking acknowledges the college's efforts to promote sustainability and environmental responsibility on and off campus.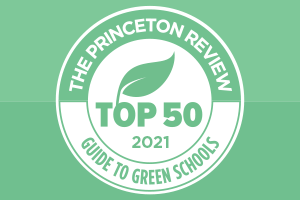 The Princeton Review determines a school's rating based on comprehensive measures of being an "environmentally aware and prepared institution." To receive this ranking, schools must meet criteria in categories such as campus health and sustainability. How well a college prepares students for careers in the clean-energy and environmental fields is also considered.
The Top 50 list is a combination of The Princeton Review's Green Rating Methodology and feedback collected via 2019-2020 institutional and student surveys.
Striving for a Sustainable Future
Whitman has adopted a conscientious commitment to sustainability, largely facilitated and led by Campus Sustainability Coordinator Elissa Brown.
"Whitman's dedication to advancing sustainability, particularly in recent years, is producing measurable and meaningful results. It's rewarding to be recognized for our progress, and I hope this achievement propels us forward," she said.
Each year, Whitman's sustainability office creates a Sustainability Update that details the college's work to harmonize its interaction with the natural environment. The 2020 Sustainability Update includes Whitman's Carbon Commitment, LEED certifications, energy consumption visibility, energy efficiency efforts, expansion of renewable energy production, dining hall zero waste initiatives and more.
In many ways, Whitman students are active and engaged with sustainability and environmentalism. On campus, groups and organizations such as Campus Climate Coalition (CCC), the Glean Team, the Organic Garden and the Environmental Studies Interest House or "Outhouse" are all focused on sustainable practices and green thinking. The Associated Students of Whitman College (ASWC) has a sustainability committee that works to advocate on behalf of students in regard to sustainability programs, policies and initiatives on campus. In the local community, Whitman CCC members lead the Cool the Schools Initiative that promotes climate change education in classrooms. Many students are active with Sunrise Walla Walla, a local chapter of the national organization, the Sunrise Movement. The organization promotes the Green New Deal with an emphasis on youth-led activism.
Princeton college rankings continue to be released. Thus far, for 2021 rankings, Whitman has placed in The Princeton Review's Best 386 Colleges and Best Western Colleges. Whitman recently ranked No. 47 in the Nation's Top Liberal Arts Colleges from the U.S. News and World Report Annual Best College Rankings. See more Whitman rankings.