Whitman sorority raises $50,594 to fund full-time counselor at local high school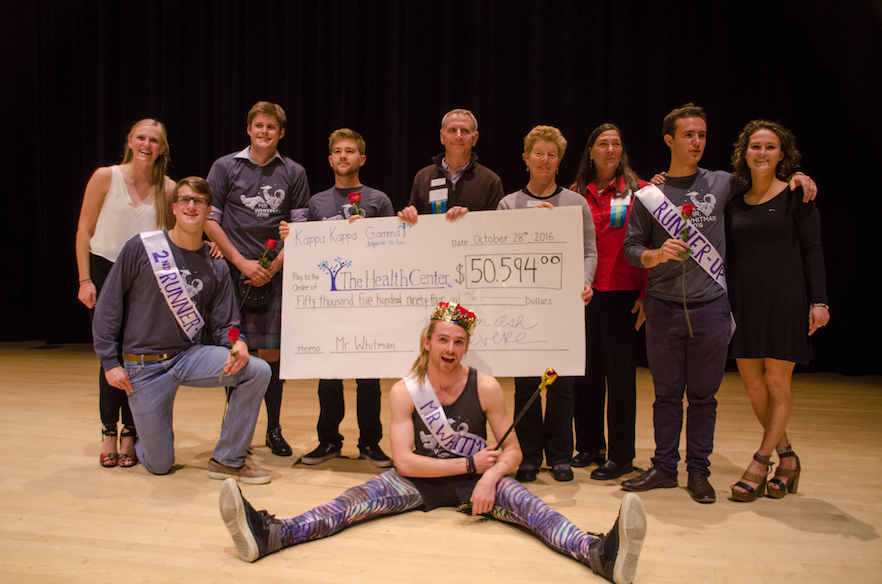 The 15th annual Mr. Whitman pageant, organized by the women of Kappa Kappa Gamma, has raised a record-breaking sum to support the creation of a new mental health professional position for The Health Center at Lincoln High School.

"This donation will go a long way to providing medical and mental health support for our Lincoln students," said Marci Knauft, principal of Lincoln High School and a member of the board of directors for The Health Center. "It's important for us to meet students where they are and to provide for their needs."
In the months leading up to last week's pageant finale, Mr. Whitman organizers also hosted a silent auction, bake sale and other fundraising events, in addition to soliciting donations through social media. Combined with ticket sales, their efforts generated a whopping $50,594.
"When I was approached last spring and asked if I would like to participate, I already knew that I wanted to do it," said winning contestant Zach Hartzell '17, a psychology major from San Francisco and member of the Phi Delta Theta fraternity.
"I'm someone who enjoys some friendly competition as well as a good show. However, after learning that the money would go toward providing mental health care for students at Lincoln High School, I became increasingly motivated to make the biggest difference I could."
As Walla Walla's only alternative high school, Lincoln caters to a primarily low-income student population; behavioral issues, truancy and substance abuse are all prevalent, although the school has drastically improved outcomes in recent years thanks to its model of trauma-informed teaching. Now, about 70 percent of Lincoln students graduate, up from less than 15 percent in 2008. The school was also the subject of acclaimed documentary Paper Tigers, released in 2015.
Whitman has a long-standing history of partnering with Lincoln and The Health Center, with many students and alumni having served in the clinic or classroom through AmeriCorps. Kappa selected The Health Center as this year's Mr. Whitman beneficiary after a lengthy application process that prioritized strengthening ties with the Walla Walla community.
"I absolutely loved working with the Kappa Kappa Gamma girls," said Knauft. "They were energetic, organized, efficient and positive. It was apparent that they wanted not only to support Lincoln through a one-time donation, but that they wanted to actually get to know our students and to create a partnership. They came on campus multiple times, volunteered at Lincoln events and invited our students to the Whitman campus."
Kappa plans to continue this relationship with a prom dress fundraiser this coming spring.
Philanthropy chair Meghan Ash '17 credits the commitment to community engagement as what made this year's Mr. Whitman so successful.
"We didn't just want to hand over a check, we wanted to incorporate community service and a relationship with the beneficiary," she said. "It was amazing to see our goal materialize and Kappas push this Mr. Whitman into both a fundraiser and a community service event. Every year I have worked on Mr. Whitman, however no year has been like this year."
Since getting its start in 2002, Mr. Whitman has brought in close to a quarter-million dollars for a wide array of charitable causes both locally and around the world. The offbeat "male beauty pageant" pits seven or eight Greek and independent Whitties against each other for a playful sendup of traditional gender norms. The show culminates in a giant check being presented to the group's charity of choice.
"Having engaged in counseling and other forms of mental health care throughout my adolescence, I felt a strong and personal connection to our cause," said Hartzell. "I am very proud to have been a part of this process and want to thank everyone who contributed."
In addition to Hartzell, this year's contestants included Alexander Barsher '17 from Tau Kappa Epsilon, Jake Underbrink '17 from Sigma Chi, Rin Moriyasu '17 from Beta Theta Pi and unaffiliated students Joe Stewart '17, Arie Knops '17 and Elliot Granath '17.