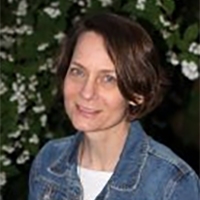 Laura Bales '89 credits her strong ties to Whitman alumni to the fact that she lived in numerous places across the U.S. and in Singapore; she made a point of making and maintaining those connections that helped her feel not quite so far from home. Now back stateside, Bales lives in the Tacoma area with her husband, Geoffrey Dugan, and sons Eli and Seth.
A Psychology major and member of Kappa Alpha Theta while at Whitman, Bales has held various roles - paid and volunteer - from college admissions, fundraising and grants writing, to managing digital and print communications. She has worked for Knox College, the MacArthur Foundation, Seattle Art Museum, Microsoft Asia Pacific's Citizenship team. She now serves as the Upper School Admissions Director at Annie Wright Schools in Tacoma.
Bales began her Whitman volunteering as a member of the Senior Committee and later served as a associate class representative. She chaired the Seattle Whitman College Alumni Club in the early 2000's, planning and marketing alumni events. In 2014, Bales co-chaired the Class of 1989's 25th Reunion Fundraising Committee (from Singapore), successfully raising more than any previous 25th reunion class. (FROM SINGAPORE!).
"Being on the Alumni Board provides an opportunity for me to give back to Whitman and engage a broader community in a much larger way than I have been able to contribute previously," says Bales.
City: Tacoma, WA
Term Expires: 2022