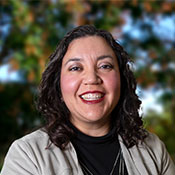 Veronica Ortiz
Senior Associate Director of Admission
345 Boyer Avenue

509-527-5176
California (Los Angeles, Inland Empire)
Nevada
International (Asia and Pacific Rim, Africa, Canada, Caribbean, Central America, Central and Eastern Europe, Middle East, North Africa, South America, Western Europe)
Hometown: Los Angeles, CA
Education: B.A. Occidental College, Pre-med and Sociology, M.A. Claremont Graduate University, Higher Education
What I love about Whitman: The community. Whitman has a community that is open to learning and supporting one another through challenging and creative dialogues and actions.
Why I enjoy working in Admission: The students and families who we interact with make every aspect of this profession worthwhile and fulfilling. It continues to be an honor for me to work with students who appreciate a small liberal arts education and are willing to take the journey to consider which institution best fits their personalities and accomplishments along with their future potential.
Favorite Activities in Walla Walla: The Bracher observatory is about 9 miles north of town and has an amazing 16-inch Newtonian, which on a clear night is a cool spot to check out shooting stars and galaxies.
My Favorite Place on Campus: It's a tie between Clise Planetarium and Reid Campus Center. Reid Campus Center is vibrant with the energy of our students, faculty, and staff. Many gatherings take place at Reid and thus far it is one of my favorite spots. Clise Planetarium serves to show seasonal changes, constellations, and the endless universe-it's a real treat.
Fun Fact(s) About Me: I am an avid snorkeler and have been stung numerous times by different species of jellyfish in all but one ocean.