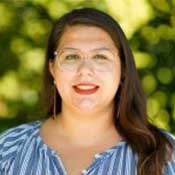 Makaya Kekoa Resner
(she/her)
Assistant Director of Admission
345 Boyer Avenue

509-527-5176
California (East Bay, Santa Clara (excl San Jose), N. Central Valley)
New Mexico
Washington (South Seattle, South Sound)
US Territories (Guam, Micronesia, Mariana Islands, Marshall Islands, Puerto Rico, APO/FPO)
DACA and Undocumented Applicants
Transfer Applicants
Education: B.A. Macalester College, International Studies, Minor in Political Science, & Concentration in Human Rights and Humanitarianism
Hometown: Missoula, MT
What I love about Whitman: I love that Whitman College has a reciprocal relationship with the town of Walla Walla and that everyone is super friendly. I also really enjoy walking around campus looking at all the public art and watching the ducks.
Why I enjoy working in Admission: As a first-generation to college, low-income, and BIPOC student, I remember how challenging it was to navigate the college process alone. It means so much to me that I can now guide students through this process, and prepare them to walk onto campus with a strong sense of belonging.
Favorite activities in Walla Walla: I enjoy walking my dog around downtown Walla Walla because of many of the restaurants are dog-friendly and the food is amazing! I also love that there are endless ways to get out into nature around Walla Walla like camping, hiking, swimming, etc.
My favorite place on campus: My favorite place on campus is behind the Admission Office where the stream runs through campus.
Fun fact(s) about me: I studied abroad in Geneva, Switzerland and traveled to 12 countries. I love finding new adventures with my dog Phoebe and she goes everywhere with me. I'm a big fan of the Marvel and Star Wars franchises.