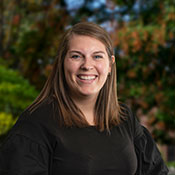 Madison Hollenbeck
Senior Associate Director of Admission
345 Boyer Avenue

509-527-5176
Colorado
Idaho
Montana
Utah
Washington (Bellingham area)
Wyoming
Education: B.A. Lewis & Clark College, Psychology
Hometown: Shoreline, WA
What I love about Whitman: Whitman is such an intentional community and you can feel that as soon as you step onto campus with the energy and excitement that the students, staff, and faculty all have. Everyone is so welcoming and open and try to make the transition into college go as smoothly as possible. Walking on to Whitman's campus feels like home.
Why I enjoy working in Admission: The college application process is a great time for self reflection and growth and it's such a rewarding experience to be a small part of a student's decision process. For me, to be able to build connections, advocate for, and celebrate every student I work with is why I love this job.
Favorite activities in Walla Walla: Summers in Walla Walla are my favorite. I love going to a Sweets Baseball game, food truck nights, pickleball at Pioneer Park, and probably my most favorite, playing in the co-ed slowpitch softball league!
My favorite place on campus: As of late, I've loved visiting Cleveland Commons. I don't think you could find a more beautiful dining hall to eat in. Between the big open windows, delicious coffee, and all the yummy food, it makes for a perfect spot to grab a bite and see all my current students on campus. My favorite is when they do poke bowls on Fridays!
Fun fact(s) about me: Mac and Cheese is my favorite food, I own 10 pairs of Birkenstocks (I know, ridiculous), am a 4x IM dodgeball champ, and have rewatched the entirety of Schitt's Creek 5 times.