Personality Laboratory
The Personality Lab (established in 2009) provides space, electronic equipment, software, and more than 120 research and professional tools for studying individual differences, mental health, and neuropsychological functioning.
Current or prospective students interested in gaining experience in personality research may get in touch with the Personality Lab director, Prof. Blagov.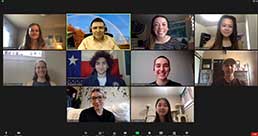 A Zoom meeting of the Personality Lab in April, 2021. From the top left, Abby Bergey '22, Prof. Pavel Blagov, Helen Maslen '21, Mariel Garcia '21, Alix Friedman '21, Matt Evans '21, Xaaran Dolence '23, Max Duvall '22, Liv Liponis '22, and Candice Chen '21.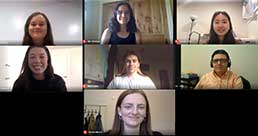 Personality Lab members continued to meet online regularly during the COVID-19 lockdown in 2020. We were fortunate that much of our work could be done remotely. From the top left, Abby Bergey '22, Alix Friedman '21, Candice Chen '21, Helen Maslen '21, Matt Evans '21, Prof. Pavel Blagov, and Sorcha Marron '21.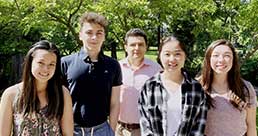 Mariel Garcia '21, Matt Evans '21, Prof. Pavel Blagov, Candice Chen '21, and Helen Maslen '21 outside Maxey Hall in the summer of 2019. The team has just recently designed a new project on self-defining memories and well-being in sexual minority individuals.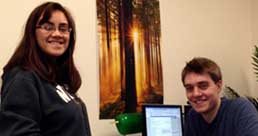 Kristi Von Handorf '14 and Alan Pugh '14 prepare data for analysis. Kristi earned her MSc in psychology from the University of London; she is pursuing her doctorate at Western University (as of 2019). Alan earned his MSW from the University of Washington and is pursuing licensure in social work (also as of 2019).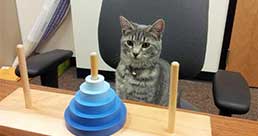 Jed Jacobson '13 and Leland Matthaeus '13 completed their thesis on executive functioning and athletics in the Personality Lab. Here, their house cat has been "invited" to complete one of the cognitive tasks the students used in their research. The research resulted in their own paper in the journal Psychology of Sport and Exercise (Jacobson & Matthaeus, 2014). No worries, pet allergy sufferers; pets have not entered the lab since then.
Current Lab Members
Virgil Berlin
Phoebe Brock-Dolas
Xaaran Dolence – Head R.A.
Bethany Hermann – Head R.A.
Britt Christensen
Pavel S. Blagov, PhD - Director
Recent projects focus on such topics as:
links between personality and personal memories
personality adjustment in sexual minority individuals
maladaptive personality
topics based on students' interests
Former lab members and their last known distinctions:
Abigail Bergey: R.A. at Mass General Hospital
Olivia Liponis: resident director at Whitman College
Addison "Max" Duvall: applying to clinical psychology programs
Miaomiao "Doris" Yu: pursuing a master's degree at NYU
Candice Chen: pursuing an M.A. in education
Matt Evans: pursuing an M.A. in counseling
Alix Friedman: teaching English for the USTA program by Fulbright Austria
Mariel Garcia: admitted to a Ph.D. program in behavioral neuroscience
Helen Maslen: pursuing an M.A. in industrial-organizational psychology
Yifan "Catherine" Yang: pursing an M.S.
Zachary Calo: works as an R.A.Morgan Lawless: pursuing a J.D.
Kristi Von Handorf: pursuing a Ph.D.
Alan Pugh: earned an M.S.W.
Morgan Walker: pursing an M.A.
Claire Westcott: earned MMSc & P.A.-C.
Joshua Goodman: earned a Ph.D.
Claire Ulrickson: works in health care
Paul Butler: earned an M.A.
Elizabeth Schiller: earned an M.B.A.
Hailun Zhao: earned an M.A.
Kathryn Oost: Pursuing a Ph.D.