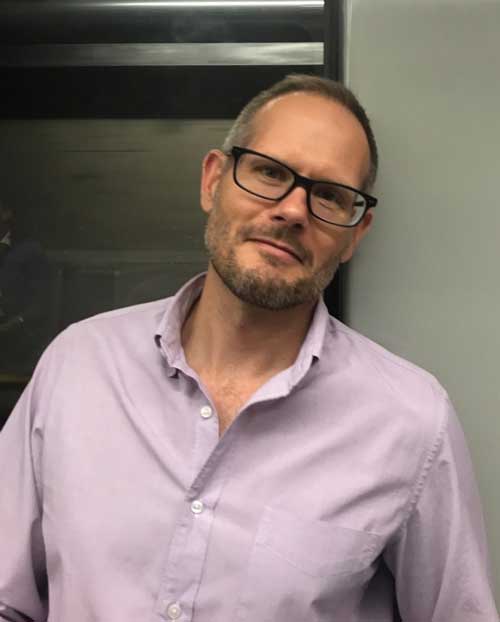 Aaron Bobrow-Strain
Professor and Baker Ferguson Chair of Politics and Leadership
Maxey Hall 130

509-527-5996
Aaron Bobrow-Strain teaches and writes about global food politics, immigration, political economy, and the U.S.-Mexico border.
He has an MA in Latin American Studies from Stanford University and a Ph.D. in Geography from the University of California, Berkeley. He's received grants and fellowships from the National Science Foundation and Social Science Research Council and won teaching prizes from UC Berkeley and Whitman College.
He is the author of the award-winning The Death and Life of Aida Hernandez: A Border Story, as well as two other books. He has written numerous academic journal articles and for non-academic venues such as The Believer and The Chronicle of Higher Education Review. He's a public-facing scholar who's been interviewed for the New York Times, The Boston Globe, NPR's Morning Edition and Weekend Morning Edition, PRX's To the Best of Our Knowledge, and the National Geographic Channel, and he has appeared as a guest on podcasts such as 99% Invisible, Gastropod, and the American Writers' Museum Podcast.
The Death and Life of Aida Hernandez: A Border Story
(Farrar, Straus, and Grioux 2019; Picador paperback 2020)
This work of scholarly narrative nonfiction written for a non-academic audience explores how the U.S.-Mexico border got to be the way it is today and how it could be different through the harrowing true story of one young woman.
Washington State Book Award for Biography
Pacific Northwest Book Award
Southwest Books of the Year Top Pick
Amazon Editor's Pick - Best Nonfiction
AudioFIle MagazineBest Audiobooks of 2019
Goodreads Choice Awards Semifinalist
Shortlisted for the Brooklyn Public Library Literary Prize
LA Times"Immigrant Tales to Read and Embrace"
Tucson Weekly "Favorite Books of 2019"
Santa Fe Reporter "Actually Good Books About the Borderlands"
Oscar Villalon's "Books to read instead of American Dirt"on KQED's The Bay
Business Insider's "21 Most Captivating Biographies of All Time"
"Searing…A rich, novelistic tale of a young woman whose life spans both sides of the United States-Mexican border . . . [Aida's] a radiantly optimistic character in a relentlessly bleak, unlucky world...."The Death and Life of Aida Hernandez is an illuminating work of literature, not an ideological tract." Michelle Goldberg, The New York Times Book Review
For more information and reviews, a readers' guide, and information about work underway to turn The Death and Life of Aida Hernandez into a streaming series, please visit: www.aidahernandezbook.com
---
White Bread: A Social History of The Store Bought Loaf
(Beacon Press 2012)
Amazon Best Books of March 2012
Amazon Editor's Choice – Best Nonfiction
"In this fascinating history of perhaps the most maligned and emblematic American food--industrially made white bread--Bobrow-Strain subtly upends common prejudices while illuminating fundamental shifts in the nation's economy, gender relations, aesthetic preferences, diet, and cultural politics." The Atlantic Monthly
---
Intimate Enemies: Landowners, Power, and Violence in Chiapas
(Duke University Press 200; Spanish translation, Enemigos íntimos: terratenientes, poder y violencia en Chiapas, UNICACH-UNAM 2015)
"One of the most interesting, original, and important books about Chiapas (and, I think, about rural Latin America) that has been published in the past 20 years." Hispanic American Historical Review
"This remarkable book is, quite simply, a revelation that will have an important impact on the study of rural society in Mexico and Latin America, more broadly." The Latin American Review of Books
"Lyrically written, theoretically rich, and very interesting…It tells a story that has not been told before, and challenges some deeply held assumptions about the history of land in Chiapas. For those who study Chiapas, it will immediately become an indispensable text. For those who study land, peasants, and agriculture—anywhere—this book makes it clear that the other side of the story is part of the story." Perspectives on Politics
"There are books that are so decisive and formative that we sometimes wonder how we could have lived so long without them. This is the case with Aaron Bobrow-Strain's book, Intimate Enemies." Pueblos y Fronteras
"A fascinating ethnography and cultural history… The human drama of the shifting historical balances of fortunes portrayed here is reminiscent of Gone With the Wind, or Giuseppe di Lampedusa's The Leopard, or on a smaller screen the rural Chiapas novels of Rosario Castellanos." Journal of Latin American Studies
"[Intimate Enemies] is likely to have an impact on the field for many years to come." Latin American Perspectives
"One of the best geographic ethnographies of the last decade" Professional Geographer
"This remarkable book is, quite simply, a revelation that will have an important impact on the study of rural society in Mexico and Latin America, more broadly." The Latin American Review of Books
"Lyrically written, theoretically rich, and very interesting…It tells a story that has not been told before, and challenges some deeply held assumptions about the history of land in Chiapas. For those who study Chiapas, it will immediately become an indispensable text. For those who study land, peasants, and agriculture—anywhere—this book makes it clear that the other side of the story is part of the story." Perspectives on Politics