SATISFY YOUR CURIOSITY
Explore the nature of the universe.
As one of the only top liberal arts colleges with an Astronomy major, Whitman College is an ideal place for you to explore the nature of the universe and satisfy your curiosity through scientific inquiry. In our Astronomy classes, you will learn how to develop and test your own theories about how the universe works. Then, with practical and technical skills, you'll be ready to address important issues right here on Earth.
3 Reasons to Study Astronomy at Whitman
Interested in Astronomy?
We'd love to send you information, including more on academic majors and student life at our beautiful campus in Walla Walla, Washington.
Yardena M., astronomy and physics major
"I am fascinated by the unknown, and the process of exploration of the universe seemed to be about as close to the unknown as I could get. I also love learning about how things work and getting into the nitty gritty technical details of understanding the physical process of the world we live in and the universe we are a part of. Science is constantly evolving and I am excited about the process of discovery that the field of Astronomy presents to me."
Our Whitman Student Voices Blog
Courses in Astronomy
See just a few of the fascinating courses you might take.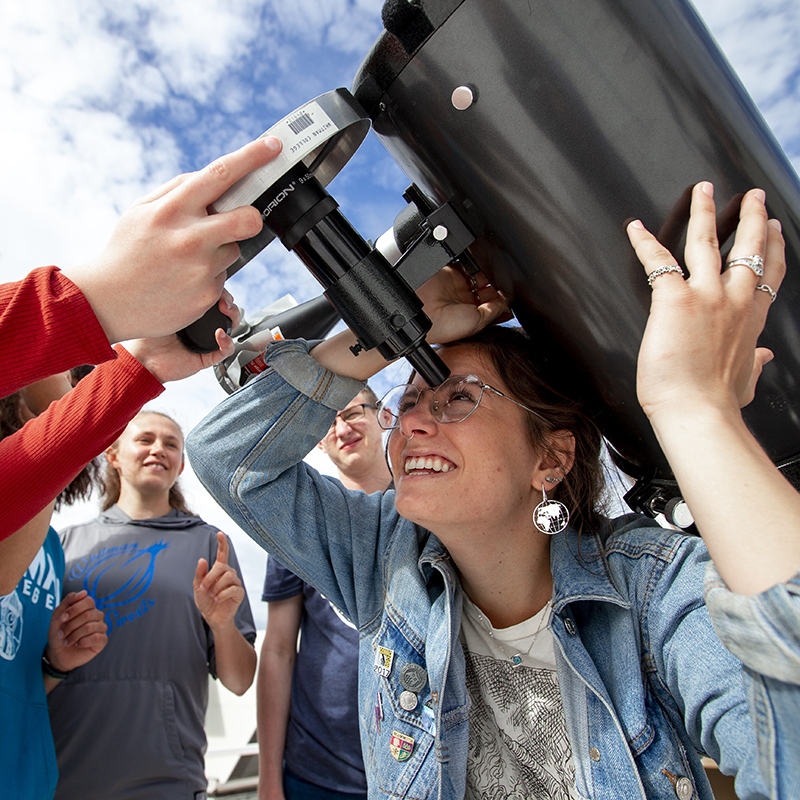 Amazing Experiences You Can Pursue
Combine majors related to Astronomy. Our Physics-Astronomy and Geology-Astronomy combined majors, as well as an Astronomy minor, allow you to fine-tune your education to match your interests.
Research on and off campus. Spend a summer under the dark and beautiful skies of Washington state peering through our telescopes to hone your observational techniques. Assist faculty members with collecting and analyzing data. Engage with researchers across the world in a virtual internship or REU (Research Experience for Undergraduates).
Have fun with science. Whitman Astronomy majors make a difference in the community through science demonstrations, planetarium shows and participation in our Women in Science Club. Come join the fun!
Absolutely! The Astronomy major is a rigorous program that allows students to practice the technical, scientific and computational skills required for graduate-level astronomical science or astrophysics research. Astronomy majors regularly pursue research opportunities with faculty and create accomplished resumes with presentations, publications and community outreach experiences.
Not likely! Astronomy is a very flexible major. You can choose between tracks with or without a mathematical focus, so it's tailored to your comfort level. And your lower-level classes will set you up for success with the knowledge and skills you'll be building on in advanced courses. You can also combine Astronomy with other majors or minors to focus on the areas that interest you most, like astrophotography, science writing, celestial navigation or astronomical computing.
Yes! The Astronomy major emphasizes teamwork and collaboration, crucial skills for any path you choose after graduation. You'll also have ample opportunities to hone your communication skills through writing, public speaking, and even teaching as a teaching assistant or teaching fellow on campus or as a planetarium guide for the community.
Not at all, but you do have to be eager and willing to learn and use programming for your studies. Programming is an important part of several Astronomy courses—and it's an excellent tool for building your problem-solving and analytical skills. So it's important to have the right resources to support you, such as computer labs, peer groups and clubs, and accessible and helpful instructors.