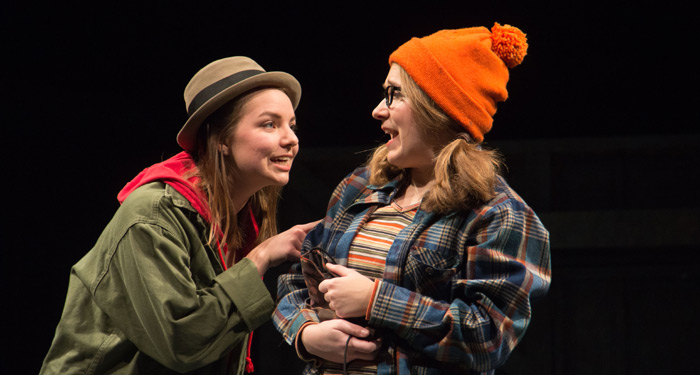 Courses and theatrical productions are offered to provide the student with rigorous, demanding professional training and a cultural background with which to attain the highest standards in theatre. As a collaborative art form, theatre constitutes a complex investigation of the human experience in a three dimensional expression. Through extensive personal instruction in both the art and practice of Theatre, utilizing and introducing the best standards of the profession, we offer an introduction to the various disciplines within the theatre and the opportunity to focus in one. The pedagogical objectives of our curricular and production programs are intertwined: the theatre curriculum provides individualized training and the production season provides a means for students to demonstrate learned skills in a public venue. We aim to provide the students with courses that explore the performative, literary, cultural, historical, technical, and visual significance of Theatre, and a season of produced plays allowing students the opportunity to apply these values in a practical context.
In addition to our curricular and production offerings, we also invite professional playwrights, designers, directors and actors to work with our students as part of our Guest Artist Program. This program is made possible through a generous endowment that allows working professionals to visit the Whitman Campus and share their expertise, experience, and talent with our theatre students.
Recognized as one of the top theatre schools in the country by Princeton Review's Guide to Best Colleges, the Theatre Department offers courses in acting, directing, design, literature, theory and history, and playwriting, along with all aspects of technical and production work. Aspiring actors, directors, designers, and theatre technicians choose Whitman for our strong performance-based theatre program. The Theatre Department produces eight season productions each year ranging from the classics to musical comedy to contemporary drama. Many of Whitman's theatre majors have gone on to complete graduate work at top programs including Yale, The Old Globe, University of Washington, the Denver Theatre Centre, Rutgers University, and others.
If you are a talented theatre person, consider applying for the President's Scholarship, a full-need scholarship as determined by the Office of Financial Aid guidelines. It is open to candidates highly experienced in theatre who plan to make a strong contribution to the theatre program during their four years at Whitman. To apply, you must interview with the theatre faculty and show examples of your work in either acting, designing, directing, playwriting, stage management, or costume and set construction.
More than 60 percent of all Whitman students either enroll in a theatre class, act on stage, design, build, crew, usher, or work box office before they graduate. Theatre is available as a major or minor course of study.
Department of Theatre and Dance learning goals:
Students will demonstrate a fundamental understanding of Theatre as a form of artistic expression that demands intelligence, imagination, intuition, collaboration, rigorous aesthetic standards, and a broad base of knowledge.
Students will demonstrate the practical and intellectual skills necessary to articulate themselves in a theatrical context.
Students will demonstrate proficiencies in both the planning and performance of a theatrical event.
Students will demonstrate knowledge of the history and established repertory of the theatre, its contemporary contexts, and the ability to ask questions that will set them on the path to developing their unique voice and vision in their personal and collaborative contributions to the theatre.