Our commitment to sustainability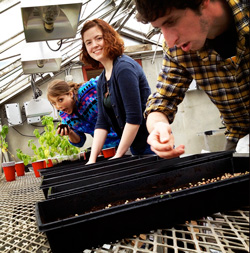 Whether touring a wind turbine on one of Whitman's wheat farms, growing edible greens for the dining halls, or learning to craft the perfect nature essay, Whitties have limitless opportunities to explore sustainability both in and out of the classroom. Our academic and co-curricular programs aim to cultivate an ethic of environmental stewardship and leadership in all students, developing skills that they will carry with them for the rest of their lives.

Thanks to the passion and initiative of our students, faculty, and staff, we are succeeding in our efforts to create a more environmentally aware campus. We invite you to explore the many ways in which the Whitman community is working to uphold our commitment to sustainability.
Electricity, water and heat use
We now have dashboards to monitor the heat, electricity and water use in two of our buildings. Check out these real-time monitoring dashboards:
Greenhouse Gas Emissions
Take a look at the sources of Whitman's greenhouse gas emissions in the2013 Whitman Greenhouse Gas Inventory.
---
Like us on Facebook for recent news, thought-provoking data, and other interesting topics.
Sustainability Office
Physical Plant
804 Penrose Ave
What Our Students Are Doing