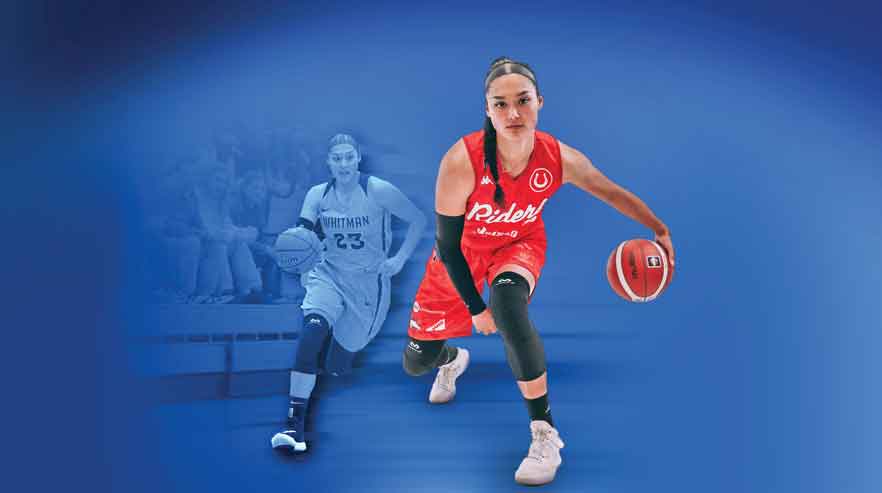 Makana Stone '20 plays pro basketball in England—and the sport's ambassador off the court.
When former Blues forward and biology major Makana Stone '20 graduated from Whitman, she wasn't ready to throw in the towel on her basketball career or her education. She reached out to a sports agency and with their help soon found the perfect solution: playing ball and pursuing a master's degree in exercise physiology at Loughborough University in England.
"I thought that was the best route for me because, as well as wanting to continue being an athlete myself, at some point I also want to coach and I really want to understand athletes and the way their bodies function," Stone says.
It was the right call: In 2021, Stone not only earned her graduate degree, she also signed a contract to play professionally for the Leicester Riders. Now, as a Women's British Basketball League (WBBL) player, she's more than a team forward.
"My position is threefold: I'm playing ball, I'm also working for the club in a community involvement role, organizing and running community basketball events and managing some of the team's social media, and I'm also coaching Loughborough's tier-three BUCs (British Universities and Colleges League) team," she says.
My plan is to play for as long as I possibly can and then get into a coaching position." —Makana Stone '20
Professional basketball is still relatively new to Great Britain, where it's easily eclipsed by soccer, cricket and rugby. The British Basketball League, the country's highest level of play, was only formed in 1987—and it wasn't until 2014 that the WBBL was launched. "But there's definitely a growing interest," says Stone. "And part of my job with the Riders is to facilitate that interest with younger members of the community."
Playing abroad also gives Stone the chance to see more of Europe—something she's wanted to do since she caught the travel bug on her first trip overseas, studying pollination biology in Sweden as part of Whitman's Crossroads faculty-led summer program.
The biggest culture shock of moving to England? "I think oddly enough, the language," Stone says. "I mean, we all speak English, but the differences really hit me when I first got here. Especially when I started working with the kids—a lot of them would come up to me and ask me how I pronounce certain words and giggle at the way I said them."
Published on Feb 21, 2022