Where We All Belong: Meet Whitman's First Inclusion Fellows
By By Genevieve Vogel '24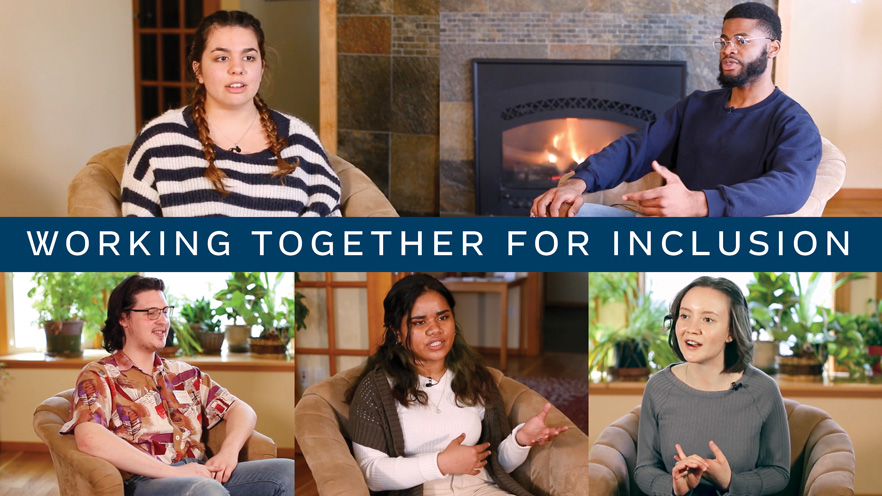 Amid widespread social unrest and a global pandemic, a small group of Whitman College students from diverse backgrounds stepped forward to become the college's first inclusion fellows.
Within the Intercultural Center in 2020, while students studied remotely, a variety of fellowship positions were created—as a pilot program—to address specific facets of student inclusion and belonging in the Whitman community. After an academic year of piloting, the program officially launched this fall.
What makes the fellow program unique from other diversity initiatives? As students, these individuals are in touch with their peers and can help reduce barriers and increase the connection between the student body and the college, says Intercultural Center Director Laura Sanchez.
Sanchez and the other program advisors work with the fellows to practice having challenging discussions around race, socioeconomic and other marginalized backgrounds and identities, with specific training in listening and facilitating discussions. The goal is that the conversations that start within the inclusion fellows meetings carry on into productive dialogues in the wider community, Sanchez says.
Over their tenure, the original cohort of fellows gained hands-on experience facilitating projects, events and social media campaigns while also being mentored by their program advisors. Here's a closer look at their roles—addressing and serving the needs of students across campus and backgrounds.
Borniface 'Bornnie' Kabongo
International Programs Inclusion Fellow
Class of 2022 | Lusaka, Zambia
An international student from Zambia, Bornnie Kabongo was the first International Programs Inclusion Fellow. He worked closely with his program advisor, Greg Lecki, to support international students through their college experiences. He knows firsthand the challenging journeys of Whitman's international community members, describing his own as a wild ride. "The years that I have been at Whitman have been so monumental in my growth as a person, as a student, as a leader," Kabongo says. The Glover Alston Center, in particular, has become a special place for him—a welcoming space for having deep or hard conversations, for meeting with various affinity groups, or just for sharing a pizza and game of chess, he says. "We [international students] have found so much solace in this place."
Kabongo, now in his senior year, hopes the work of the fellows—along with campuswide initiatives around inclusion and discussions around inclusivity in the classroom—will help normalize hard conversations into becoming a beneficial daily part of Whitman student life. Police brutality, Black Lives Matter and political division have been some of the issues he has been reckoning with. He sees change as coming from both a place of humility and action—to sit back and listen and also to identify personal values and advocate for them in the community.
What are some of the important dialogues you are having with students?
"I have had some really meaningful conversations with my professors and students in my science classes surrounding representation in STEM. Why have we not had more Black scientists in the past? What factors have played into that?"
How would you define the Whitman experience?
"The best way I would define the Whitman experience is that it's a rollercoaster ride. You have a lot of culture shocks, learning and re-learning. You build up so much momentum and you begin to learn so much about yourself; you are enriched with so many people, perspectives and opinions."
Bertine Lakjohn
For Us By Us Inclusion Fellow
Class of 2023 | Majuro, Marshall Islands
"The work of the inclusion fellows is so important because it targets different aspects of diversity and inclusion, and society in general," says Bertine Lakjohn. The For Us By Us (FUBU) role was designed to make sure Black, Indigenous, People of Color (BIPOC) students have the support they need from the college. She recalls her first year of college as a difficult adjustment as an international BIPOC student, arriving at Whitman from the Marshall Islands. She saw her mission as the FUBU fellow as helping bridge the gap between students and the college—to help BIPOC students feel heard. In the inclusion fellows, students have caring peers who can connect them with campus support and resources in a more comfortable way, she says.
Lakjohn says she felt empowered by her FUBU position to get students what they needed. Personally, she experienced her own empowering change, she says—becoming more open-minded to the people around her with contrasting ideas or values. She continues to put her fellow training and experience to work as she holds thoughtful dialogues with others about representation and diversity at Whitman.
In what ways have you seen inclusion on campus?
"I feel like with the addition of the inclusion fellows, the campus has become a more tightknit community, not only on the (student) community level, but on the higher levels."
What are some of the important dialogues you are having with students?
"I have had conversations about issues of racism, issues of unequal access, and I feel like, coming to the U.S., I have realized how intense the inequality in terms of race is. Whitman is a smaller community, and if we could address it here, I feel like we could leave Whitman and address it elsewhere."
Merry Cockroft
Religious and Spiritual Life Inclusion Fellow
Class of 2024 | Poulsbo, Washington
"The fellows represent different backgrounds, and we all have specific areas of interest and expertise. I think it's a great model for how the rest of campus can work," says the first-ever Religious and Spiritual Life Inclusion Fellow Merry Cockroft. Through the program's intergroup dialogue training, Cockroft learned to listen better and be a more confident facilitator, she says.
Now a sophomore, Cockroft is continuing in her fellow role for the 2021-2022 academic year. She sees her job as multifaceted: helping students within their spiritual or religious identities, as well as fostering understanding and appreciative knowledge of other faiths and identities in the wider student body. During the spring of 2021, Cockroft was instrumental in the creation of Whitman's new on-campus labyrinth, and also began publishing a monthly newsletter—Around the Table—to showcase student voices and welcome reflection on diverse experiences. The Religious and Spiritual Life Inclusion Fellow is advised by Interfaith Chaplain Adam Kirtley.
What does diversity, equity and inclusion mean to you?
"To me, it means a space where individual identities are recognized and supported, where we recognize that people are extremely complex and bring a lot of different experiences."
How would you define the Whitman experience?
"When I think of Whitman, I think of community, and being someone who is valued in that community."
Alyssa Ortiz
First-Generation Working-Class Inclusion Fellow
Class of 2022 | Denver, Colorado
As a first-generation college student herself, Alyssa Ortiz enjoyed meeting people from a diverse range of backgrounds in her role serving as the First-Generation Working-Class (FGWC) Inclusion Fellow. The transition to college can be difficult, so in her role she worked to connect students with student academic advisors and created events specifically for FGWC first-year students. She wants to continue to foster a culture at Whitman of inclusivity, openness and safety to share experiences or ideas.
Ortiz also wants to encourage FGWC students to make the most of their time on campus. "The Whitman experience is just so enriching. There are so many opportunities that you have when you come here."
In what ways are you empowered in creating positive change at Whitman through your fellowship or elsewhere?
"As a FGWC student myself, I have my own experience. I know where I come from, but then, seeing where other people's experiences are, I can connect with them, but also learn with them."
What kind of culture do you want to create at Whitman?
"I think the culture that I would like to see at Whitman is one that is really inclusive, welcoming and open—where anyone feels comfortable to share their ideas. There is room for improvement everywhere, but I think that's one of the things that drew me to Whitman … that inclusiveness."
Aziz Sahbazovic
LGBTQIA+ Inclusion Fellow
Class of 2024 | Bihać, Bosnia-Herzegovina
Aziz Sahbazovic is striving to better the lives of all LGBTQIA+ Whitman students while also promoting their status in the community and bringing forward their voices. He chose Whitman in part for the many affinity and club groups on campus—envisioning them as beacons of change. He sees Whitman as already being on the right path to promoting a strong sense of community, which he attributes to student dedication and engagement.
As a fellow, Sahbazovic dedicates his time to being a sounding board, or simply a listener, for student ideas. His highlights from the past year include Breaking the Closet Week, a week of social media dialogue and takeovers, as well as panel discussions about coming out experiences. Sahbazovic also helped lead the selection process for the 2021 David Nord Award, which funds a Whitman community member's project for the LGBTQIA+ community.
In what ways have you seen inclusion on campus?
"Coming to this country, it really means a lot when I can find a sense of community on this campus. The Glover Alston Center really tries to do that with international students and populations that are usually underrepresented in society."
In what ways are you empowered in creating positive change at Whitman through your fellowship or elsewhere?
"I feel very empowered seeing the change in the community. When I see good reactions from people in the audience, especially students, it makes me really proud and happy to be a part of this community."
---
Lifting Up Student Leaders
The launch of the Inclusion Fellow program has been the collective accomplishment of the Intercultural Center staff, says Laura Sanchez, director of the center, who led the pilot year, pulling from her experience in nationally recognized nonprofit mentorship and community organizations.
Regardless of their future professions, Sanchez wants the fellows to have learned how to apply a "justice, equity, diversity and inclusion lens" to everything they do. Sanchez and her team of advisors work with the fellows to practice having challenging discussions around race, marginalized backgrounds and identities—focusing on listening effectively, practicing empathy and facilitating discussions. The goal is that the conversations that start with the inclusion fellows carry on into productive dialogues in the wider community.
Sanchez appreciates how the fellows have made it more comfortable and easier for students to seek resources. She sees the programs as empowering students by providing options, tools and resources to whoever seeks to increase inclusivity on campus—in their own unique ways. Some students may lead the hypothetical march, while others may feel more passionate about supporting the efforts further from the spotlight, she says. Through committed collective actions over time, Sanchez believes Whitman students can address the gaps they see in the system, hands-on and with the support of the Intercultural Center.
Inclusion fellow advisors include Sanchez, as well as Adam Kirtley, interfaith chaplain, and Greg Lecki, international student support services.
---
Onward! From Pilot Program to Ongoing Progress
Whitman College's 2021-2022 Inclusion Fellows are following this original cohort of dedicated students.
While three of them, Merry Cockroft '24, Aziz Sahbazovic '24 and Elisa Colon '23 (Students of Color Network) are returning fellows, the program has grown to include an additional fellow position: Creative Projects (Marina Balasanyan '24). Other new fellows, and program name changes, for this year include: Belonging & Support (Lydia Moriku '24); International Student Support (Marian Sandoval Lemus '23) and First-Generation & Mentoring (Tatiana Villegas '23).
Published on Nov 15, 2021