Throughout the election season, Whitman College faculty, students, staff and alumni have incorporated crucial voter education, activism and involvement into their busy schedules.
Whitman Student Voters: A Strong History
In 2016, the last presidential election year, nearly 74 percent of eligible Whitman students voted according to campus voting data from the Institute for Democracy & Higher Education at Tufts University. Whitman's voting percentage is much higher than the 48 percent of eligible college students who voted nationally in 2016.
And Whitman students don't just vote—they're involved in campaigns and organizations that encourage others to vote. In the Whitman Wire story "Getting Political" from Oct. 22, 2020, student-reporter Genevieve Vogel interviewed students about the important lessons they have learned using their voice to encourage others to find theirs. "I'm definitely learning a lot about how to persuade people and that involves understanding their viewpoints and the things that they care about," said sophomore Cora Patz about her experience interning with Flip the West—an organization that focuses on reaching underrepresented communities to encourage voting in critical U.S. Senate races.
In the Community: Taking the Vote to the Streets
As the election nears, Whitman's virtual campus has been abuzz with voter registration events, presidential debate watch parties, guest lectures and more. On Sunday Oct. 25, the Whitman community participated in "Walk the Vote," an event put on by the Walla Walla chapter of the Network of Exceptional Women. Voters united—and walked, socially distanced, from four locations in Walla Walla to local ballot drop boxes.
Event organizer and Whitman Professor of Geology Kirsten Nicolayson told the Union-Bulletin prior to the nonpartisan event that she hoped the event would allow community members to "consider alternatives to mailing our ballots. We can visibly celebrate the act of voting. We can all do this."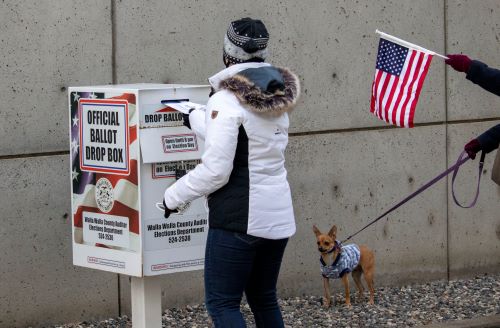 Student Engagement Center Director Noah Leavitt and his daughter, Talia attended the event and walked the mile to the ballot drop box.
"It was a very powerful event. During the walk I talked with my daughter, Talia, about Rep. John Lewis, and how after a lifetime of working to preserve and expand access to the ballot—literally putting his life on the line many times to make sure that Americans could vote—and said in his final months that the 2020 election is 'the most important ever.' Anything that anyone does, whether in Walla Walla, Selma, Washington DC or elsewhere, to recognize that reality, like the organizers of this walk did, deserves support and gratitude," Leavitt said as he reflected on the event.
In the Classroom: Thinking Politically
For Associate Professor of Politics Susanne Beechey, an election year not only means she will be casting her ballot. Every four years she teaches a course on the presidential elections. This year, the course is titled "Gender, Race and the 2020 Elections." Beechey changes the class each cycle to address current issues related to the election.
"The idea is really to give students a space to think politically, as a political event is unfolding. We follow what's happening and try to make sense of it together," said Beechey, who began teaching her election course when she joined the politics department at Whitman in 2008.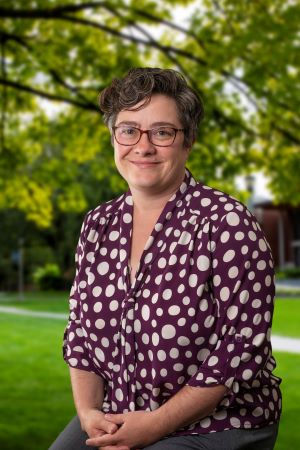 Since many of her students are studying from home this semester, Beechey has found unique opportunities to involve her students in local politics. As one of their semester projects, students have been researching ballot initiatives and voter registration processes in a jurisdiction of their choice. Beechey noted that many choose to research their local community's initiatives and voter registration.
"I want to teach skills of citizenship. I ask them to figure out how to register to vote there and who can vote there. As the election approaches, I give them an assignment to figure out what is on the ballot in the place they have selected. And, as it turns out, figuring out what is on the ballot before one gets it is still surprisingly hard. My students are often surprised at some of the smaller races on ballots."
Beechey explained how the assignment prompts students to consider voter accessibility—and how to be engaged and informed voters.
Often, her students track policy issues that they find very important, but discover aren't talked about during the election cycle. "Sometimes the lesson there is about the disconnect between the policies that we might think are important and whether they are made visible by our elected leader. Increasingly, I think this course has a component about thoughtful and critical consumption of information."
In addition to Beechey's class, another course this semester focuses on the current election. Kaitlyn Patia, assistant professor of rhetoric writing & public discourse is teaching Campaign Communication, a course that examines various features of political campaigns, including candidate debates, advertisements, speeches, policy proposals, media coverage, voter outreach, polling, voter education and more. Students in Patia's class both analyze and create examples of political campaign communication.
As students come together this fall to celebrate and encourage voting, gain skills of citizenship, participate in campaigns and more, Beechey hopes that opportunity can be enhanced by the vast geographic distribution of students during the pandemic.
"Whitman students have a unique opportunity to reach out in the communities they find themselves in now. It's more possible this year than it has been in previous years."
And the Whitman community is doing just that this year, near and far, students and staff, faculty and alumni—united toward a common goal. In a year of uncertainty, this is certain—Whitman Votes!
The Whitman Counseling Center, the Associated Students of Whitman College (ASWC) and the Whitman Votes Club have been working together to offer supportive services for students experiencing stress, uncertainty and anxiety about the election. The Counseling Center offers a list of online resources for those seeking self-care options.