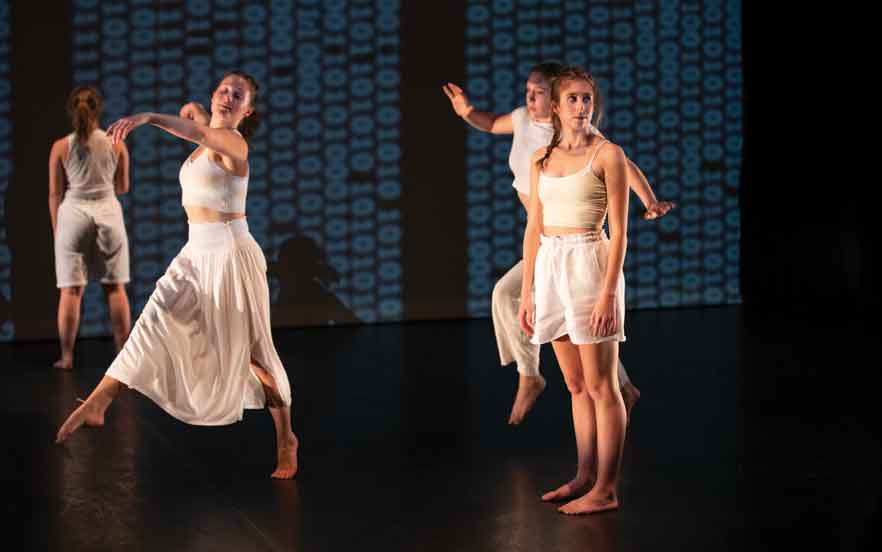 Live dance, theater and music performances return to Whitman stages.
There was a buzz in the air on Oct. 24, 2021, as the audience took their seats for the Whitman Sampler, a taste of jazz, orchestra and chorale music from some of the college's ensembles.
The excitement was even more palpable behind the curtain. For some musicians, the Cordiner Hall event would be their first stage appearance in almost two years. "Performing live makes such a huge difference and it's a really special part of being a musician," says sophomore saxophonist Jonah Panzer from Tacoma, Washington.
Live performances resumed at Whitman during the Fall 2021 semester thanks to the college's strict adherence to safety precautions. In accordance with Washington state guidelines, fully vaccinated and masked audiences can, once again, enjoy music, dance and theater productions on campus.
"The absence was a reminder of how lucky we are when we can have those experiences as artists and audience members," says Laura Hope, associate professor of theater and dance.
She believes live shows offer something that screened performances can't. "The energy generated between performers, with each other and the audience, is a connection that goes beyond our ability to communicate with mere words," Hope says.
It's the unpredictable nature of live performances that gives Renée Archibald, associate professor of dance, a rush. "Live performance is exciting to me because it's a temporary situation of pure potential—so many things could happen," she says.
Published on Feb 21, 2022