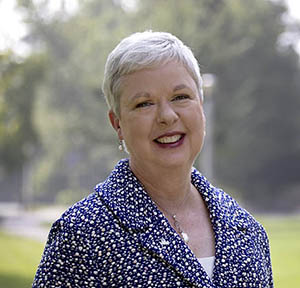 The Whitman College Board of Trustees has announced the renewal of President Kathleen Murray's contract for another term. Murray, who became the 14th president of Whitman College on July 1, 2015, will serve another five years in office dating from July 1, 2020.
"As we look toward the future, we are enormously pleased to have President Murray at the helm," said Nancy B. Serrurier, Chair. "Her administration has been a period of great strides for the college, and the Board has every confidence in President Murray and her senior leadership team to continue charting the right course."
President Murray's tenure so far has seen the development and implementation of Whitman's five strategic priorities, which include increasing access and affordability; enhancing diversity, equity and inclusion; innovating the curriculum; connecting to life after Whitman; and celebrating our location. Approved by the Board in 2017, these strategic priorities serve as goalposts to guide the college's efforts moving into the next decade.
Another major milestone was marked by the construction of two new buildings, Stanton Hall and Cleveland Commons. The Board launched the Living at Whitman Initiative in 2015 and the new residence and dining facilities, designed by ZGF Architects of Portland, opened their doors to students in 2018, reshaping and revitalizing the campus landscape. Stanton Hall was the first new residence hall built at Whitman since 1970.
Prior to her arrival at Whitman, President Murray served as Provost and Dean of the Faculty at Macalester College. A passionate lifelong advocate for the liberal arts, she received her Bachelor of Music degree from Illinois Wesleyan University, her Master of Music in piano performance from Bowling Green State University and her Doctor of Music in piano performance and pedagogy from Northwestern University.
"It has been a joy to welcome President Murray and her partner, Bridget Reischl, to the Whitman community, and we are delighted that they will remain a key part of that community for years to come," said Serrurier.