Evan Martin '16 Finds Opportunity in 'Riverdale' Writers Room
By Savannah Tranchell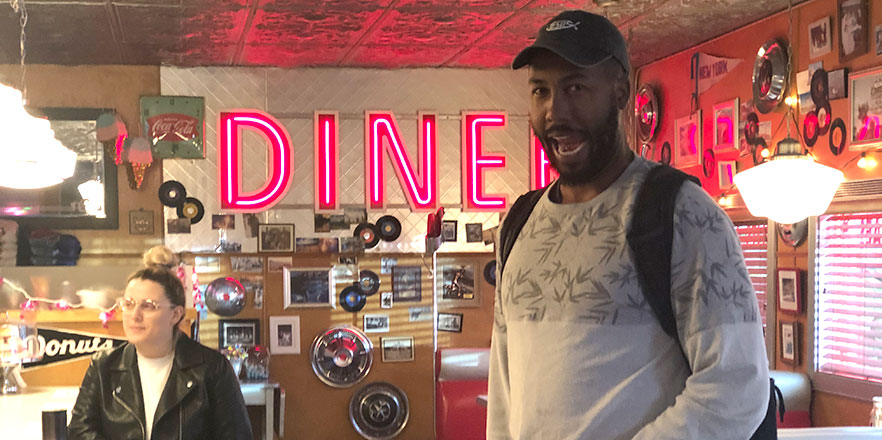 Since 2017, the kids of Riverdale High School have not been having an easy time. Murder, drug cartels, dark family secrets, betrayal.
Archie and his friends are a long way from where they started as innocent teens in the pages of comic books. And along for the ride is Evan Martin '16, a film and media studies major, who has served as a writer's assistant for the "Riverdale" TV show on The CW since December 2017.
As a writer's assistant, it's Martin's job to serve as stenographer for the writer's room — spending four hours or more a day taking notes as the series writers pitch ideas back and forth.
"Every once in a while, there'll be five people who give a pitch in succession, and so you're trying to juggle a bunch of people's ideas in your brain. That's the hardest part of my job," Martin said. "I had to learn how to mentally just be present and aware."
Martin got his small screen writing debut this spring as one of the lead writers for "Riverdale" episode "Chapter Seventy: The Ides of March," which aired on Feb. 12, 2020.
It's a rare honor for a writer's assistant to get show credit, and one Martin is super grateful for.
"As a writer's assistant, usually you take the notes, you sit down, you don't speak," he said. "But this particular room that I'm in, the show-runner and all the writers are so generous and so lovely. I've learned so much and I got a lot of opportunities."
The Road to "Riverdale"
Martin's journey to "Riverdale" — and Hollywood — began at Whitman College. The Las Vegas native was always interested in film, but wasn't sure which aspect most interested him.
"I knew that film was exactly what I wanted to be doing, and I knew that making art in some fashion was where I wanted to be," he said. "At Whitman, they're focused on getting a camera in your hand and editing."
That knowledge has served Martin well as he has grown into a love of writing.
"I have this foundation now, because when I write, I can look at it from an editing standpoint or a filming standpoint," he said. "I can be judicial about putting words to paper, instead of just making things blow up. I can know if it will actually work."
Martin did a lot of acting in high school, and then as a senior had the opportunity to direct, and found his niche behind the scenes. After he was recruited to play basketball for the Blues, Martin decided to follow his passion behind the camera. He didn't do any plays at Whitman until his last year, when he was in Anton Chekhov's "The Seagull" at Harper Joy Theatre.
"I kept on avoiding it — I didn't want to act," said Martin, who also felt like he didn't have time because of his basketball commitments. But taking to the stage proved a fortuitous move: The sound designer on the show had a dad that worked as a producer.
After graduating, Martin moved to Los Angeles to figure out how to break in.
"I started working odd, weird jobs — weird music videos, reality TV shows at 2 a.m.," he said. Then his friend's dad was able to connect him with some opportunities.
"You meet the right person, they call you — and if you do the right thing and aren't a jerk, you tend to work pretty often," Martin said. "I was getting lunch and getting coffee for various shows, and then someone called about an assistant job in the writer's room at 'Riverdale.'"
The rest, as they say, is history.
"I didn't realize that I wanted to write until I got there. I like direction, and I like doing the other things, but writing is the passion," Martin said.
An Open Door
Martin wrote his episode with script coordinator Chrissy Maroon, under the name Evan Kyle.
"We were able to write the episode this season, it's a 'why-dunnit' about Jughead, and it looks like he's been killed," Martin said. "Our episode was to explain how we get there. How did it happen?"
It was a first episode for Martin and Maroon, an opportunity he attributes first to being blessed by God, but also to the great people on the show.
"I'm very grateful to be here. It happened so much faster than I thought. I don't feel like I deserve it," he said. "The fact that I met so many great people, and the atmosphere and attitude of these people. They say, 'I think I can give you a shot, that you deserve it.'"
For filming, Maroon and Martin got to be on set in Vancouver, British Columbia, another unusual experience for newbie writers, Martin said.
"One day, there was a scene that I had written, and I had added some things that I was really looking forward to seeing shot. We spent probably an hour just watching her (the actor) do different takes, and adding different layers into this specific scene," he said. "At the end, we were just jumping up and down and giving high fives and trying to still be quiet. Being able to say I put my time and effort into this, and then seeing someone actually take the care and step-by-step put it all together — I couldn't have asked for anything else."
Published on Apr 14, 2020