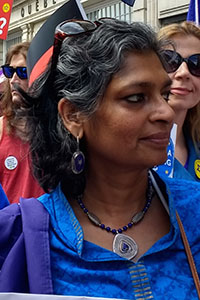 Indrani Sigamany '80 has devoted her 30-year career to social justice and international development, with a specialization in gender and indigenous people. Her trajectory has been anything but linear, however, taking her from her homeland of India to Walla Walla, The Netherlands, England and back again to India.
"My message is, that's fine. Be creative. Have multiple threads running into your single knot. There isn't necessarily one thing in life you have to be able to do or can do. There's different models getting to your career trajectory," she said.

Sigamany will discuss that trajectory at 4 p.m. Thursday, Oct. 18, 2018, in the Hunter Conservatory's Kimball Theatre as part of the 2018 Sava and Danica Andjelkovic Endowed Lecture. Sigamany's lecture is titled "Social Justice in a Globalized World: Building a Rights-Based Career."
Created by Vojislav Andjelkovic '94, the Andjelkovic Lecture is in its 18th year and is part of a series of lectures presented by the Student Engagement Center to showcase Whitman alumni and their career path.
"The whole concept about social justice for me is about working with the differences between poverty and privilege, inequality and equality," Sigamany said. "From a reductionist standpoint, it's what are the barriers and access points to human rights, which for me is the very foundation of social justice."
Poverty alleviation has been a big thread binding her career.
"I came from a country that was poor, but my family was committed to equality in a very overt way," she said. "My parents said, 'Don't contribute to the brain drain. Some of us can afford to have an education that's higher quality, but bring it back to India.' That's very powerful learning from your family."

After receiving her bachelor's degree in history from Whitman College in 1980, Sigamany earned her first Master of Arts in social work from Tata Institute of Social Sciences in Mumbai, India.
"I grew up in Mumbai. You see the poverty," she said. "My family stressed the importance of my responsibility as an individual. My father, who was a marine engineer, would say all the time: 'Whatever you do in your life, whatever your career, try to leave the world a little better than when you came into it.'"
Fresh out of college in 1983, she began her rights-based career by founding the Gender and Women's Development Program to help rural landless women laborers in Tamilnadu, India.
She left her homeland again in 1985 to pursue her second master's degree in gender, women and international development studies at the International Institute of Social Studies at the University of Rotterdam, at The Hague in The Netherlands - although you might say her heart has never left India.
She worked over the next 30 years with various human rights organizations in India and elsewhere in the region known as the global south, encompassing Central and South America, Africa and developing countries in Asia.
"In the global south, you have countries like India, which is considered middle income but has huge sectors of the population that are living below the poverty line," she said.
Since 2006 her research has focused on mobile indigenous people on a global scale, and since 2011 specifically on the Adivasis, a hard-to-reach population living in the deep forests of India. Studying the Adivasis has taught Sigamany there are different perspectives in life.
"They are very, very poor, but that poverty is an economic poverty by our standards," she said.
The Adivasis have been impacted by legislation (the Forest Rights Act of 2006), which restored decision-making rights over their resource-rich ancestral lands. The act was created to stop encroachment on their lands by outside interests, such as mining companies, but now the act itself is being undermined.
"For them, it's not about having running water and electricity in an apartment in the city with a job and an income," she said. "Their happiness is about living as one with the forest and having a spiritual connection that is beyond our comprehension. It was such an eye-opener."
The education she received at Whitman has provided a firm foundation for the work she continues to do to this day. Sigamany recently finished writing a book about the land rights of Adivasis.
"History is research and writing. It taught me how to critically analyze and write, which is what I do as a researcher now," she said. "The thing about what you do through life is you get a set of skills, and those skills you can shape to whatever you want to do. History provides a holistic lens, and that was my history degree at Whitman."
During her two-day visit to the college, Sigamany will also speak in Professor Michelle Janning's gender studies class, meet with faculty and students, and participate in an alumni networking event, "Finding Your Future: Social Justice and Human Services."
"At the moment it feels like we have so much more work to do than ever before," she said. "We need to turn things on their head so that people become the priority - not money and not corruption."