Ashifi Gogo '05 to give 2018 Commencement address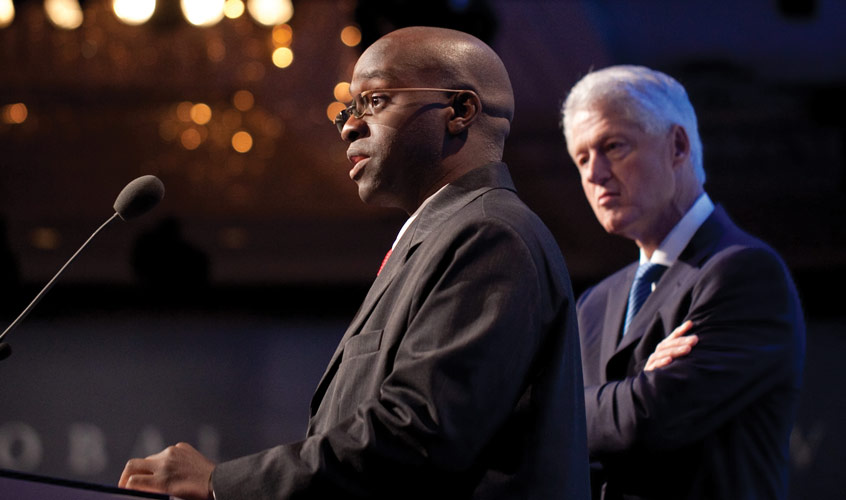 Acclaimed social entrepreneur Ashifi Gogo '05, CEO of Sproxil, a global consumer protection company praised by former President Bill Clinton, will return to campus this spring as the 2018 Whitman College Commencement speaker.
"Whitman has had a transformative impact on my life," he said. "Whitman's outstanding alumni have proven the versatility a liberal arts education delivers. I am honored to return to campus to visit and learn from tomorrow's leaders."
A mathematics and physics major at Whitman, Gogo earned his doctorate in engineering from Dartmouth College. In 2009, he founded Sproxil, a venture capital-backed enterprise that uses mobile technology to warn consumers away from counterfeit goods. Sproxil works with manufacturers to close holes in supply chains that may lead to fraud, printing scratch-off stickers on packaging with a product code and phone number to text for authentication through the app.
With teams in Africa, Asia and America, Sproxil offers services in more than 100 countries. These services save lives: according to a TEDx talk Gogo gave in 2012, fake drugs that fail to treat malaria and tuberculosis account for about 700,000 deaths each year in developing nations.
For its efforts to combat this phenomenon by empowering consumers, especially in emerging markets, Fast Company named Sproxil the world's most innovative company in healthcare in 2013. That same year, the Obama White House recognized Gogo, who is originally from Ghana, as an Immigrant Innovator "Champion of Change." In 2015, Gogo landed on Fortune's "40 Under 40" list.
The recipient of a Clinton Foundation Global Initiative Outstanding Commitment Award, Gogo also served on the World Economic Forum's Global Agenda Council on Social Innovation and on the Meta-Council on the Illicit Economy. He was Dartmouth's first-ever Ph.D. Innovation Fellow and teaches a course in New Business Ventures Technology Management at Columbia University.
"We are delighted to have Ashifi deliver the 2018 Commencement address," said Whitman President Kathleen Murray. "As a creative thinker and entrepreneur with a humanitarian outlook, he brings a unique and vital perspective to share with our graduates. I believe his leadership and commitment will inspire fellow Whitties to follow in his footsteps in making a positive impact."
Whitman's 132nd Commencement ceremony will take place Sunday, May 20 from 11 a.m. to 1 p.m. on the Memorial Building South Lawn.
Published on Jan 17, 2018