Mr. Whitman raises $48,000 for backpack meals program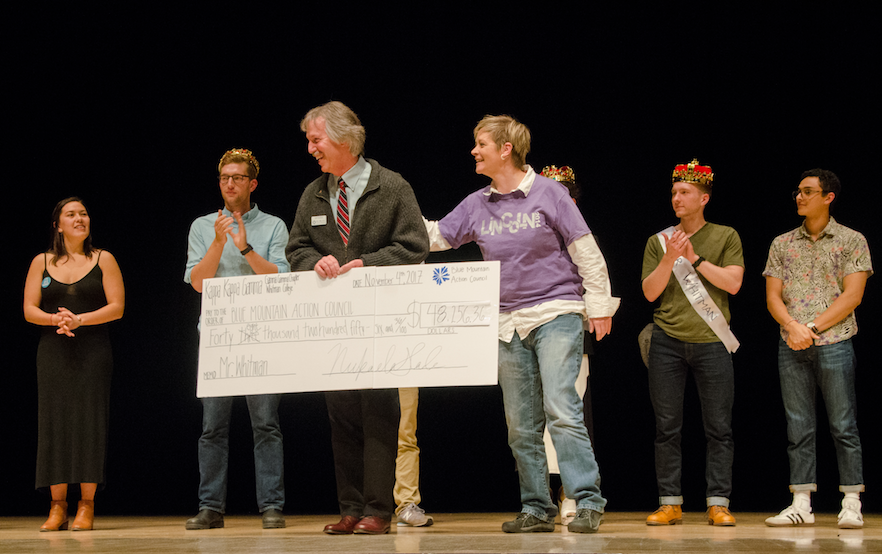 The 16th annual Mr. Whitman pageant raised $48,306 for Blue Mountain Action Council's weekend backpack program. The money will help more than 300 Walla Walla elementary schoolchildren eligible for free and reduced lunches to receive weekly Backpack Bridge bags filled with two breakfasts, two lunches and two snacks on Fridays. Currently, 140 primary school students benefit from the project.
The grand total of generosity was the second most ever in the history of Mr. Whitman, which is hosted by the sorority Kappa Kappa Gamma. Last year, the pageant raised $50,594 for a new mental health professional position at The Health Center at Walla Walla's Lincoln High School.
"I love to see the passion and the energy that students like myself put into the causes that they believe in," said Kappa Kappa Gamma's 2017 Philanthropy Chair and interdisciplinary major Mikaela Slade '19. "Mr. Whitman is one of my favorite aspects of Kappa because we are able to come together to raise funds for organizations that change lives."

Planning for Mr. Whitman began in March. In between then and the night of the festivities last Saturday, the six contestants raised money through bake sales, a Pho night sponsored by Soi 71 restaurant and a drag show, among others activities. The theme for the pageant was a road trip. Contestants danced, participated in a Q&A, modeled fashion and read poetry.

Bayard Blair '18, an interdisciplinary major and Phi Delta Theta member, and Court Osborn '18, a history major and Beta Theta Pi member, earned the crown of Mr. Whitman for raising the most money.
Dan Lovato '18, a theatre major and Tau Kappa Epsilon member, won the award for best talent—a new category this year—for a musical performance that incorporated drag, singing and reading his own writing. In an interview after, he recalled opening up an empty lunchbox at school on multiple occasions.
Biochemistry, biophysics and molecular biology major and Sigma Chi member Ethan Gladhill '19 won the other new award this year: for passion and enthusiasm. He sold truffles and quesadillas-and shaved off half of the hair on his head for donations. Gladhill started soliciting donations during the summer before school had started.

"I have seen firsthand at my high school how important free lunches can be," he said. "Extending this food to weekends and breaks is a very tangible form of helping the community."
Kappa Kappa Gamma members Rachael Haggen '18, a geology major, and KC Cook '18, a physics/pre-engineering major, emceed the gala, which they called a "celebratory culmination."
Published on Nov 10, 2017