"Let's get things done": Advice from the 2016 Women in Leadership Symposium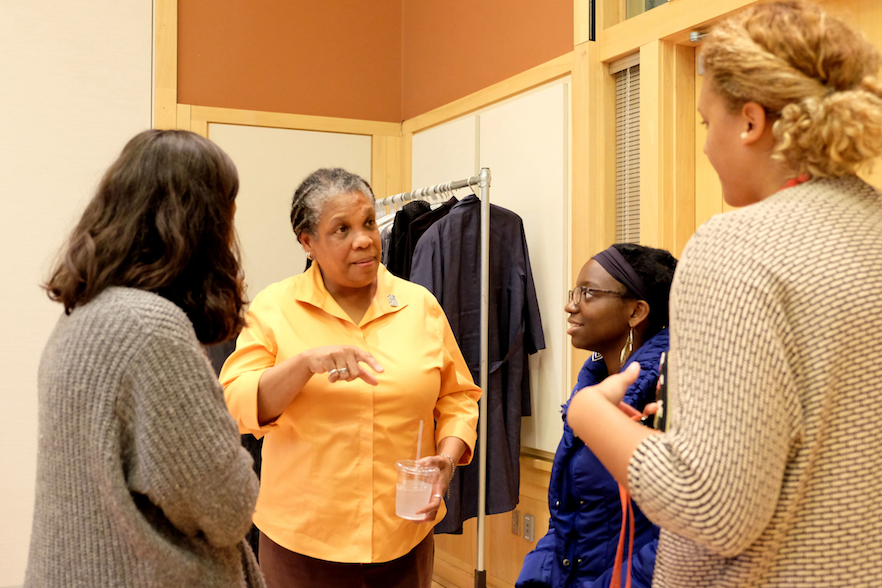 "Let's get things done." -Trish Dziko #WCWomenInLeadership #whitmancollege

— Whitman College (@whitmancollege) October 27, 2016
"Never stop growing."- Susan Millender #WCWomeninLeadersip #whitmancollege

— Whitman College (@whitmancollege) October 28, 2016
This year, the Women in Leadership Symposium took on a topic close to many Whitties' hearts: the power of social justice advocacy.
Three panelists from the nonprofit world came to campus to address Whitman students, staff and faculty members about their work, focusing on the theme "Stand for Your Mission: Voices for Advocacy."
A Whitman tradition now in its 35th year, the symposium was organized by Colleen Willoughby '55, a trustee emerita and Seattle-based philanthropist.
In their own words, here is some advice from this year's guest speakers to the younger generation of students who gathered to hear them speak.
"It's rare that we as human beings really listen-listen actively and openly, and just allow a person the space to be heard... If you're teaching or if you're in any way in a position to be an ally or support someone, you first have to make that connection."
—Susan Millender, executive director of Guided Pathways Support for Youth and Families, working to empower families to more effectively navigate complex issues such as mental health, juvenile justice, schools and developmental disabilities.
"Have discussions together about what can and what needs to be done, what's intransigent, what's difficult, what the challenges are, and then learn civic skills, including advocacy, including building networks of power that can extend your reach and impact into the community."
—Diane Douglas, executive director of the Seattle CityClub, a nonprofit education organization dedicated to informing citizens and building community leadership in and around Seattle region.
"I grew up in the time where we still had segregation. So when you're in that space, you take advantage of every opportunity that you have, and you just suck it up and move on. I wouldn't say that that's what you should do today. As I've gotten older, I've learned to speak up more."
—Trish Dziko, executive director of Technology Access Foundation, an organization that equips students of color for success in college by partnering with public schools to promote STEM education.