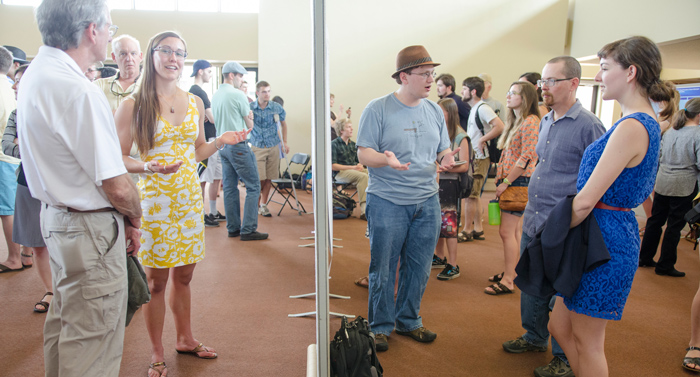 Victoria's Secret will have you believe that a thong represents liberation, freedom and comfort.
Not so fast, said Gillian Friedman '16, one of 191 students who presented at the 16th annual Whitman Undergraduate Conference, held Apr. 8, 2014.
"These are constraining garments symbolizing women's limited and prescribed role in society. They come from a patriarchal idea of what a woman should look like and represent a regression to restrictive notions of feminine beauty," Friedman argued in her presentation, "Behind Enemy (Panty) Lines: The ideology of thong underwear."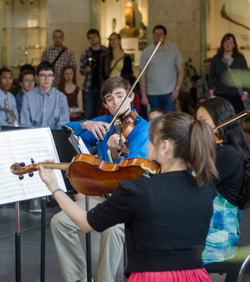 The WUC brings together students from every academic area of the college to share research and creative projects with the campus community. Of the 191 students sharing their projects, 28 are musicians, and 42 delivered poster presentations.
Anne Helen Petersen, visiting assistant professor of film and media studies, believes WUC is an essential part of a liberal arts education. Petersen is one of Friedman's professors.
"I think Whitman Undergraduate Conference is crucial for students to see first hand what their peers are doing, both in and outside their fields," Petersen said.
"It not only invites them to ask questions about how other disciplines intersect with their own work – one of the primary tenets of the liberal arts education – but also instills respect for the tremendously varied and compelling scholarship that takes place all across campus."
The students' projects derive from original work that they produced in their classes, senior theses, summer internships and study abroad programs.
Jennifer Dardis '14 and Jadelyn Martinez '14 choreographed a display of naginata, an ancient Japanese martial art mainly practiced by women, before a crowded room in Olin Hall. Dardis and Martinez trained with the Kyoto Naginata Club while studying abroad in Whitman's Associated Kyoto Program.
"What we demonstrated wasn't necessarily a choreographed battle but a combination of moves you learn to prepare for competition battles," Martinez said.
"During our study abroad experience we knew we wanted to learn more about traditional Japanese culture and were interested in the world of martial arts. Naginata is a traditional Japanese martial art that is based on a samurai weapon but also teaches practitioners much about discipline, awareness and teamwork. This was a great experience for me through which I was able to learn a new sport I loved, practice my Japanese and make great friendships," Martinez said.
The diverse topics on display during WUC ranged from discussions about those thongs to the physical and philosophical implications of quantum mechanics in a session called "Physics Meets Philosophy," to "Divestment in Academe."
"The process of preparing for the Undergraduate Conference gave me a chance to reflect on my own ideas. Presenting these ideas to others solidifies my own knowledge," said Audrey Vaughn '15, who spoke about how divestment relates to environmental issues.
Based on Vaughn's presentation, which she delivered with three fellow students, one might assume she majors in environmental studies. Despite examining the "driving forces behind the divestment movement and locating the intersections between issues of climate change and racial/social injustice," Vaughn majors in mathematics.
"The undergraduate conference gives me a chance to hone a life skill – presenting before an audience – which I'll have to use in the real world. Speaking about ideas I feel passionately about to a group not as passionate about those same ideas is an important skill to learn."