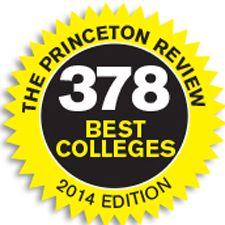 Whitman College is one of the nation's best institutions for undergraduate education, according to The Princeton Review's "The Best 378 Colleges, 2014." The education services company features the school in the new 2014 edition of its annual college guide.
This year, among the 378 colleges, Whitman ranked
No. 13 in the "Happiest students" category;
No. 7 in the "Best classroom experience" category;
No. 4 in the "Their students love this college" category, up from No. 12;
No. 10 in "Best quality of life," up from No. 15;
No. 5 in "Best health services," up from No. 11;
No. 16 in "Professors get high marks," up from No. 18; and
No. 9 in "Best college library."
Only about 15 percent of America's 2,500 four-year colleges are profiled in the book, The Princeton Review's flagship college guide.