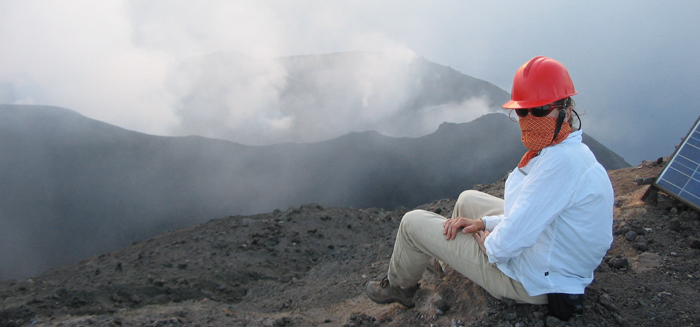 Alumna Heather Wright '99 is really heating up as a volcanologist.
Wright went to Kagoshima, Japan this summer to receive the George Walker Award from the International Association of Volcanology and Chemistry of the Earth's Interior (IAVCEI) for the research and field work she has done in the early part of her career.
The George Walker Award recognized Wright's potential as a young scientist displayed in her laboratory research, field work and technical research. This research includes time in Oregon, where she used laboratory methods in order to characterize the materials that come out of an erupting volcano, and in Argentina, where she focused on mapping the materials of volcanic deposits. Her work at the U.S. Geological Survey (USGS) office dealt with using microanalysis techniques to learn more about eruption materials.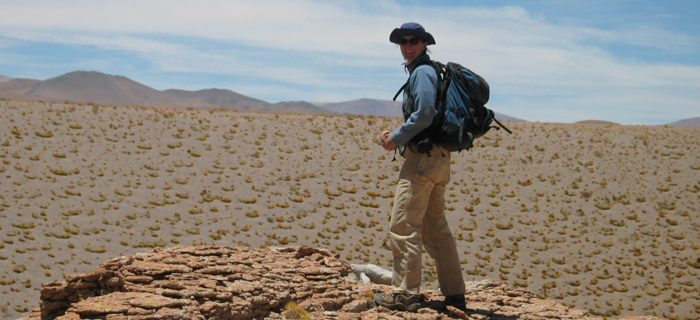 Attending a liberal arts college helped Wright to continue to engage with a variety of disciplines in her graduate and postgraduate work.
"Volcanology is great for someone with an interest in a broad range of sciences. Physics, chemistry, geology and field work are all in conjunction when working to understand volcanoes."
Her love for multiple sciences was apparent even when she was an undergraduate student. Wright first intended to major in physics, but changed her mind after taking a geology class. She graduated with a B.A. in geology and minors in astronomy and Spanish.
Wright knew that she wanted to attend graduate school eventually, but instead of applying immediately, she found a summer internship with NASA. She then got an internship at the USGS office simply by knocking on doors.
"After Whitman, I wanted a graduate degree, but first I wanted perspective," she said.
After spending two years with USGS, Wright enrolled in a Ph.D. program at the University of Oregon in Eugene. Her graduate and post-graduate studies have taken her all over the world, from Melbourne in Australia to Cerro Galán in Argentina.
According to Wright, taking a variety of courses and participating in outdoor program events helped her to choose a field of study that would allow her to travel.
"I purposefully chose a career path that would enable me to see the world, experience other countries and go outside. I learned these things were valuable to me while I was in the outdoor program at Whitman."