First Person is a series of student profiles designed to share a glimpse of the wide and varied interests of Whitman students. While all Whitman students share the experience of the college's focus on academic rigor and excellence, their diverse interests and activities vary greatly outside of the classroom. The series provides a snapshot of the lives of students across campus, from the athletics venues to the theater stage, the chemistry labs, Ankeny Field and beyond. This profile features junior Mackenzie Gerringer, a 2011 Undergraduate Conference participant.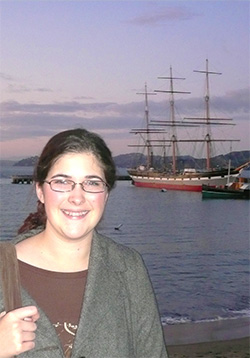 Mackenzie Gerringer '12 in San Francisco.
Hometown: San Francisco
Major: Biology and German studies
Expected Graduation Date: May 2012
Favorite activities at Whitman: Carpentry and stage managing at Harper Joy Theatre, Chorale and Wind Ensemble and hanging out with fellow Whitties.
Could you briefly describe your project?
I researched the Sea Shepherd Conservation Society. Sea Shepherd is an organization that employs direct action techniques to combat practices that are detrimental to the oceans, such as whaling, shark finning, seal hunting and dolphin hunting. The group is highly controversial, as many of their "direct actions" involve destruction of property and potentially put people in danger. Some describe their methods as eco-terrorism. My project investigates the history of this group and the niche it fills, somewhat problematically, in conservation law enforcement, highlighting the need for an International Ocean Conservation Agency.
How did you become interested in this topic? Is this part of continuing research? I've been interested in marine biology and ocean conservation since first grade. During my time in New Zealand for study abroad last semester, I took a class on the conservation biology of marine mammals. For that class, I did a research project on whaling. I was originally going to give a version of that presentation, but the Japanese whaling fleet left the Southern Ocean in February due to harassment by Sea Shepherd. My advisor and I decided that a presentation on Sea Shepherd would be more relevant and interesting to discuss.
How will you present your project at the conference – poster or talk, and why?
I'll be giving a talk at the conference. It seemed like the most appropriate method for the subject and I think it's a great opportunity to get some public speaking experience.
What were the most challenging and most rewarding aspects of the project?
This project deals with some difficult questions of environmentalism and ethics. I found it challenging to balance my opinions about conservation and politics. On the one hand, I admire the direct approach to conservation. It so often feels like the issues facing the oceans are so overwhelming that making a difference seems daunting. Sea Shepherd's tactics do take action against practices that are illegal and detrimental to the planet, but they heighten cultural and political tensions in a way that may hinder collaborative progress.
Why did you choose to attend Whitman?
Whitman offered me a scholarship, but I'm really glad to be here. It's a great community full of passionate and interesting people, and I'm definitely learning a lot.