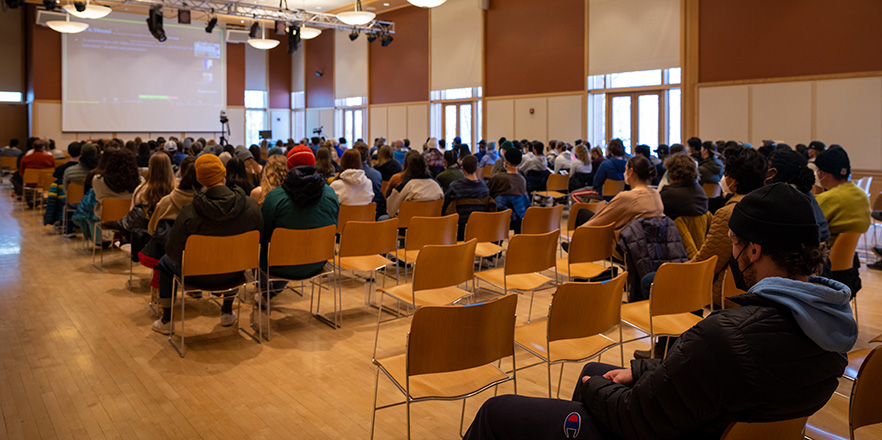 Whitman College's Power & Privilege Symposium was created to offer a forum for the community to discuss how structural systems of oppression, including racism, sexism and ableism, are manifested on campus and beyond. The 2022 symposium, titled "Beyond the Bare Minimum," offered several events spanning three days, including a full day of presentations led primarily by Whitman students. As usual, classes were canceled to allow the entire Whitman community to participate in the sessions, which covered topics such as diversity in sports at Whitman, religious inclusion, abortion access, entrepreneurship in BIPOC communities and barriers for first-generation college students.
In addition to student-led panels, there were also guest speakers including Whitman alum and RAPtivist Aisha Fukushima '09, disability rights and inclusion activist Imani Barbarin, and social activist and founder of the People of Colour Clothing brand Darius Northern.

Poet Tejashree Jadhav and singers Aziz Sahbazovic and Marina Balasanyan—all sophomores—performed as part of the 2022 symposium's kick-off event on Tuesday, Feb. 22.
Sports Empowering Diversity and Inclusion: Process vs. Progress in College Athletics
Students gathered in the Young Ballroom to hear junior politics major Angel Le lead a session on diversity and inclusion in college athletics. Le, who is the captain of the Whitman women's tennis team, voiced her concerns about sports equality and stressed the importance of diversity and inclusion within the Whitman Athletics Department.
Whose Walla Walla? How Local Community Leaders Are Addressing Access, Equity and Education
Panelists representing Walla Walla Public Schools, STAR Project, Community Resilience Initiative and The Health Center discussed how their organizations work to bring access and equity to Walla Walla.
Dr. Julie Perrón, director of equity and dual programs for Walla Walla Public Schools, discussed local access to equitable education and outlined the district's goals for an inclusive future and answered questions about the work they do to meet those goals.
Inspiration Porn
First-year student Kate Moe led a session on inspiration porn and ideology about people with disabilities. Despite only being in her second semester at Whitman, Moe masterfully engaged the audience in thoughtful dialogue about deeply ingrained perceptions of people with disabilities. The audience was prompted to examine the impact of able-bodied individuals speaking on behalf of people with disabilities. As part of her discussion, she reframed the ideology to ask the audience: "Why do some folks find inspiration in people with disabilities for simply living their lives?"
Social Movements, Entrepreneurship and Mental Health in BIPOC Communities
At age 15, Edgar Tarimo founded Green Venture Tanzania, a company that recycles plastic waste and turns it into affordable construction materials in effort to build houses while promoting environmental sustainability. Now a first-year student at Whitman, Tarimo discussed the obstacles BIPOC-owned businesses face including the lack of financial support and he dove into the psychological toll BIPOC face when starting and running a business.
Social and Financial Barriers for First Generation/Working Class Students
Tatiana Villegas, a junior sociology-environmental studies major, introduced a panel of students who described their experience of alienation and intimidation as First Generation/Working Class (FG/WC) students. Villegas is the 2021-2022 First-Generation and Mentoring Inclusion Fellow at Whitman's Intercultural Center.
Sophomore Eleshaday Abraha, juniors Eboni Haynes and Elio Van Gorden, and first-year Elle Palmer (pictured left to right) spoke about the difficulties of being FG/WC students at Whitman. The group shared their experiences in the hopes of empowering other students and educating the greater community on the adversity they face.