Members of the Class of 2020 shared messages of gratitude and excitement — and took a moment to be a little bit silly — during Whitman College's 134th Commencement on Sunday, May 24, 2020.
But rather than doing it on the stage in front of the Memorial Building, graduating seniors had the opportunity to share their parting thoughts in short video clips in the college's first virtual commencement ceremony.
As Provost Alzada Tipton read each student's name and major, ceremony viewers got to see the classes' personality come alive. Graduates in caps and gowns did the worm in front of Memorial, pretended to shake hands with invisible administrators, showed off beloved pets and epic dance moves, and gave shout outs to friends and loved ones.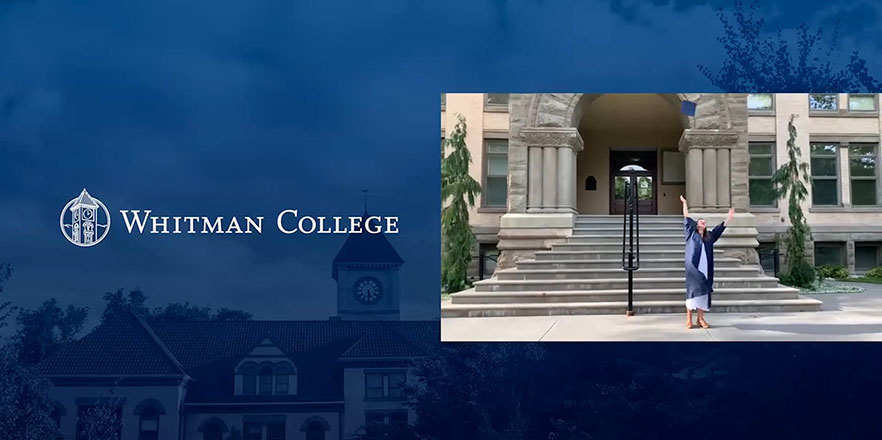 The virtual ceremony served to highlight the passion and creativity that the Class of 2020 has been known for.
"Your class will certainly feature prominently in the history of the college, in part because of the novel coronavirus, COVID-19, that has transformed our lives since early March, but even more so because of the extraordinary resilience, determination, compassion, empathy and love you have demonstrated throughout your Whitman careers — and especially in these last weeks," President Kathy Murray said in her commencement address.
Like the graduates, the speakers for this year's ceremony took advantage of the virtual format to offer a different type of speech.
Senior speaker Maude Lustig '20 used her film and media studies skills to create a humorous video speech, shot throughout her parent's home in Seattle, Washington. Lustig acknowledged the difficulties brought to the class by COVID-19, but called on her classmates to remember they already have all the skills they need to succeed.
"We've already practiced making a life for ourselves — at Whitman. We had to pick our classes, our major, our extracurriculars that would have meaning for us. And if we tried and realized it was lame, we did something different," Lustig said. "We've learned so much from our experiences already. Sure, going forward the path will be less clear. The stakes will be higher. There will be a coronavirus floating through the air. But we're a pretty resilient group. We're scrappy. We might get down but we're never down for long."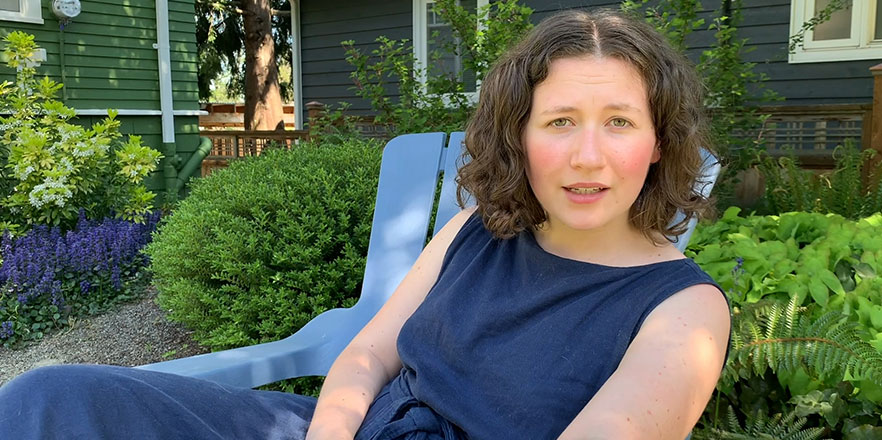 Commencement Speaker Katie Krummeck '03 — an educational designer and consultant — presented an address, with whiteboard-style drawings illustrating the speech while she encouraged graduates how to use human-centered design principles to guide their path through uncertain and complex times.
"Inherent in any problem-solving process where you're questioning status and looking for innovative solutions is the need to navigate ambiguity," Krummeck said. "We are searching for answers, we are exploring problems, but without an agenda. This where we discover what is possible, not just a remix of what has already been done."
Krummeck urged graduates to view their education and the skills they gained at Whitman as a tool to help them — like using a flashlight to navigate a dark forest.
"The flashlight won't illuminate the whole path, but it will help you move forward with confidence just enough," she said. "And as we know from our experiences with using flashlights, once you move forward just a bit, you illuminate a little more of the path."
She urged the Class of 2020 to take advantage of the unique, if uncertain, moment to find ways to make the world better and become "problem-finders."
"Try in this time to get out of problem-solving mode, and into problem-finding mode," she said. "Both for society, what do we need and why, and for yourself — what do I need and why? The deeper you dig, the more innovation potential you will create."
But Krummeck didn't just rely on herself to inspire the graduates — she also called on her fellow alumni and the graduates themselves to share the ways that they are changing the world. From clean energy to prenatal care, K-12 to higher education, the screen filled as dozens of Whitties shared their passions.
"I hope to inspire you to commit to redesigning something that needs fixing, whether big or small, personal or professional, as you start down the path before you," Krummeck said. "Just don't forget your flashlight."